BloodTechNet's support of educational rotation helps lab adopt new technology
---
Tuesday, December 06, 2022
Abby Wolfe
Each year, Canadian Blood Services' BloodTechNet award program supports innovative educational projects that deliver educational tools and resources to the transfusion, cellular therapy and transplantation communities of health-professionals in Canada. One project aims to facilitate laboratory rotations for directors in-training and laboratory technologists at histocompatibility and immunogenetics laboratories whose highly specialized expertise in human leukocyte antigen (HLA) testing supports transplant and platelet transfusion activities throughout Canada.
Collaborators on the project include members of the National Human Leukocyte Antigen Advisory Committee (NHLAAC) led by Canadian Blood Services. The NHLAAC engages HLA directors and transplant specialists to improve and standardize laboratory practices in support of organ and tissue donation and transplantation in Canada. The National Human Leukocyte Antigen Advisory Committee (NHLAAC) Rotation Program – Travel Bursary, funded through the BloodTechNet program, provides rotation participants with financial assistance to complete their visit to a host laboratory.
Arpit Sharma, lab technologist at a transplant laboratory in London, Ontario, shares his experience completing a lab rotation in July 2022.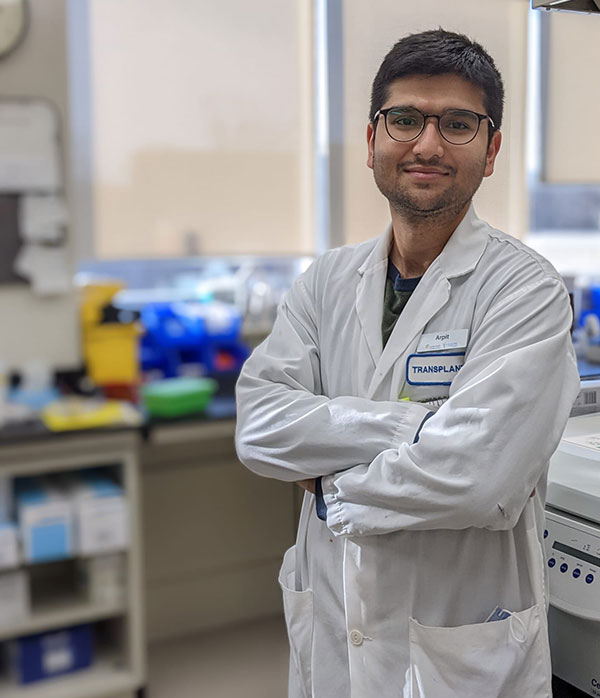 An opportunity to learn about Next Generation Sequencing
Our lab is located at London Health Sciences Centre's University Hospital campus, serving an area from Windsor to Kitchener and as far north as Sudbury and Sault Ste. Marie. To keep up with increasing laboratory demands, our lab decided to incorporate Next Generation Sequencing (NGS) as a testing methodology. It was vital for us to receive hands-on training in a clinical setting because our lab did not have any prior experience with NGS.
Learn more about NGS in a previous R.E.D. blog.
We learned that a laboratory in Saskatoon, Saskatchewan, used the same vendor as us for their NGS technology. I applied for the NHLAAC Rotation Program – Travel Bursary with the intention of completing a one-week lab rotation in Saskatoon where I could learn about their use of this technology. It was a great opportunity for me because our lab was planning to start NGS validations in the fall of 2022, so this hands-on training in a lab that was already equipped with similar technology became an excellent starting point.
Rotation provides practical learnings
After receiving the bursary, my rotation was scheduled for July 2022 in the HLA laboratory at St. Paul's Hospital, Saskatoon. I completed the rotation under the supervision of Dr. Ahmed Mostafa, HLA Lab Director, and Destinie Webster, Lab Supervisor. During my week there, I learned about the logistics of setting up NGS, including bench design, quality assurance, IT requirements, reagents, and equipment requirements. Most importantly, I gained a deep understanding of the theory behind NGS analysis, which was helpful when I returned to our lab in London and began the validation process.
My experience during this lab rotation taught me how to implement a new methodology in a clinical setting. It provided me with the background knowledge to ask for specialized training, which we also received from the NGS vendor. I think it also guided how we set our time and resources as we prepared to adopt this new technology, helping us attain specific learning goals to complete our validation plan in time.
The NHLAAC Rotation Program – Travel Bursary
The lab rotations are a great opportunity for laboratory professionals to learn and collaborate. The flow of knowledge between different institutions helps the laboratory professionals to gain a holistic understanding of their profession.
To learn more about the BloodTechNet award program, visit our research funding opportunities webpage: Canadian Blood Services BloodTechNet Award Program.
To see the resources created by past BloodTechNet funded projects, visit our BloodTechNet educational resources page on Canadian Blood Services' professional education website.
---
Canadian Blood Services – Driving world-class innovation
Through discovery, development and applied research, Canadian Blood Services drives world-class innovation in blood transfusion, cellular therapy and transplantation—bringing clarity and insight to an increasingly complex healthcare future. Our dedicated research team and extended network of partners engage in exploratory and applied research to create new knowledge, inform and enhance best practices, contribute to the development of new services and technologies, and build capacity through training and collaboration. Find out more about our research impact. 
The opinions reflected in this post are those of the author and do not necessarily reflect the opinions of Canadian Blood Services nor do they reflect the views of Health Canada or any other funding agency.
Related blog posts
---
Friday, May 27, 2022
Abby Wolfe
Each year, Canadian Blood Services' BloodTechNet award program supports innovative educational projects within the transfusion, cellular therapy, and transplantation communities. One funded project supports histocompatibility and immunogenetics laboratory (HLA lab) directors in-training to expand their learnings through educational lab rotations. Read about the experience of the first participant and the crucial role of HLA lab directors as matchmakers for patients with donated organs, tissues, stem cells and platelets.
---
Thursday, January 14, 2021
Tricia Abe
Dr. Celina Montemayor-Garcia is a researcher and transfusion medicine specialist whose main interest is understanding how genomics and bioinformatics can be used to improve care for transfusion patients. She spoke to us about advances in precision medicine and genomics, and what they could mean for the future of blood systems.
---
Thursday, April 02, 2020
Dr. Geraldine Walsh
Congratulations to the recipients of funding recently awarded through the Centre for Innovation's BloodTechNet Award Program and Graduate Fellowship Program. This funding supports innovators in education and graduate students conducting research in the field of transfusion science.