Better Now: A Q&A with Dr. Graham Sher on Dr. Danielle Martin's six big ideas to improve health care for Canadians
---
Thursday, June 01, 2017
Jennifer Ciavaglia
At Canadian Blood Services' board of directors' retreat in April, Dr. Danielle Martin spoke to the board and executive management team about her book, Better Now: Six Big Ideas to Improve Health Care for All Canadians, and her vision for health care in the future.
In Chapter 6, "From Pilot Project to System Solution," Dr. Martin discusses the Highly Sensitized Patient program, a pan-Canadian organ-sharing program that uses its national scale to facilitate kidney transplants for hard-to-match patients. It's led by Canadian Blood Services in partnership with organ donation and transplantation system partners across the country. In this chapter, Dr. Martin tells the story of a patient named Jonah who received a life-changing kidney transplant via this program after being on dialysis for 15 years. 
The chapter highlights the need for systems-level change through spread and scale of innovations like the Highly Sensitized Patient program, both at the pan-Canadian level in which Canadian Blood Services operates, and at the regional and provincial levels. More broadly, the book outlines five other big ideas for changing Canada's health-care system to improve patients' health. Ranging from national pharmacare, to fewer unnecessary tests and interventions, to basic income for basic health, they are all bold, "big picture" approaches to health policy.
Image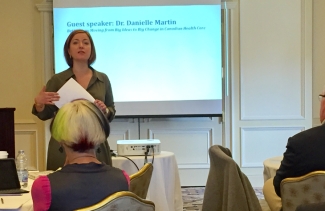 Dr. Danielle Martin, author of Better Now: Six Big Ideas to Improve Health Care for All Canadians, presents to Canadian Blood Services' Board.
A Q&A with Dr. Graham Sher
Earlier in May, we interviewed Canadian Blood Services' CEO Dr. Graham Sher about Dr. Martin's talk and her interaction with the board of directors.
Tell me about the board's discussion at with Dr. Martin.
Danielle has a rare talent: she makes complex policy discussions about the need for health-care transformation engaging, informative and highly accessible. Certainly she is one of the most relevant and approachable speakers the board has heard. Her use of storytelling in her book was really well received because it gives both a patient perspective and a window into a number of worlds: her practice as a family physician, her perspective as a health administrator, and her research and thinking as a health policy specialist. She was able to leverage the authenticity that comes from all of those perspectives in her discussion with us in April, and that was rewarding for everyone.
What themes did she focus on? What was her strongest message to the board? What was their reaction?
Interestingly, Danielle's strongest message to the board was about the organization's leveraging of scale, particularly around organ sharing and organ donation and transplantation programs.
For the board, her directness in singling out this theme among others was both validating and revealing. It validated an intuitive understanding we've had for some time that bridging traditional silos of health-care delivery is an important part of how we deliver value. At the same time, there was a new sense in our discussion with her that this factor truly does distinguish us from other health-care bodies in Canada.
Upon reflection, I think the Canadian Partnership Against Cancer, of which I am board chair, is another example of successful scaling of health programs. CPAC's role is to create a pan-Canadian cancer control strategy to optimize access to cancer care for Canadians with the same degree of equity we argue is the strength of the organ programs we manage. CPAC is all about cooperating and collaborating across jurisdictions and organizations to optimize effectiveness and efficiency of services across the cancer control continuum, from prevention to end-of-life care. While CPAC doesn't manage integrated health systems such as the Canadian Transplant Registry as we do, it does convene, facilitate, develop leading practices, and then enable system change at various levels through its funding strategies.
If you could see progress on one of her big ideas, which would it be? Why?
Without question, it would be pharmacare. From my perspective, a national pharmacare program would support two fundamental outcomes that health systems are currently groaning under: it would achieve greater equity and access to essential medicines for patients across the country, and it would vastly lower health-system costs. Frankly, I was compelled, as a physician and an administrator, by her stories both in the book and at the board meeting, around pharmacare. It is unacceptable that in Canada's public health system one in five Canadians will not fill their prescriptions because they can't afford it.
What do you think of Ontario's recently announced approach where pharmacare would be extended to children and young people up to age 25?
For me, this is an important first step, and one that I hope stimulates system-changing discussions on a national scale. Similarly, I would call out the work of the pan-Canadian Pharmaceutical Alliance in reducing drug costs as another significant step forward. Canadian Blood Services also leverages bulk-buying power to achieve better pricing for specific categories of drugs derived from human plasma (called plasma protein products). All of these programs are important tools to drive better value and access for patients, but clearly much more needs to be done to achieve a national, integrated pharmacare program as described in Danielle's book.
At one point in our discussion, Danielle and the board engaged around the idea that a pharmacare program does not mean advocating access to every available drug for every Canadian being treated. I think this is a critical point to make: pharmacare would be a game-changer on many levels, but difficult choices would still have to be made to balance public expectations with system capacity. By making those choices within the scope of a national pharmacare program, however — instead of in provincial and territorial silos — the country would gain the power to optimize access to the majority of drugs for the majority of Canadians, and that is indeed something worth striving for.
Part of Dr. Martin's outreach in support of her book is extending this conversation to groups we may not view as typical academic or government consumers of health policy. Why do you think it is important for Canadians from a variety of backgrounds and perspectives to be aware of the issues she raises?
Perhaps it emanates from her practice as a front-line physician, but you are right, this book is clearly aimed at Canadians at large, not just policy-makers. Perhaps she feels real change will come from engaging with citizens at a much broader level as well as with those in policy and government.
I admire her hopeful message and her ability to build on — rather than tear down ― the health-care system Canadians so clearly cherish. I find her positive approach to calling for change to be a strong strategy. Advocacy that is hopeful and positive opens doors, just as being a good health-system partner opens doors.
What role, if any, can Canadian Blood Services play in moving any of these six big ideas forward?
This was actually Dr. Martin's question to Canadian Blood Services' board. And while we didn't land on any one response in our meeting, I do feel that we are active participants in this discussion in a way other organizations may not be because we continue to build the national organ and tissue donation and transplantation programs she focused on in her book. In fact, in the future, we hope the heart community will directly benefit from the experience and learning of building the national Highly Sensitized Patient program for kidneys. Extending what we learned — the knowledge and technology from programs that work well — to help even more patients can easily effect real change. And we can certainly do more to communicate our experience and growing success in that sphere.
Our formulary of plasma protein products, which we bulk-purchase and deliver to hospitals across the country, is also an example of pan-Canadian scale at Canadian Blood Services working for the benefit of patients and health systems. This is another area where we can continue to share our experience, particularly around how the program delivers equity of access for Canadian patients and is a living example of one element of a broader pharmacare model.  
Further reading
About the Highly Sensitized Patient program:

What does being "highly sensitized" mean?

It means that the patients have a sensitized immune system. Immune system sensitization may be a result of blood transfusions, previous transplants or pregnancies, which is why many highly sensitized patients are women. As a result, patients who are highly sensitized are at higher risk of rejecting an organ transplant. This makes it very difficult to find a suitable donor match.

Why was the Highly Sensitized Patient program developed?

About 20 per cent of patients on provincial wait-lists are highly sensitized and need a kidney transplant. Yet, these same patients historically receive less than one per cent of available organs. With access to a limited number of donors in their home province, highly sensitized patients wait much longer for a kidney transplant and have a greater chance of becoming more ill or dying while they wait. By providing access to donors across the country, the Highly Sensitized Patient program increases the chances of finding kidney transplants for these hard-to-match patients. 
---
Canadian Blood Services – Driving world-class innovation
Through discovery, development and applied research, Canadian Blood Services drives world-class innovation in blood transfusion, cellular therapy and transplantation—bringing clarity and insight to an increasingly complex healthcare future. Our dedicated research team and extended network of partners engage in exploratory and applied research to create new knowledge, inform and enhance best practices, contribute to the development of new services and technologies, and build capacity through training and collaboration.
The opinions reflected in this post are those of the author(s) and do not necessarily reflect the opinions of Canadian Blood Services.
Related blog posts
---
Wednesday, February 10, 2016
Jenny Ryan
A new innovation by a team of Canadian Blood Services researchers and the National HLA Advisory Committee has improved the situation for Canadian transplant patients. Launched in April 2012, the Canadian cPRA Calculator was developed to support Canadian Blood Services' transplant programs. It's a...
---
Monday, August 29, 2016
Jenny Ryan
Two hundred and fifty donations facilitated through the Highly Sensitized Patient program We are pleased to share the news of an exciting milestone for the Highly Sensitized Patient program. As of Monday, Aug. 22, 2016, there have been 250 transplants since going live in October 2013! The Highly...