2020 Surveillance Report shows blood supply remained above target in first year of pandemic
---
Thursday, September 16, 2021
Tricia Abe
Canadian Blood Services recently published its annual Surveillance Report by the Epidemiology & Surveillance Department, a summary of monitoring efforts related to transmissible infection testing in donors, possible transfusion-transmitted infections in recipients, and new, emerging pathogens. Surveillance also includes monitoring of donor safety. Ongoing surveillance is a central part of ensuring the continued safety of the blood supply.
New in the 2020 report is a section on COVID-19 and donor safety. Concerns about transmission of the SARS-CoV-2 virus at donation sites prompted a number of changes. Although SARS-CoV-2 is not transmissible by blood, a variety of measures were put in place to mitigate risks brought on by the virus; not only the risk of infection for donors, volunteers and staff at donation sites, but also the risks to the adequacy of the blood supply. Yet data provided in the 2020 Surveillance Report show that the blood supply remained above target throughout the year, even as COVID-19 waves continued across Canada.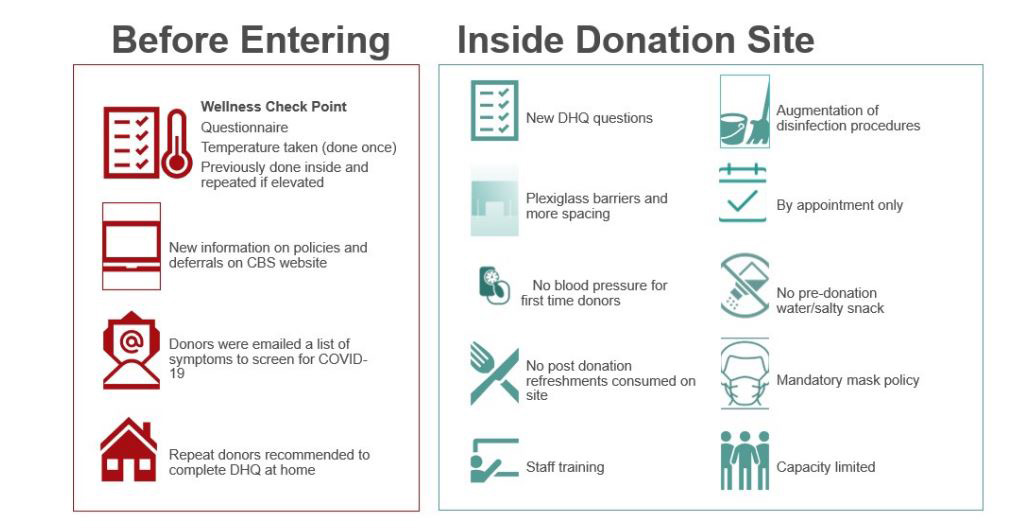 Key changes in the donation clinic to protect donors and staff during the COVID-19 pandemic. Operational changes before donors entered collection sites include the implementation of a wellness check point and a request that repeat donors complete the donor health questionnaire at home. Inside collection sites, a mandatory mask policy and capacity limits were just some of the changes implemented. Source: O'Brien S. Surveillance Report 2020. Ottawa: Canadian Blood Services; 2021.
For more information on Canadian Blood Services' infectious risk monitoring in 2020, read the full 2020 Surveillance Report on Canadian Blood Services' Professional Education website.
---
Canadian Blood Services – Driving world-class innovation
Through discovery, development and applied research, Canadian Blood Services drives world-class innovation in blood transfusion, cellular therapy and transplantation—bringing clarity and insight to an increasingly complex healthcare future. Our dedicated research team and extended network of partners engage in exploratory and applied research to create new knowledge, inform and enhance best practices, contribute to the development of new services and technologies, and build capacity through training and collaboration. Find out more about our research impact. 
The opinions reflected in this post are those of the author and do not necessarily reflect the opinions of Canadian Blood Services nor do they reflect the views of Health Canada or any other funding agency.
Related blog posts
---
Tuesday, May 25, 2021
Dr. Geraldine Walsh
An article recently published on the Canadian Blood Services' professional education website looks back on the impact of the pandemic on blood donation in Canada.
---
Wednesday, June 29, 2016
Jenny Ryan
Dr. Sheila O'Brien knows the answer. She is the associate director, epidemiology and surveillance, working at Canadian Blood Services head office in Ottawa. Understanding and minimizing the infectious risks associated with blood transfusion is what she does each and every day.
---
Monday, December 03, 2018
Ross FitzGerald
Canadian Blood Services has recently made progress on several fronts that may further evolve the eligibility criteria for men who have sex with men. This includes supporting more research projects as part of the MSM Research Grant Program and working to reduce the waiting period from one year to three months based on the latest evidence.