Over 125 newcomers unite in Windsor to donate blood
---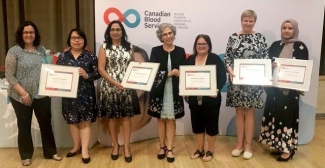 Passionate, committed, community oriented are just a few words that describe this amazing group of leaders from the following partnering agencies: Multi-Cultural Council Windsor, Unemployment Help Centre, Windsor Women Working with Immigrant Women, Women's Enterprise Skills Training of Windsor, and the YMCA.
These agencies have worked hard to plan, recruit and educate newcomers to fulfill their desire to give back to their new community and country by donating blood. This year, Canadian Blood Services Windsor hosted two blood donation events for Arabic speaking newcomers and both were a tremendous success. Over 125 newcomers participated, all donating blood in Canada for the very first time.
The blood donation events provided an opportunity for agency participants to learn about Canada's Lifeline, the blood donation process and most importantly about how their blood donation can help save lives.
It was an amazing opportunity for participants to be able to give back, not only individually; but as a community. Participating newcomers had an opportunity to meet others, build friendships and become a part of Canada's Lifeline.