Newfoundland and Labrador welcomes Genoa Design International
---
Image

Genoa Design International joined our Partners for Life program in recognition of the need for blood and blood products. As part of this new partnership, Genoa coordinated their first Lifebus event in July anticipating low attendance based on vacation schedules.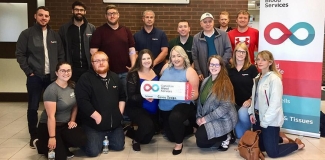 "Genoa Design International, over its history, has developed and fostered a strong set of corporate values towards community involvement and giving back locally and internationally", said Corey Woodford, of Genoa Design International. "Genoa is happy to enable its willing employees to donate blood through the Lifebus program. We are very happy to say that we had about 25% participation from our local staff in our initial blood drive, many of them first time donors.  We look forward to becoming a long-term corporate donor and hope that this will kick start for some of our employees to become regular donors thru Genoa's corporate blood drive initiative."
Thank you for your amazing support Genoa, we look forward to seeing you again this fall!