Meet Alexa - NextGen Lifeline volunteer and former cancer patient
---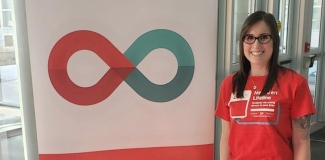 NextGen Lifeline volunteer and former cancer patient, Alexa Pickens, is encouraging Canadian youth to join Canada's Lifeline as the next generation of blood and stem cell donors. Alexa required multiple blood transfusions to survive a rare form of leukemia while in her second year at University of Alberta.
Throughout her treatment, Alexa experienced multiple life-threatening complications and needed platelet, plasma and hemoglobin transfusions regularly. She credits the 75 transfusions she received for her ability to survive and continue to pursue her goals. Alexa's gratitude to donors has led her to become an active member of Canada's Lifeline through her advocacy for blood donation. "I am glad to be living proof of how important those blood donations are."
As a Founding Sponsor, Canada Life is providing support for the NextGen Lifeline program over three years. The recruitment program will target new donors between the ages of 17-30 and aims to recruit the next generation of volunteer donors.
"Young Canadians are part of the next generation of volunteer donors and can make a difference in the lives of people like Alexa, who require life-saving blood and stem cell donations," said Jeff Macoun, president and chief operating officer, Canada, at Canada Life. "We're proud to continue supporting Canadian Blood Services and the NextGen Lifeline program in their efforts to recruit new volunteer donors and improve the well-being of all Canadians."