Brian Jessel BMW dealership in Burnaby opens their showroom floor to host mobile donor centre
---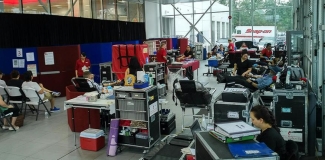 Canadian Blood Services started working with Brian Jessel BMW and their champion, Theresa Cheung, in February 2018. The company booked their first group donation on March 8 at the Bill Copeland mobile donor centre - 18 people donated and the feedback was great. It didn't take long for the champion to commit to their next group donation and the same positive vibe and wonderful feedback was received.  
Then, in July, we were looking for a venue for a mobile donor centre, we approached Brian Jessel BMW to host the event and they agreed with no hesitation. In only 3 days, we had the corporate approval to host the event in partnership with an organization that committed to go above and beyond to make it work for us and for our donors in Burnaby. Without this support, we would not have been able to find a space on such short notice. It was not easy to make the showroom available and meet the requirements for hosting a donor event. All their showroom cars were moved out and a 5000-square foot space was made available for the event on August 23.
They provided a lot of support as well as free water bottles for donors. The staff from Brian Jessel BMW helped to make this event a success! Thanks to all the teams involved in the process (marketing, logistics, approvals, etc.) –  Special thanks to Theresa Cheung, Diana Zoppa, and Lindsey Pulice for all your support and hard work!