Empire Life adopt donor centre in Kingston, Ontario in honour of one of their own
---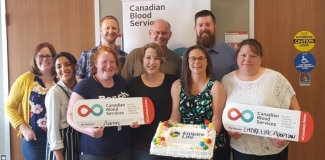 The team at Empire Life adopted the Kingston donor centre and brought in four Life Busses with donors who made a total of 50 donations - many of these were first time donors! The team held a donor recruitment event in May at their workplace to help promote the event, pre-screen donors and review eligibility with employees. The response was overwhelming with 28 employees signing up to donate in June. 
Image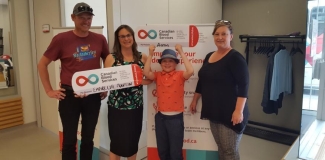 This initiative hits home for Empire employee Erwin Kooi, whose son Aaron was diagnosed with leukemia four years ago and required multiple blood transfusions during his aggressive treatments. The Kooi family has seen first-hand the importance of donating blood. "In Ontario, over 1,000 kids are diagnosed with cancer every year and they need blood as part of their treatment. It's more important now than ever to donate -  I think we can get 50 people to book appointments." said Erwin. 
The team at Empire Life definitely reached their goal of 50 units and, with their assistance, many lives will be impacted.  Aaron and his father were onsite to express their gratitude to the generous Empire Life team.