The Canadian Society for Medical Laboratory Sciences adopts the PEI donor centre in April for Lab Week
---
Image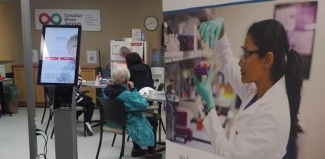 For the second year in a row, the Canadian Society for Medical Laboratory Science (CSMLS) has partnered with Canadian Blood Services to help ensure that life-saving blood products are available to hospital patients in need. CSMLS celebrates National Medical Laboratory Week every April. This year, CSMLS marked the occasion by adopting seven donation centres across the country in celebration of the work done in the lab to support patient care. During the week, members were also encouraged to donate blood, recruit new donors and volunteer as a way to give back to their communities.
As a highlight this year, CSMLS included a video segment featuring Canadian Blood Services as part of their "In the lab" series. The video was filmed in our Calgary centre, check it out here: https://youtu.be/AcRzKzimTbk
Members of the CSMLS are medical laboratory professionals who work in hospitals and private labs providing accurate test results to assist in patient care and treatment. CSMLS members also play a vital role in Canada's Lifeline by performing essential testing of donated blood products to ensure its safety for every patient.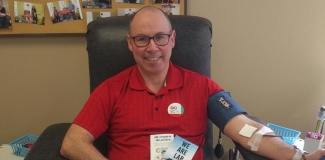 CSMLS Board of Director, Greg Dobbin, was present in Charlottetown during the CSMLS adopt a clinic as well as several donors from around the island.
"We are proud to have an opportunity to support Canada's Lifeline through blood donation.," says Christine Nielsen, CEO of the CSMLS. "The work our members do, from blood collection to product testing, is all part of the process to keep patients safe and ensure the right products are being used at the right time."
We are thankful to have national partners like CSMLS that share our passion and vision.