A tragic accident is the beginning of a new organization
---
Image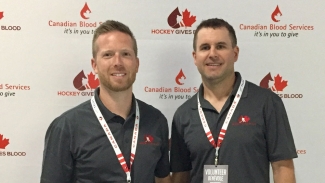 The story of the tragic bus accident involving the Humboldt Broncos hit close to home for Stu Middleton, from Kamloops BC.
When the news broke, Stu was vacationing with his family in Disneyland at the time, but his heart was at home as his personal memory from 18 years ago came rushing back.  His father was killed while traveling to Stu's hockey game. Stu was 18 at the time, playing for the Revelstoke Grizzlies.  

When he heard about the tragedy in Humboldt, Stu reached out to his former teammate, Tanner Murray, who he had leaned on personally when he lost his dad. Together they began connecting with other players to see if they could encourage the hockey community to spread the word about donating blood as way to support patients in need.  

Stu and Tanner contacted Canadian Blood Services to learn how they could make a difference by becoming a partner. They formed Hockey Gives Blood, and have grown their team to include Luke Pierce and Kurt Jory. Together they share a passion for the game and are driven to make donating blood top of mind in the hockey community.

Hockey Gives Blood signed up for a Partner for Life organization and has since become a National Partner in a very short time.  In two and a half short months, Hockey Gives Blood has co-branded tents, flags and t-shirts and has developed hockeygivesblood.ca to ensure they and Canadian Blood Services are well represented at these events.

Hockey Gives Blood has held two blood drives in British Columbia, including one in White Rock and one in Kamloops.  They have also actively recruited blood donors at the RBC Cup and Memorial Cup, and were instrumental in involving both NHL and WHL teams in the Missing Type awareness campaign in June. Their momentum continues to mount with speaking engagements as well as a Hockey Golf Tournament in Kelowna, BC in July.

By rallying the hockey community, and building awareness across the country, Hockey Gives Blood hopes to make blood donation top of mind amongst hockey players, coaches, fans, and supporters from coast to coast.