The Nova Scotia HOG chapter rolls into Halifax to give life
---
Image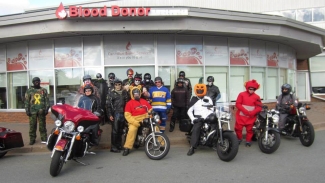 The HOG ® Central Chapter Nova Scotia (CCNS) was founded in 1987 and consists of men and women from various regions of the Halifax regional municipality, Chignecto, Cumberland, Annapolis Valley and Eastern Shore areas. 
In recent years this group has pledged to be involved with organization that helps people within the members' communities and beyond.  As a Partner for Life with Canadian Blood Services, they are achieving this goal.
Chapter members make it a priority to donate whenever they are able.  They have organized blood donation events, and many members regularly donate plasma, platelets and whole blood. If a member can't attend the organized group event, he or she commits to donate on their own to support the group's Partners for Life pledge.  
HOG® CNS members are proud when they hear the stories of those whose lives have been saved by receiving blood. Knowing they have made a positive impact on people's lives helps them feel connected with the greater community.
Hospital patients rely on every-day Canadians to donate the blood they need. Each year, the goal of the HOG® CCNS Chapter is to meet or beat their donation pledge.  They know that they have the power to make a difference, and they are committed to doing so.