The 2019 Canada Winter Games host society gives back
---
Image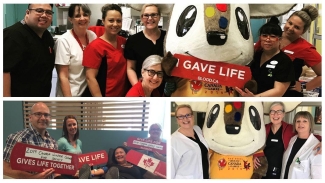 The 2019 Canada Winter Games host society adopted a clinic on May 5, 2018 in Red Deer. With planning well underway for the upcoming games, the host committee made it a priority to donate blood together. Waskasoo, the event mascot attended for moral support and brought smiles to many faces.
The 2019 Canada Winter Games host society has proudly become a 'Partner For Life', sharing their mandate: collaboration – stronger together. They are dedicated to promoting the importance of donating blood in the community.
Red Deer and Central Alberta will host the 2019 Canada Winter Games in February 2019.  Featuring 19 sports, over 150 events and a major arts and culture festival, the games will welcome up to 3,600 athletes, support staff and more than 20,000 visitors. Canadian Blood Services is proud to be a highlight of the community's journey to this once in a lifetime event. This is our moment!