First Responders in Niagara roll up their sleeves to save lives!
---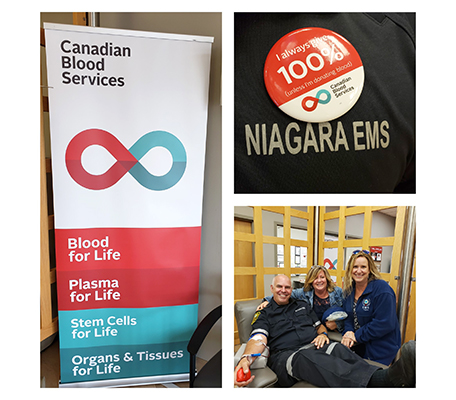 Emergency responders across the Niagara region rolled up their sleeves to answer the call for this year's 19th annual Sirens for Life Challenge. This vital summer campaign inspires emergency service professionals to promote the need for blood donation in support of Canada's Lifeline, while providing a meaningful opportunity to strengthen and expand local partnerships.
Many emergency services workers support the challenge not only because they see the need for blood on many occasions in their jobs, but also due to a desire to lead by example and demonstrate the importance of maintaining the national blood supply through regular donation.
This year, the challenge involved seven partners: the Niagara Regional Police, St. Catharines Fire Services, Lincoln and West Lincoln Fire Services, Niagara EMS, Niagara OPP, and Canadian Boarder Service Agency. This combined effort resulted in more than15 group donations with 182 units of blood collected between July 1 to September 7. These groups helped collections at the St. Catharines donor centre, and surrounding community centres in Niagara Falls, Fort Erie, Lincoln, West Lincoln, and Welland.
This year's winner, with 58 donations, was St. Catharines Fire Services. Kudos to all who participated and made this year one of our best.