The Ontario Provincial Police (OPP) 2018 RIDE Campaign partners with Canadian Blood Services in Eastern Ontario
---
Image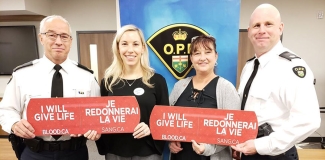 Ontario Provincial Police - East Region Headquarters has once again partnered with Canadian Blood Services during the month of December. This is the third year that OPP detachments all over Eastern Ontario will be handing out a festive campaign postcard to raise awareness of the need for residents to join Canadas Lifeline and support patients during the month of December.
Image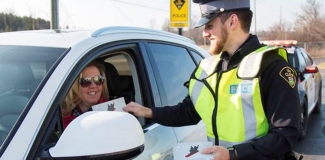 "We are working hand in hand with the Canadian Blood Services to promote local donor centres — it's a good opportunity to get the information out there when we are having that interaction with the public," explained Staff Sgt. Scott Semple, Central Hastings OPP. Constable Brandon Cassib, Central Hastings OP, shown handing out a campaign postcard
Inspector Paul Bedard, of the OPP East Region Headquarters, has led this initiative and worked with Canadian Blood Services to ensure that more and more detachments under their jurisdiction are participating in the program. The postcard contains local mobile donor centre locations and information such as regular and holiday hours, as well as ways to book an appointment to donate blood. The OPP are handing out approximately 15,000 campaign postcards to increase community participation and highlight the ongoing need for donor support.
Having an awareness alliance with the OPP is such a positive step forward in raising community awareness. It highlights the importance of partnerships in the community and demonstrates the local need.
Our heartfelt thanks for their continued support at such an important time of the year!