Nova Scotia High School rallies to support New Glasgow donor centre
---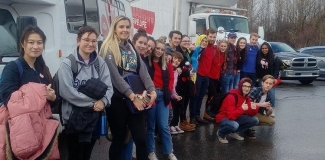 Northumberland Regional High School has been a long-time partner of Canadian Blood Services, participating under the former Young Blood for Life program. Recently, they have switched from hosting community blood donation events to hopping on the Life Bus to support their mobile donor centre in New Glasgow.
The Healthy Hawks Committee began their work in early September; arranging meetings with Canadian Blood Services, finalizing dates for blood typing & blood donation events. On donation day, they arrived with a well-organized crew, complete with a teacher who was also willing to donate blood.
Congratulations on a successful event and our thanks to everyone for all the hard work!