Erik Gudbranson, defenseman for the Vancouver Canucks and Hockey Gives Blood team up to promote stem cell donation
---
Image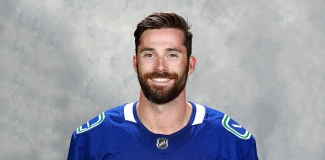 Vancouver Canuck's defenseman, Erik Gudbranson has teamed up with Hockey Gives Blood to promote Canadian Blood Services' stem cell registry within the hockey community. Erik learned first-hand how important the registry was when his younger brother Dennis was diagnosed with acute myeloid leukemia (AML) when he was six years old.
Erik recalls, "After months of waiting, with only a one in 40,000 chance of finding a stem cell match, we learned of an adult match that would eventually save my brother's life. Our goal for this campaign is to boost the number of young male donors on Canada's stem cell registry, providing further hope for those waiting for a match."
Half of all stem cell donors chosen to help Canadian patients are male, and yet only 20 percent of the current stem cell registry is comprised of registered male donors. Younger stem cell donors provide better patient outcomes and male donor stem cells decrease the possibility of post-transplant complication.
Hockey Gives Blood co-founder Stu Middleton encourages hockey teams to participate in February's campaign, "Joining the stem cell registry is another way for players to support the community and help save a life. Being able to register online, makes joining the registry convenient because players can sign up through their phones and then have a registration kit mailed to their home."