Well.ca Joins Canadian Blood Services as a New Partner to Support Donor Health
---
Image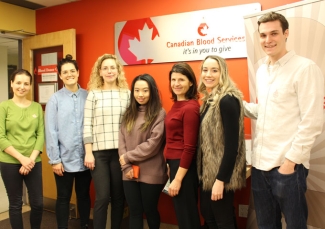 As a proud Give Life partner of Canadian Blood Services, Well.ca is committed to raising awareness about the need for blood donations to help hospital patients who require blood and blood products for treatment.  To celebrate the partnership, staff from Well.ca recently joined together to donate blood in Toronto.

"There was a lot of interest to participate in our office, which is great," explains Sarah Steeves, vendor marketing specialist for Well.ca. "Knowing that there would be a group of us going together definitely made it easier for a first time donor to sign up. There were some nerves, but it was easy to focus on the positive impact we would have."

The company's commitment to the cause is a natural fit, as Well.ca is happy to support blood donors' health and wellness through the range of iron supplements available for purchase, which can help to replenish iron stores following blood donation.

If you donate blood frequently, you may benefit from an iron supplement. You don't need a prescription to get iron supplements, however speak with a healthcare professional about the right product for you.  Check out our iron page for more information.