A Recipient Becomes a Champion.
---
Image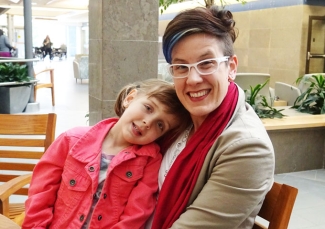 As we kick off the new year, the warm glow of holiday joy lingers for many.
This past holiday season was especially sweet for Leah and Tim Hunt of London, Ontario. They filled their days making memories with their 5-year-old daughter Fiona, enjoying their time together as a family, and celebrating good health. 
You see, good health is not something the Hunts take for granted.
In 2012, when Fiona was just 15-months-old, she was diagnosed with Acute Myeloid Leukemia.  Her blood was 80 per cent leukemic, and doctors told Leah and Tim that Fiona's odds of surviving were 50/50. 
After six months of treatment Fiona went into remission.  Unfortunately, her period of good health was brief.  In 2014 the cancer returned, and chemotherapy was not effective.  Fiona's last hope was to receive stem cells from a bone marrow transplant.  The transplant was a success, and after 6 months of recovery, Fiona came home from the hospital just in time for Christmas.
Throughout the course of her treatment, transfusions of blood and blood products played an integral role for Fiona's wellness.  In fact, she received more than 100 transfusions.  Thanks to Canadian blood donors — people like you — Fiona was able to survive the treatment she needed.
Today, Leah and Tim are dedicated to giving back, to helping other families who are living through similar experiences.  By sharing her daughter's story, Leah has been engaging countless colleagues from various departments with the support of her employer, TD.  This February, TD colleagues across the country will be rallying together to give life, so that children like Fiona can receive the lifesaving blood and blood products they need.
Every day, across Canada, groups of donors from workplaces, schools, clubs, community groups, and more, file into Canadian Blood Services collections centres to donate blood.  Our partners are making a difference for Canadian hospital patients by recruiting new blood donors, and helping to raise awareness of the constant need for blood.
For families like the Hunts, there is no greater encouragement than seeing every bed filled with donors at the Canadian Blood Services collection centre.