The Ledcor Group of Companies in Edmonton Alberta Collects 117% of their Target.
---
Image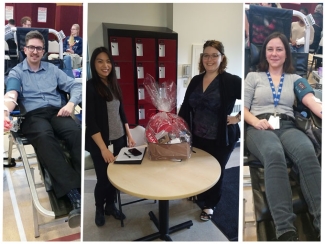 Edmonton Ledcor employee Justin, Ledcor Champions Elizabeth and Melanie host a welcome table for their staff outside the clinic & Edmonton Ledcor employee Tamara
The Ledcor group of companies in Edmonton joined the Partners For Life program in 2008, and have been championing blood donation ever since.  In 2015 they became the host to an on-site blood collection event at their Roper Road location. This year they pledged to collect 120 units, and together their team has already donated 146 units of blood. They promote the donation event internally to their staff and externally to the community.   The last event at the Ledcor site  collected at 117% to collection target.
No great success story happens overnight. The Ledcor champions Elizabeth and Melanie took adopting the clinic to heart. They pushed their recruitment efforts into full gear to drive successful collections events. They did this by reaching out to various vendor partners, Ledcor locations, and local radio stations to promote the event.  Melanie also designed and distributed a company-wide email to express the importance of coming out to donate blood onsite, highlighting Ledcor's annual pledge of blood donations.   
We are so thankful for partners like Ledcor and for champions like Melanie and Elizabeth. Thank you for all your hard work.