The Grand River Hospital in Kitchener, Ontario support their Staff in Living their Values.
---
Image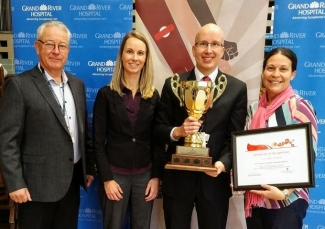 The Grand River Hospital wins Ontario Hospital Challenge
Grand River Hospital in Kitchener, Ontario believes in exceptional patient care. This busy community hospital joined Canadian Blood Services as a Partner For Life in 2009 and every year since, their staff and leadership have made blood donation part of their culture. Mark Karjaluoto, the Director of Communications, is the driving force behind this successful partnership and has really invested his passion, time, and commitment to saving lives. The employees at the hospital see every day why donating blood is so important. As a hospital that admits 25,000 patients a year, performs over 12,000 surgeries and sees 67,000 emergency room visits, they know firsthand how important it is to have a strong blood supply. This year alone they have already contributed 543 units of blood, and they are still going strong. New donors contributed 122 of those donations, and in May they won the Ontario Hospital Challenge with over 4% of their staff donating in that month alone.
We are so thankful to Mark and his team at Grand River for their commitment and passion for blood donation, and we look forward to working with them for years to come.