Image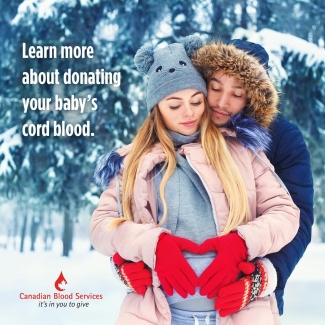 This winter, learn about donating your baby's cord blood with Canadian Blood Services' Cord Blood Bank.
Did you know that expectant mothers in four cities across Canada have the unique opportunity to donate life-saving umbilical cord blood? 
Canadian Blood Services' Cord Blood Bank recruits healthy, volunteer mothers delivering at designated collection hospitals across the country.  As it is a public cord blood bank, donated cord blood units are collected at no charge. 
Umbilical cord blood is rich with blood-forming stem cells. Cord blood stem cell transplants are used for treating over 80 diseases and disorders, including leukemia. 
 You can donate your cord blood in:
Ottawa: The Ottawa Hospital General Campus
Brampton: William Osler Health System's Brampton Civic Hospital
Edmonton: Alberta Health Services Lois Hole Hospital for Women in Edmonton
Vancouver: BC Women's Hospital and Health Centre in Vancouver. 
Hundreds of Canadians require a stem cell transplant each year, and more than 75% will be unable to find a match within their family.  These patients will rely on someone they don't know to save their life. 
By donating their baby's cord blood, expectant mothers can give life twice. If you or someone you love is expecting, please consider cord blood donation. To learn more, visit blood.ca/cord-blood.