Wealth management advisor in BC becomes an advocate for blood donation.
---
Image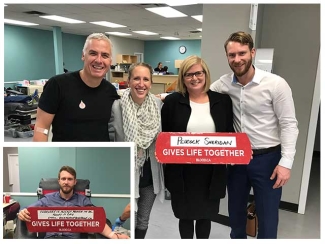 The Peacock Sheridan Group kicked off hockey month in BC by adopting a blood donor clinic in Kelowna on the first of February. You might think this is a strange marriage for a wealth management company – hockey and blood donation. But like most corporate social responsibility initiatives, this one was grown inside their organization. Kurt Jory, one of the firms' advisors, knows firsthand that blood donation literally saves lives. Nine years ago, Kurt was the goalie for the Brock University Hockey Team when he suffered a life-threatening injury. Kurt had his jugular vein severed by a skate blade. He remembers telling a fellow player that if he died, to tell his family he loved them. Kurt knows he is alive today because several anonymous blood donors rolled up their sleeves and donated blood. Kurt volunteered to share his story to promote the blood drive and challenge other businesses to adopt the same day at the clinic. On the day of the clinic, many businesses took up the challenge and joined the donation, including, Pihl Law, Coldwell Banker, Invis, TD Benefits, Active Care, the Mayor of Kelowna and the City of Kelowna, Shaw, MNP, Crowe Mackay, November Project, Moksha Yoga, Lululemon and Innov8! Kurt supported his efforts with media interviews including Kelowna Now and Shaw TV. He also recorded a video that played at six games in February at the WHL Rockets arena. With Kurt's help, Canadian Blood Services set up recruitment booths at the games to keep the message at the top of mind to the attendees. The Rockets donated a signed jersey for a draw in the Kelowna Clinic.
Our thanks to Shaw Kelowna and SW Showtime for sharing the video with us. Click here to view the video on our YouTube channel.