RE/MAX Jazz in Oshawa, ON joins the Canadian Blood Services Family
---
Image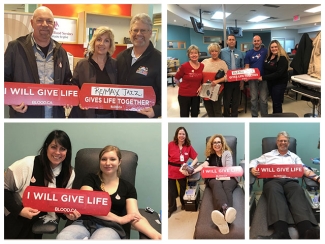 Noël Coppins, owner of Oshawa's RE/MAX Jazz, is always looking for ways to give back to her community. Though she had previously volunteered with several local charities, she hesitated to join the #GiveLife movement with Canadian Blood Services because of a lifelong fear of needles. When she learned the exponential impact of having her team join her in a group blood donation, she was convinced this would be a fear worth overcoming. "There aren't many places you can volunteer an hour of your day and have such a powerful impact on patients' lives" Noël stated.
Long weekends are always a difficult time to recruit blood donors.  The RE/MAX Jazz team adopted Family Day weekend in February for a blood drive in Oshawa, ON. Noël originally pledged to recruit 10 donors over the long weekend but with an amazing internal recruitment strategy, which included a heartwarming video welcoming new donors and inviting regular donors to #GiveLife as a team - the support almost tripled in a couple of short weeks. Canadian Blood Services welcomed an incredible team of almost 30 generous donors to the Oshawa Blood Donor Clinic over just two days. With the support of team members and their families, the clinic was bustling and thriving, providing a much-needed boost during a difficult winter. In Noël's words, "it was a great day, a day of overcoming lifelong fears, and supporting each other as a family". The RE/MAX Jazz family certainly fosters a strong culture of volunteerism and is already looking forward to making their blood drive an annual event.
We want to thank Noel, her team, and their families for volunteering and supporting Canadian patients in need of blood. They are making a positive impact in their community! April is the national celebration of volunteers, and we truly appreciate the continued support.