BC kicked off Hockey Month in February!
---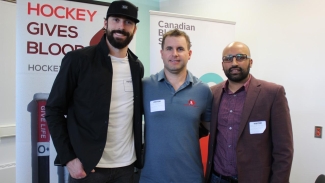 In the Interior BC, Partner for Life Peacock Sheridan Group kicked off their second annual blood donation event. This event was inspired by the story of Kurt Jory who, while playing hockey in university, had his jugular cut by a skate blade. This year, Peacock Sheridan kicked off the month with the donations from the Kelowna Chiefs hockey team. They also tagged local businesses and organizations on social media to adopt a day and encouraged their networks to donate blood.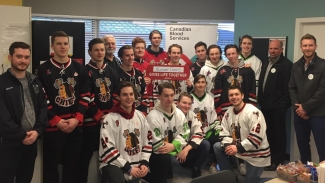 Thank you to the following groups for participating: November Project, Lululemon, Innov8, CrossFit, Courage for Connor, Winn Rentals, Winmar, Orchard Ford, Dino Gini, Active Care, MNP, Pihl Law, and Crowe Mackay. We are grateful to our hockey partners; the Kelowna Rockets, Kelowna Chiefs and Westside Warriors for making us part of your community – we attended many games in February with the help of our volunteers!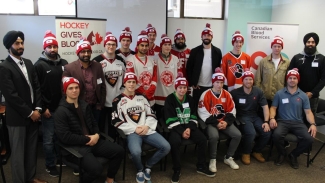 In Vancouver, Canadian Blood Services partnered with Hockey Gives Blood to encourage young hockey players to register as stem cell donors. On February 20, former Vancouver Canuck, Erik Gudbranson, attended an event to share his story about his younger brother receiving a lifesaving stem cell transplant from a stranger. Hockey Night in Canada Punjabi covered the event in support of the need for ethnic donors and to help encourage their viewers to register as potential stem cell donors.
Special thanks to: Vancouver Canucks, Vancouver Giants, SFU Men's Hockey, White Rock Whalers, Hockey Night in Canada Punjabi, and of course, Hockey Gives Blood for a successful event!