HLA/HPA Selected Platelets, Part of the Specialized Cells Program
Figure 1. Human Leukocyte Antigens (HLA) Overview
---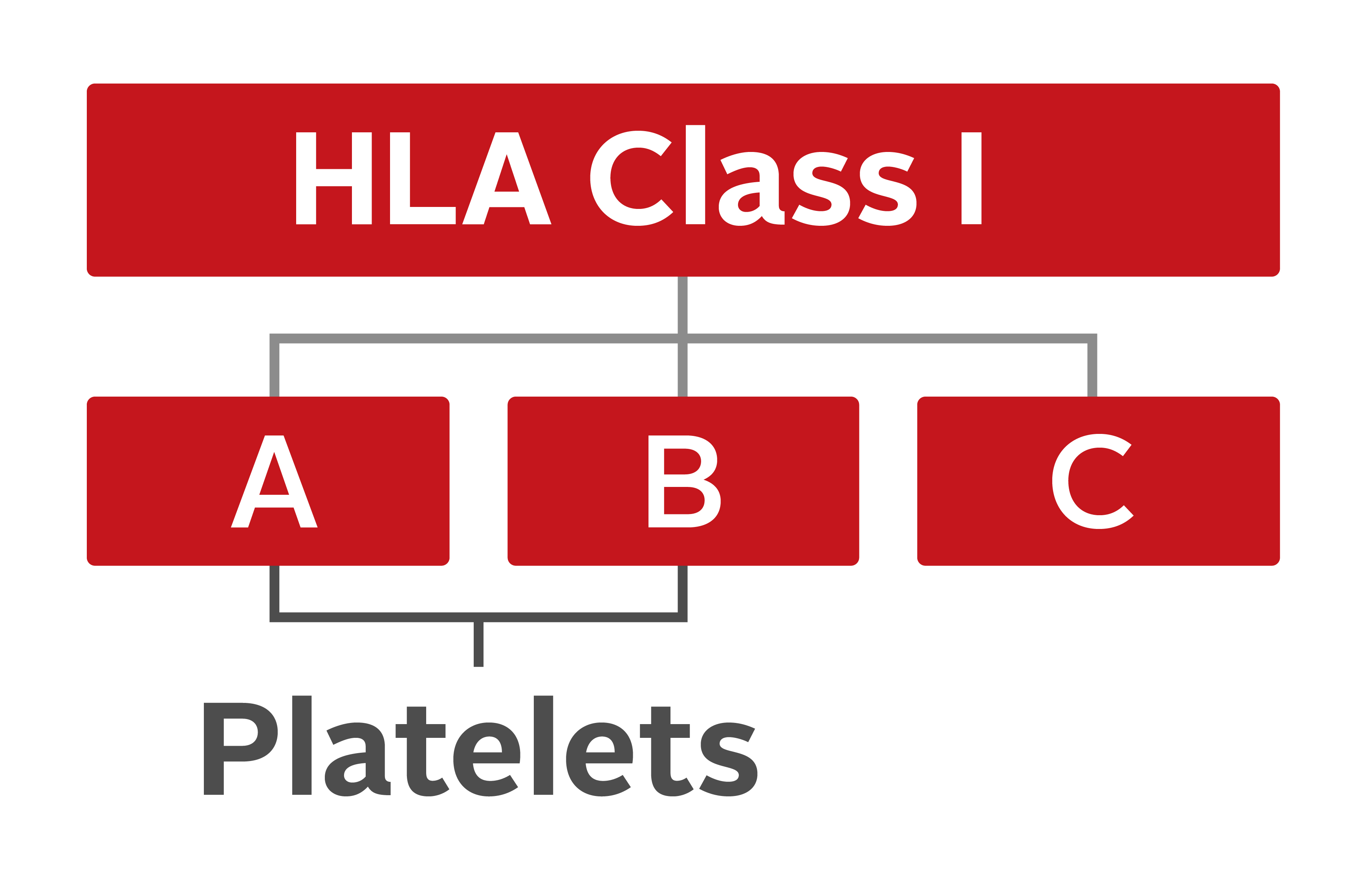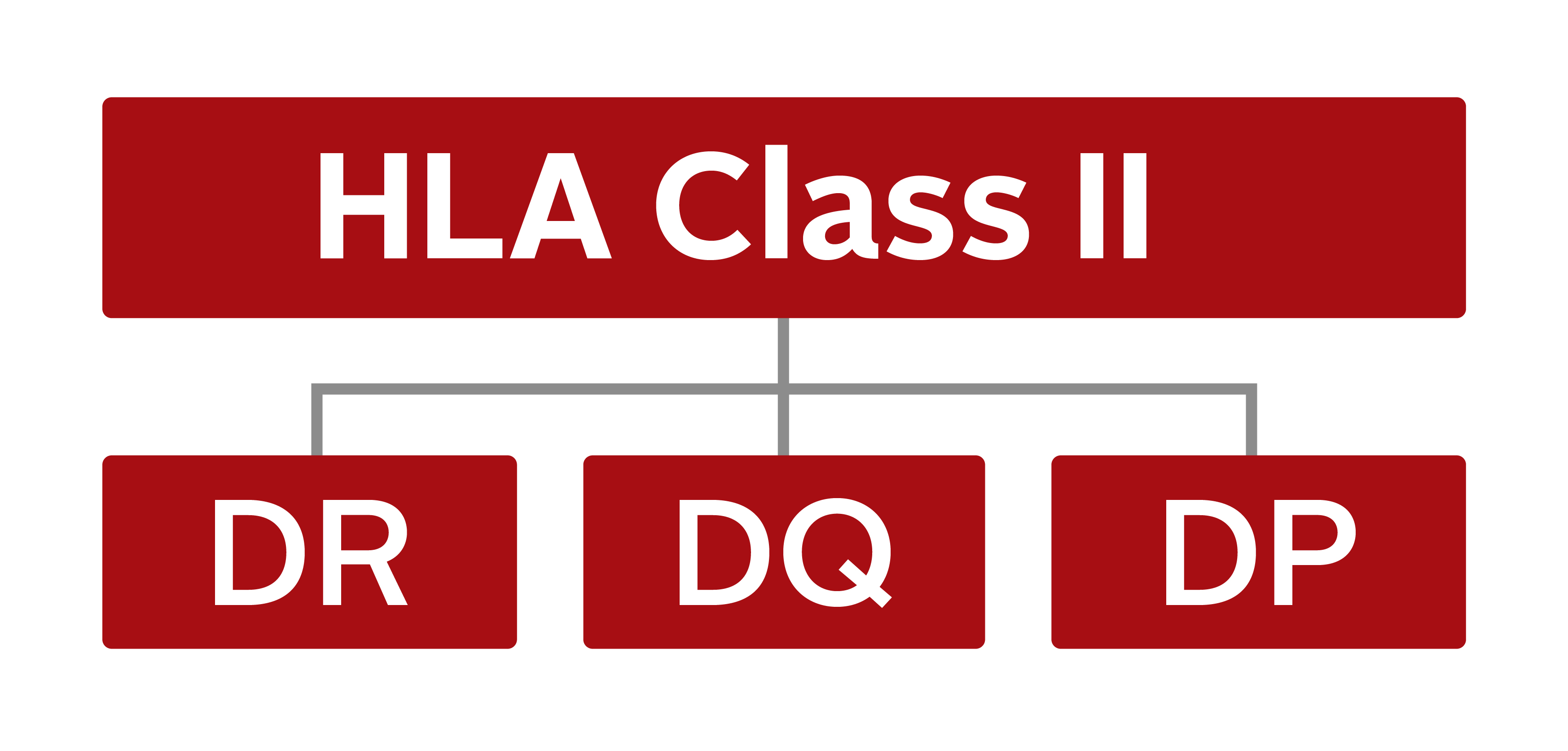 A patient's immune system creates antibodies when exposed to a perceived invader ("this is not one of my own cells") during a blood transfusion or pregnancy, including HLA and human platelet antigen (HPA). The body creates antibodies to the perceived invader in order to be ready for a future exposure. Once these antibodies develop to recognize human leucocyte and human platelet antigens, transfused platelets that correspond to a patient's antibodies are destroyed by the body. With the destruction of the transfused platelets, the body does not get the intended benefit. In patients with low platelet counts and platelet refractoriness, there is an increased risk of bleeding. The process of producing HLA and HPA antibodies preventing a platelet transfusion response is called platelet alloimmunization. 
What is platelet alloimmunization?
Platelet alloimmunization occurs when an individual has HLA and or HPA antibodies that cause the immune system to destroy incompatible platelets. The severity of platelet alloimmunization can be measured by the calculated Panel Reactive Antibody or cPRA? 1 The cPRA estimates the percentage of the general population with whom the patient would be incompatible. A cPRA of 20% means that approximately 80% of Canadian donors could match this patient. The HLA/HPA Selected Platelet program considers HLA/HPA matched platelets for a patient when the cPRA is more than 20% (1/5 donors). Patients not responding to platelet transfusions without another underlying medical condition are considered to be platelet refractory. 
Before a physician requests HLA/HPA Selected Platelets they must first determine if the patient is refractory due to infection, drugs, and fever which are the most common non-immune causes. Less common conditions include disseminated intravascular coagulation and splenomegaly, or Alloimmunized. 
Why does the patient have thrombocytopenia?

Is the patient thrombocytopenic because of an underlying condition such as bleeding, sepsis, or medication?

If your answer is Yes,

Treat the underlying condition
Support with random donor platelets
Consider other hemostatic options

If your answer is No,

Does the recipient get appropriate increase in platelet count, are they refractory?

Assess the platelet response measured between 10 and 60 minutes after completion of a platelet transfusion on two separate occasions. It is commonly stated that one unit of apheresis platelets should achieve an increment of at least 30 x 109 cells/Liter to 50 x 109 cells/Liter.
There are two common ways to determine refractoriness:

The platelet count did not increase by at least 10x 109  cells/litre within 60 min of a transfusion of one unit of apheresis platelets. This is called the platelet increment (PI) which is calculated.
PI= P2 – P1 , where P1 is the pre-transfusion platelet count and P2 is the post-transfusion platelet count.
The corrected count increment (CCI) is below 7.5x 109  cells/litre one hour post transfusion4.
CCI= [(PI x BSA)/n] x 100, where BSA represents the body surface area in meters2,and n is the number of platelets transfused.
The percentage platelet recovery (PPR)= [(PI x body weight (kg) x 0.075 (l/kg))/n] x 100. Body weight (kg) x 0.075 (l/kg) is an estimate of blood volume and n is the number of platelets transfused.
Does the patient have any HLA antibodies?

If the answer is Yes, 

If the patient has HLA Class 1 platelet antibodies, then you can consider requesting HLA/HPA Selected platelets from Canadian Blood Services.  

If the HLA antibody testing is negative or a patient continues to be refractory with HLA-matched platelets, then ordering HPA antibody testing may be warranted.  

Below is a decision tree that was developed based on the work from the International Collaboration for Transfusion Medicine Guidelines in 2015.3
HLA/HPA Platelet Antibody Testing
Canadian Blood Services has a National Platelet immunology Laboratory in Winnipeg. This laboratory tests both patients and donors for HLA/HPA platelet typing and antibody screening.
How do I order HLA/HPA testing from Canadian Blood Services for my patient?
How fast can Canadian Blood Services provide HLA/HPA selected platelets?
Complete the Request for HLA/HPA Selected Platelets form and send it to your local Canadian Blood Services distribution site. 
Once the patient's HLA/HPA antibodies and typing tests are completed the HLA/HPA Selected Platelet Program team acquire a list of donor names from across the country who are suitable for the patient. With this list, Canadian Blood Services recruits donors and the donation is held for the matched patient. From donation to the patient bedside, the process can take an average of 72 hours. The team will continue to recruit donors as long as the patient requires platelets or the blood bank cancels the standing order. 
HLA/HPA Selected Platelets form
Once the patient has started on HLA/HPA Selected Platelet transfusions it is important to tell us how the product is working by completing the HLA/HPA Selected Platelet Report form. This report is reviewed by a Transfusion Medicine Nurse Specialist who ensures the prioritization of the selected donors who give the patient the best increase in post transfusion counts.
How Does Canadian Blood Services Match the Donor and Patient?
The donor and patient are selected based on similarities of HLA and/or HPA expressed on platelets. In addition, donors are further selected to avoid a patient's HLA/HPA antibodies.
How Does Canadian Blood Services Collect HLA/HPA Selected Platelets?
Platelet apheresis is a donation process that takes the blood from a single donor with a machine that separates the red blood cells from the plasma and the platelets. The plasma and the platelets are collected, while the red blood cells are returned to the donor. The donation process can take approximately 45-90 minutes to complete. Platelet apheresis donors can donate every 14 days, since the body can replenish platelets and plasma quickly.
Shiina T, Hosomichi K, Inoko H, Kulski JK. The HLA genomic loci map: expression, interaction, diversity and disease. J Hum Genet 2009;54: 15-39. 
Nambiar A, Duquesnoy RJ, Adams S, Zhao Y, Oblitas J, Leitman S, Stroncek D, Marincola F. HLAMatchmaker-driven analysis of responses to HLA-typed platelet transfusions in alloimmunized thrombocytopenic patients. Blood 2006;107: 1680-7. 
 Nahirniak S, Slichter SJ, Tanael S, Rebulla P, Pavenski K, Vassallo R, Fung M, Duquesnoy R, Saw CL, Stanworth S, Tinmouth A, Hume H, Ponnampalam A, Moltzan C, Berry B, Shehata N, International Collaboration for Transfusion Medicine Guidelines. Guidance on Platelet Transfusion for Patients with Hypoproliferative Thrombocytopenia. Transfus Med Rev 2015; 29: 3-13.  
Yuan S, Platelet Refractoriness. UCLA Pathology Education, Transfusion Medicine, 2011-08-04.