Taking care of your mental and physical health during COVID-19
COVID-19 information appears to be coming at us from all angles. With friends and family changing travel plans and stocking up on supplies, it is understandable that many of us are feeling anxious about the uncertainty.
Having information you can trust at your fingertips is key to taking control of your health and wellbeing. You may be surprised to learn that Canadian Blood Services has a whole e-portal dedicated to resources to support all aspects of employee health.
Katie O'Brien the healthy workplace team run the employee wellness portal— a one-stop-shop for information about staying healthy and supporting mental health. We sat down with Katie to learn more about resources available (like covered therapy sessions) and why it is important for employees to check it out.
Image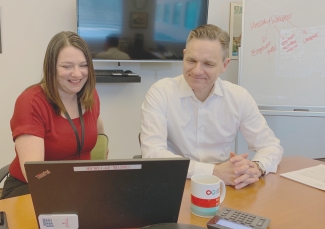 Why should employees use the employee wellness portal vs. a Google search?
A lot of misinformation is floating around about COVID-19 that is causing many of us to experience stress. How we manage that challenge is very important. Our goal is to support employees by promoting preventative measures and raising awareness about the tools available to support their physical and mental wellbeing. With so much information available to us, the importance of access to trusted, reliable and pre-vetted resources is key.
What is the employee assistance program (EAP) and how can it help us manage stress?
The EAP is such an important service but only approximately 10 per cent of employees take advantage of it. We know that external stressors can have a negative impact on our mental wellbeing — it isn't surprising that in the case of COVID-19, employees may have increased feelings of uncertainty.
The EAP offers employees free, confidential mental health support with licensed professionals. When you log into EAP you can reach a "guidance consultant" by phone, online chat or email to talk through your urgent issues and connect with a provider in your area for follow-up care. The number of covered sessions employees have access to is determined based on individuals needs (there is no limit per year) meaning that you can visit a local mental health care provider without the financial burden.
Additionally, our EAP program provides expertise to help with legal issues, budget planning and finding child and elder care.
What is Lifespeak and what type of wellness content is available to employees?
Lifespeak is an online health and wellness platform that can be accessed 24/7 through your desktop, mobile phone or app on Apple or Google Play . The platform has thousands of videos, articles and podcasts on wellness that are updated regularly by Canadian experts and journalists. The content is thematic (there is a whole section on COVID-19), and available in short snippets — which is beneficial for employees working on the front line where it may be difficult to access a device.
How do you choose the resources available through the employee wellness portal?
We tailor the resources based on feedback received from employee surveys. We are always adjusting to make sure the content is current and relevant to employee needs. We actively research best practices from other organizations and where possible ensure our content is from Canadian vendors.
Have questions? Contact the healthy workplace team at thrive@blood.ca.