Volunteer
Richmond, B.C.
"It's too easy to sit back and say, 'I'm old, so I'll just sit back.' I don't want to do that. That's not for me. I think it's important to support Canada's Lifeline because most of us at some time require blood, and it is free to receive."
Being alive nine decades has not slowed Nina down — not one bit!
For almost 40 years, Nina has been a volunteer for Canada's Lifeline, touching countless lives along the way. "It is important to me that the donors I interact with become my family," she says. "Friday when I do my weekly volunteering, that's family day to me. We connect and care for each other."
What makes Nina even more extraordinary is her incredibly active life. She loves to travel, is an ambassador with the Vancouver International Airport, acts as a presiding officer at swearing-in ceremonies for new Canadians, and teaches an aerobics class at the YMCA (it's even rumoured that she can hold a side-plank for nine minutes!).
Nina's spirit and passion were recognized when, in 2018, she received a Sovereign's Medal for Volunteers from the Lieutenant Governor of British Columbia. This medal awards exemplary volunteers for their significant, sustained and unpaid contributions to their community.
Image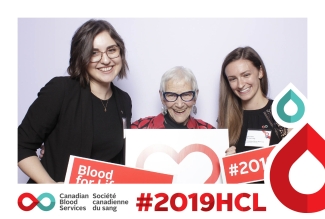 Being alive over nine decades has not slowed Nina down — not one bit.  
Nina was recently recognized for her 40+ years of volunteer service to Canada's Lifeline at #2019HCL  
…and she's not stopping. Her passion and generosity has inspired many including young donors like Michelle and Sara.