Local Blood Donors, Volunteers and Partner Groups receive National Honours from Canadian Blood Services
---
Honouring our Lifeblood ceremony recognizes life-saving contributions of Canadians from coast to coast
September 19, 2011 (OTTAWA) - Canadian Blood Services will honour and celebrate local individuals and partner groups at the 12th annual Honouring our Lifeblood ceremony recognizing donors, volunteers, partners and sponsors from across the country who provide a lifeline to hundreds of thousands of Canadians who need blood, stem cells, or organs and tissues.
The event will be hosted by Rosemary Thompson, with a keynote address by Mark Black. Congratulations to this year's honourees.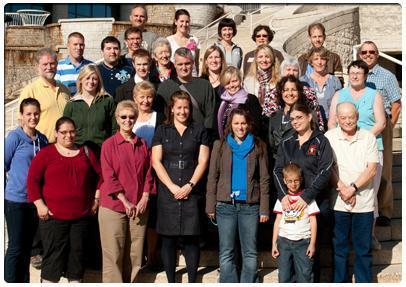 Lifetime Achievement Award
Dr. Connie Eaves and Dr. Allen Eaves
Throughout their careers, both Connie and Allen Eaves have devoted much of their energy to the successful development of collaborative research programs locally, nationally and internationally. For more than 40 years, they have worked together as a team on many important research questions that have had a significant impact on the field of transplantation and transfusion medicine.
Connie is viewed as one of the world's leaders in the field of hematopoietic stem cell biology. She has received many awards for these accomplishments including the Robert L. Noble Prize for Excellence in Cancer Research from the National Cancer Institute of Canada in 2003 and the Henry M. Stratton Medal for Lifetime Achievement from the American Society of Hematology in 2009.
Allen's research on chronic myelogenous leukemia (CML) has led the way to a new understanding of the disease. In recognition of his he was awarded the prestigious R. M. Taylor Medal by the Canadian Cancer Society and the National Cancer Institute of Canada in 2003.
Connie and Allen's dedication and commitment to the development of new treatments have made significant contributions to Canada's blood system and for patients around the world.
Dr. Connie Eaves and Dr. Allen Eaves
Throughout their careers, both Connie and Allen Eaves have devoted much of their energy to the successful development of collaborative research programs locally, nationally and internationally. For more than 40 years, they have worked together as a team on many important research questions that have had a significant impact on the field of transplantation and transfusion medicine.
Connie is viewed as one of the world's leaders in the field of hematopoietic stem cell biology. She has received many awards for these accomplishments including the Robert L. Noble Prize for Excellence in Cancer Research from the National Cancer Institute of Canada in 2003 and the Henry M. Stratton Medal for Lifetime Achievement from the American Society of Hematology in 2009.
Allen's research on chronic myelogenous leukemia (CML) has led the way to a new understanding of the disease. In recognition of his he was awarded the prestigious R. M. Taylor Medal by the Canadian Cancer Society and the National Cancer Institute of Canada in 2003.
Connie and Allen's dedication and commitment to the development of new treatments have made significant contributions to Canada's blood system and for patients around the world.
The Schilly Award
Alexandra Power
Atlantic Region
Alex Power has a very good reason for asking complete strangers for a DNA sample and it's not because she is a doctor. In November 2009, Alex lost her nephew Gavin Shaw to two rare blood disorders. A two-time bone marrow transplant recipient, Gavin also received countless blood transfusions during his treatments.
Seeing the benefits of donated blood and bone marrow first hand turned Alex into a life-long champion for the cause. On her own initiative, she reached out to the OneMatch program and organized the first ever stem cell swabbing event in Newfoundland and Labrador in April 2010. She conducted presentations for students and professors at Memorial University, shared her story with the media and personally helped swab new registrants.
Through her advocacy of stem cell, bone marrow and blood donation, she has added registrants to the OneMatch Stem Cell & Marrow Network, given hope to the hundreds of people waiting for a match and created a beautiful legacy for her nephew.
National Partner Award
TELUS
A strong believer in giving back to the communities where they live, work and serve, TELUS has been a proud supporter of Canada's blood agency for many years, dating back to the days of the Canadian Red Cross Blood Transfusion Service. In February 2010, TELUS united its regional support of blood donation and launched an official national partnership with Canadian Blood Services, setting an astounding donation pledge for its inaugural year – 1,500 donations.
Recognized the same year as the most philanthropic corporation in the world by the Association of Fundraising Professionals, TELUS not only met its donation pledge but exceeded it by 15 per cent. More than 5,000 lives were positively impacted thanks to the generosity of TELUS and its employees.
In addition to donating blood, TELUS regularly hosts blood donor clinics at various sites across the country, recognizes blood donation as a volunteer opportunity during its annual TELUS Day of Giving, and has donated funds to the national blood agency. A truly committed Partners for Life team member, TELUS is extremely deserving of Canadian Blood Services' National Partner Award.
Donors Awards
Judy Morgan
For Judy Morgan blood donation runs in the family. As a young girl, she recalls her father—a donor with a blood type that was in demand—receiving late night calls to go to the hospital and donate in emergency situations. It always impressed her to know her father was such an important person and those memories inspired her to give blood herself.
She has now given more than 300 donations and inspired her husband Martin to become first a whole blood, and then a plasma donor. Every other week the couple come in to donate blood together and bring along their little granddaughter Isabel, ensuring the tradition of saving lives stays in the family.
Philip Harvey
As a third-year medical student, active cyclist and dedicated father, Philip's schedule is often packed; however, this does not stop him from contributing time and energy to the blood system.
A committed donor since 2006, Philip has worked continuously to raise awareness about blood donation among fellow members of the Canadian Federation of Medical Students (CFMS).
At his Queens University campus, Philip was a CFMS program champion for Partners for Life from 2008 to 2010, and a volunteer leader for the CFMS clinic at Queens during the same period. He has also helped recruit blood donors to the Kingston blood donor clinic via the Lifebus.
As donor, volunteer and Partners for Life champion, Philip's tireless efforts exemplify true commitment to the blood system. He continues to donate regularly with 20 donations to date, and encourages his classmates to give as well.
Isabelle Drolet
On her 17th birthday, Isabelle stayed true to herself and donated blood for the first time. It was a commitment that she had made one year previously. She went directly from school to the donor clinic in Barrie, Ontario, happy with the knowledge that her donation would save someone's life.
Accompanying Isabelle to the clinic that day was her mother, Lyne, and her boyfriend, Kollin — who donated as well. The atmosphere they created was one of celebration and excitement. And it was just the beginning of Isabelle's commitment to saving lives. Isabelle is a full-time student who is hoping that she can spread the word about the importance of donation among her classmates and get them as excited as she is about joining the movement to save lives.
Glenn Little
Glenn is a passionate blood donor who is equally passionate about sharing the experience with others. In 2009, he recruited 50 individuals to join him in a donation event to mark his 50th milestone donation. A large number of these people had never before donated. Subsequently, Glenn signed up for Partners for Life with the hope that his own social network could have an even greater impact on helping those in need of blood. In the last two years, his "Glenn Little Group" has impacted approximately 200 patients.
Glenn is an inspiration to his two teenage sons who often attend the clinic with their father. He is currently working towards his 75th donation milestone, for which he plans to recruit 75 people to donate with him. Glenn's hard work at getting others involved in blood donation has made him an excellent ambassador for the blood system and a great example for the next generation of donors.
Allen Lefebvre
Allen was one of the seven people originally appointed to the National Blood Safety Council after the Krever Commission report was released. Then Vice-Chair, Allen helped advise the Minister of Health about the safety of the blood system in Canada.
Allen has contributed significantly to Canadian Blood Services. Together with his wife Gail, they have provided a $500 to $1,000 bursary for Assignment: Saving Lives for the past three years (a program encouraging university students to become donor recruiters throughout the summer). This year, Allen made his 100th blood donation, and he has made 105 donations to date.
His eldest son Stuart beat non-Hodgkin's lymphoma when he was two, but was diagnosed with Chronic Myelogenous leukemia in 2003 and passed away three years later. During his life, Stewart received several units of blood. The family credits Canadian blood donors who gave Allen and his family 19 years of memories with Stewart.
Allen is a great spokesperson with a unique understanding of the blood system in Canada: as a regulator, as a donor and as the father of a recipient.
Lucille Sawatsky
Lucille has donated a combination of blood, plasma and platelets an incredible 883 times to date since she first moved to Calgary and started donating. This astonishing commitment makes Lucille the top female donor in Canada.
She began donating whole blood in the late 1960s at her church. Her daughter later introduced her to platelet donation and over time Lucille transitioned to plasma.
She has had many challenges in her life—most significantly the loss of two of her sons and a grandson—but Lucille is not a woman who lets life's challenges knock her down. Even when she was working, she would take time off to give blood. Rain or shine, Lucille shows up to donate.
She donates for the good of others and is adored by staff and fellow donors alike.
Frank Bernstein (in Memoriam)
Frank had the first-time donor jitters when he gave blood in the mid-1960s but it certainly didn't hold him back as he has maintained the record for the highest number of donations in British Columbia with 532 donations. He was also the first donor in B.C. to reach a landmark 500 donations through his donations of platelets and whole blood.
As an upper-aged donor, Frank was a great role model with a story to tell. Donors across B.C. have been inspired thanks to Frank's public outreach. He was featured on a poster in the Vancouver Centre Oak Street Clinic and his 500th donation was broadcast by TV and radio stations.
Sadly, Frank passed away in August at the age of 72 after a courageous battle with cancer. He remains an inspiration to others to give the life-saving gift as he did for decades.
Stem Cell Donors
Michael Ivany
The year 2009 was a momentous year for Michael: he got married, moved and started a new job in New Zealand with his partner Janelle and saved a life. Michael joined OneMatch in 2007; two years later, in July 2009, and only months before his wedding, he received a call that he was a potential match for a patient. As he continued planning his September wedding, and working fulltime, Michael undertook the workup process to confirm his suitability for a patient whose medical situation was urgent.
Respectful of the patient's needs, Michael responded quickly to all the steps in the work-up process.Without complaint, Michael put the interests of the patient first. He and Janelle had even decided that should his donation fall closer to their wedding date, they would change their plans to accommodate the donation.
Once confirmed that he was indeed the best match for the patient, Michael found himself travelling from North Bay to Ottawa to make his donation. This happened at the end of July, 2009. For Michael, it was the completion of an important mission. Since the transplant, Michael has received word that the patient remains in good health.
Michael Hogman
Michael joined the OneMatch Stem Cell and Marrow Network in February 2009 after finding a post about the Stem Cell Network on a friend's Facebook page. He was identified as a potential match a few months later.
The immediate need for his donation did not deter Michael from making it his first priority. As a Canadian Forces reservist (Canadian Scottish Regiment) Michael was providing security for the Winter Olympics in Vancouver when he found out about the match. He was able to make the necessary trips to the Vancouver General Hospital to undergo various tests, interviews and complete the donation itself, thanks to the military giving him time off.
The actual stem cell donation was not without its challenges. The final injection Michael required right before the donation was left accidentally behind in Vancouver. Michael's father Fred, ensured that it was shipped overnight to Nanaimo on time and his mother, Heather, administered the injection.
Michael never expected to be a match for anyone and has been very humbled and "blown away" by the entire experience. Having met his recipient (Huw Williams who together with Michael will speak this evening), he was extremely happy to have helped save someone else's life. Michael and Huw were fortunate enough to meet for the first time this past spring and the experience is something that neither will ever forget.
Peer Recruiters Award
David Noel
David Noel is a high school teacher and a long-time donor. For the past two years, he has been the driving force behind the Young Blood for Life program—an initiative that encourages high school students to donate blood. A biology teacher, he raises awareness of the blood system by incorporating information about blood donation into his lectures.
As a mentor to his students, he has been able to encourage many of them to visit the clinic in Grand Falls-Windsor, Newfoundland. His efforts were so successful that last year his high school had one of the country's highest donor participation rates among students.
Lisa Marshall
Enthusiasm and determination are words which describe Lisa Marshall best. She became a peer recruiter in 2008 after learning that the regular venue for a nearby clinic was unavailable.
Working with her school's principal and a local Canadian Blood Services representative, Lisa was instrumental in having her high school host the clinic. She undertook activities to educate students about blood donation and sign them up. When one week prior to the clinic it was discovered that most of the students had just received a vaccine and would not be eligible to donate, Lisa found her list of scheduled donors drop from 30 people to three. To salvage the clinic, she turned to her principal for permission to allow attendance from the community. She also requested that staff donate and that each student who was now ineligible to give bring a friend or family member to donate on their behalf. Within three days, Lisa's schedule was full again. The clinic exceeded its blood collection target for the day. Lisa continues to help with recruitment at Laurentian University where she is now a student.
Mark Cline and Samantha Hill
Mark Cline and Samantha Hill are a dynamic duo, very motivated and committed to the cause. They work as a team and share the responsibility of championing blood donor clinics at their workplace in downtown Toronto.
They alternate taking the lead for organizing donation clinics at their place of business and each quarter, they "adopt" a week at Toronto's King Street donor clinic where 20 employees ride the Life Bus to save lives. They have been running this for more than two years and their effort sets a great example for other companies and shows how consistency and frequency lead to clinic success.
Linda Fries
This is an example of a success story—a company giving back to the community and the strength of an individual who encourages her co-workers to make it all possible.
When a Canadian Blood Services representative approached Linda Fries about becoming a Partners for Life champion at her workplace, the dedicated donor rose to the occasion. Linda has a unique ability to motivate her co-workers to give blood every 56 days and they consistently fill 20 to 25 appointment spots at a local mobile clinic. Scotiabank, the company Linda works for, in turn uses Partners for Life to promote teambuilding.
Linda's success as a program champion has been evident during challenging times like holidays, when booking appointments can be difficult. Because of her dedication and persuasive abilities, she continually brings people in to donate.
Linda's hard work has contributed to almost 80 donations from her workplace this year. This, in turn, has contributed to a national partnership between Canadian Blood Services and Scotiabank.
Katelyn Butler
Katelyn Butler joined Canadian Blood Services as a summer student in 2009 and has been supporting the cause ever since. When she went back to the University of Saskatchewan in the fall, Katelyn organized "The Blood Club", a student-run volunteer group that promotes blood donation on campus and became a year-round peer recruiter at the school's blood donor clinic.
Since becoming involved with Canadian Blood Services, Katelyn has motivated more than 40 people to donate on her behalf during her involvement in Assignment: Saving Lives in 2008 and 2010. She has also recruited more than 30 volunteers to be blood club members. Those members have collectively booked more than 500 appointments over the past two years.
Katelyn is a hard-working student, who recently completed a three-year bachelor of science in physiology and is now working towards a bachelor of arts in linguistics.
Jans Pops
Jans long-time commitment to the blood system only intensified when his daughterin- law had complications during child birth. She began bleeding heavily and needed more than 100 units of whole blood and blood products. Jans is grateful to the countless blood donors who helped save his daughter-in-law and granddaughter Jasna.
He is a Partners for Life champion, convincing his employer, the Workers' Compensation Board of Alberta, to sign up to become a PFL in 2009. Jans is a peer recruiter who leads by example—he has been donating whole blood for more than 20 years. To date he has donated more than 110 times and has booked the Life Bus (a shuttle offered by Canadian Blood Services) 129 times since 2005, bringing in 490 people to donate.
Kate Lekas
Kate works as the health enhancement coordinator for the City of Vancouver's FitCity program. Following the tragedy of September 11, 2001, she called Canadian Blood Services and asked what the City of Vancouver could do to help the citizens of New York. She signed the City of Vancouver up for the Partners for Life program (then known as LifeLink) and has been working hard to recruit donors ever since.
Thanks in large part to her hard work and determination, City of Vancouver employees have donated 1,783 units of blood over the last decade—enough to save close to 5,400 lives. So far this year, the City of Vancouver is on track to collect 500 units from city staff with the help of the Bloodmobile.
Volunteers
Audrey Goulding
Audrey Goulding has been a familiar face at clinics in Central Newfoundland for the past four decades—first at the mobile clinic in Bishop's Falls and then at the clinic in Grand Falls-Windsor.
Audrey knows the value of the blood system first hand; several family members have needed blood themselves. Unable to donate blood herself, she began volunteering in order to share her time, her talents and her friendly smile. Her regular shift is every second Wednesday and she is such a fixture in the clinic that she now counts many donors as friends.
Mario Dumouchel
For four years, Mario juggled a busy academic schedule in Laurentian University's biomedical program while also taking on the responsibilities of organizing blood donor clinics at a new campus residence.
In 2007, he formed the "Laurentian University Rez Blood Committee" and set to work to get students donating blood or volunteering. Mario's approach was to get right in front of people: distributing promotional flyers, knocking on dorm doors to speak with students directly about the importance of donating blood and then signing them up to give. On clinic day, he would walk the halls to recruit donors. He would also have every student donor sign a paper blood drop that he would then post on a wall visible to visitors.
His energy has not been exclusive to the campus clinics. Mario also volunteered at blood typing events, with the Life Bus program and for Blood 101, the national university challenge and has donated platelets as well. He is a shining example to all students who wish to make a difference at their campus communities.
Tizzie Schwarz
Tizzie has been a committed and passionate volunteer for 32 years. As a Volunteer Leader she recruits, trains, schedules and supports her volunteer team—she also coaches them in customer service excellence methods. Throughout the years, Tizzie has built relationships with many donors and has seen their families grow and change. She has been there with a kind word, friendly smile and genuine appreciation for every donor.
Her understanding of the donation experience and readiness to help are welcome attributes, especially for first-time donors. Staff respect her years of service and often ask her for feedback regarding donor issues or concerns. They know that she can be relied on for insight into donors' attitudes about new campaigns and the blood program in general.
With more than 4,600 hours of volunteer services logged to date, Tizzie continues to demonstrate energy, enthusiasm and a great sense of humour—qualities which make her the great mentor that she is to peers and new volunteers alike.
Shannon Clark
From the perspectives of both donor and recipient, Shannon promotes blood donation in her workplace and through her involvement as a member of Canadian Blood Services' volunteer Speakers' Bureau.
In November 2009, Shannon's son Nicholas was born 12 weeks premature, weighing only two pounds and one ounce. Because of his small size and fragile health, he needed two blood transfusions. Watching Nicholas receive these precious gifts was emotionally overwhelming for Shannon, yet today she shares her appreciation for those who give blood through the retelling of Nicholas' ordeal. Her hope is that doing so may inspire others to consider donating blood.
Shannon has been a blood donor herself for 12 years. She is a dynamic and motivating speaker who has spent countless hours promoting blood donation to help save the lives of fellow Canadians.
Rochelle Ehinger
Rochelle is a jack-of-all-trades. She volunteers with hospitality at the permanent site and at the mobile clinics in Winnipeg and works as a volunteer assistant for the What's Your Type? program.
Rochelle has more than 1,500 volunteer hours to her name and is one of the most energetic recruiters at the What's Your Type? events. She has also donated close to 70 units of blood. Her peers joke that no one can say "no" when Rochelle asks them to book an appointment.
As a retired school teacher and a regular blood donor, Rochelle wanted to volunteer with Canadian Blood Services to put her skills to good use. She also volunteers at a drop-in centre for the poor and at a veteran's hospital gift shop.
Rochelle is a strong advocate for Canadian Blood Services and her dedication and commitment is truly an inspiration.
Stan Bailey
Stan came to be a volunteer after seeing a volunteer recruitment message in a clinic and the rest, as they say, is history. Clocking in close to 5,000 volunteer hours since he joined Canadian Blood Services in 1999, Stan is an extremely popular volunteer who makes pancakes for donors and staff every Thursday. Some donors and groups come in specifically on Thursdays just to be a part of Stan's "Breakfast Club".
He is also a blood donor, having made 100 whole blood donations before switching to donating plasma. Presently he has more than 320 donations to his name.
Since he started volunteering more than a decade ago, Stan has helped train numerous volunteers as part of the Customer Care program. In 2006, he was the recipient of Canadian Blood Services' Excellence in Customer Service Award and in 2010 he was awarded the Heart of Gold.
Sarah Fox
Born prematurely, Sarah needed a blood transfusion through her umbilical vein because her liver wasn't functioning and she was jaundiced. Without this transfusion, Sarah wouldn't be alive today.
Today, Sarah volunteers as a team leader at the CFB Comox clinic on Vancouver Island. She puts in 20 to 24 volunteer hours every eight weeks and has donated close to 275 hours of her time to Canadian Blood Services.
Along with her role at Canadian Blood Services, Sarah also volunteers at the local hospital in the extended care ward, having previously volunteered in the emergency room.
In fact, she is so comfortable in a health-care environment that Sarah quit her job as a health reporter for a daily newspaper so she could go back to school to study medicine and she hasn't looked back since. Described as responsible, dedicated and enthusiastic by her coworkers, Sarah is a true role model for all young Canadians.
Partner Organization Award
Canadian Forces – Base Halifax
Canadian Forces Base (CFB) Halifax has been a long-time supporter of the blood system going back as far as 60 years when they began hosting blood donor clinics on the base. Clinics were even held on ships that were docked in the Halifax Harbour back in 1949. Today's donor clinics involve hundreds of military personnel based in the Halifax area.
CFB Halifax further solidified its support by enrolling in the Partners for Life program in 2010 with a pledge of 200 units. After surpassing this goal by 192 units, they more than doubled their commitment in 2011 with a goal of 500 units. As a PFL, they have also succeeded in recruiting the most new and lapsed donors in the Atlantic region.
In addition to their long-standing dedication to blood donation, they also participate in the Donate Red Campaign, a campaign to honour the men and women in the Canadian Forces. Donors are encouraged to sign In Honour cards that are then delivered to military personnel.
Mike Moore & Sons Construction
Mike Moore and Sons Construction are a leading general contractor in Northern Ontario with 55 employees. Mike (owner) has been donating since 1988 and his company became involved in 2009 when he learned about the Sirens for Life challenge. He decided that he wanted his company to do something similar and thus a "Construction Challenge" was born where they challenged all other construction companies to donate blood with the winner getting a barbeque lunch cooked by Mike and his employees. This challenge brought in a total of 52 donors. After the challenge, Mike Moore and Sons joined the Partners for Life program.
Mike always encourages his employees to donate as often as possible and they take this to heart, even booking appointments when they are working out of town so they don't miss a donation. The company also advertises upcoming clinics on their website and promotes Canadian Blood Services in their monthly newsletter.
With numerous awards for community involvement, Mike and his team of employees are clearly devoted to the blood system and their community at large.
Bruce Power
As a corporation, Bruce Power's commitment to community responsibility runs deep and is evidenced through their involvement in Grey Bruce County donor clinics. One of the largest employers in the area with almost 4,000 employees, this compassionate organization leads by example when it comes to keeping the blood supply strong.
Bruce Power joined Partners for Life in 2009 with a pledge of 100 units of blood. Since then, using the company's internal Bruce Power Television, company newspaper, website and intranet, the organization has promoted ways in which their employees, family and friends can get involved in their life-saving team. In the first year of their membership, employees exceeded their life-saving pledge by 354 percent. Within two years, Bruce Power's contributions totalled a remarkable 783 units of blood—quite possibly making an impact on the lives of up to 2,348 patients. For 2011, employees have committed to a pledge of 400 units of blood.
The organization's commitment to the blood system has also been instrumental in helping to gain additional corporate and community partnerships in the Grey Bruce area.
WSIB
Having first signed up for the Partners for Life program in 2009, the WSIB (Workplace Safety and Insurance Board) not only surpassed their goal in their first full year (pledging 300 units in 2010 and collecting a total of 423 from their regional offices in Ontario) but their commitment to the blood program has continued to increase.
The Toronto branch of WSIB takes part in regular blood donor clinics every two months and also holds regular What's Your Type? donor recruitment events. Working with Canadian Blood Services staff, they also developed their own page on their Intranet site dedicated to listing pledges, tracking donation numbers, sharing donors and recipients stories and posting information about blood donor clinics. They have a dedicated committee which looks after the web site creative work and helps out with organizing the blood drive promotions.
Their commitment to hosting and promoting the bi-monthly donor clinics is a testament to their dedication corporate social responsibility and is very much appreciated.
Saskatchewan Roughriders Football Club
In Celebration of their 100th anniversary last year, the Saskatchewan Roughriders Football Club entered into partnership with Canadian Blood Services and began the 'Bleed Green' movement. It served as an opportunity to revive and re-engage donors and boost summer donations. The partnership, which includes Saskatchewan Roughrider fans, is a first of its kind in the Canadian Football League.
The outcome of the Bleed Green campaign was overwhelmingly positive in its first year, with an additional 463 units donated. The Saskatchewan Roughriders' generosity includes tens of thousands of dollars worth of free advertising and merchandise, making an impression on millions of Canadians thanks to their public awareness campaign.
STANTEC
Stantec joined Partners for Life in 2004 in keeping with the company's commitment to their community and their staff. Stantec's strength lies in their ability to build up teams of blood donors and keep them engaged. As an example of this, they have utilized their PFL Champions and extensive network of internal communication channels to aid their teams in Calgary and Red Deer, resulting in 504 donations in 2010 as part of their Partners for Life commitment.
Other Stantec offices across Canada are also Partners for Life, including offices in Regina, Saskatoon, Dartmouth, Kelowna, Vancouver and Victoria. Nationally, Stantec donated an astounding 836 times last year – enough to help more than 2,500 people. That's more than the entire population of High Prairie, Alberta!
Standard Life
The Standard Life has long been involved with the blood system, dating back to 1992 when it first donated space in its downtown Vancouver building. Their support did not waver when six years later the responsibility of blood collection fell to Canadian Blood Services. In fact, they allowed the clinic to be extended from two days per week to three days, operating more than 140 clinic events annually.
In donating this space, Standard Life gives Canadian Blood Services a regular presence in downtown Vancouver, a densely populated, corporate market that would otherwise be very expensive to lease. Standard Life is also very supportive of promotional opportunities such as the "Tower Challenge" and What's Your Type? events within the Standard Life Building through newsletters to their tenants.
Their long-standing dedication is part of their commitment to giving back to their community and results in Canadian Blood Services being able to collect more than 6,000 units of whole blood annually.
National Employee Award of Distinction
Amanda Cullen - Senior Analyst, Government Relations, Head Office
A Canadian Blood Services employee for five years, Amanda began her career as the Communications Specialist in New Brunswick before taking on the role of Regional Communications Manager and then recently transferring to the government relations department at head office.
Throughout her time at Canadian Blood Services, Amanda has built a solid reputation as an exemplary employee who always goes far above the requirements of her position to ensure her work and that of her team are of the highest quality.
Amanda has earned the respect of her colleagues over the years for her ability to work with the media in a professional manner as well as her willingness to assist whenever and wherever she can. She not only excels at her job by providing communications guidance but she is also keen to volunteer for activities outside of her regular responsibilities. In the same day she may write a strategy document for the executive management team, emcee a staff event and listen to a donor's concerns for a half hour. She has never been known to utter the words: "that's not in my job description".
Her attention to detail, integrity and great sense of humour maker her an invaluable contributor to the blood system.
---
- 30 -