BAPS Charities, a new national partner with Canadian Blood Services, is working to save lives through their "In the Joy of Others" campaign
---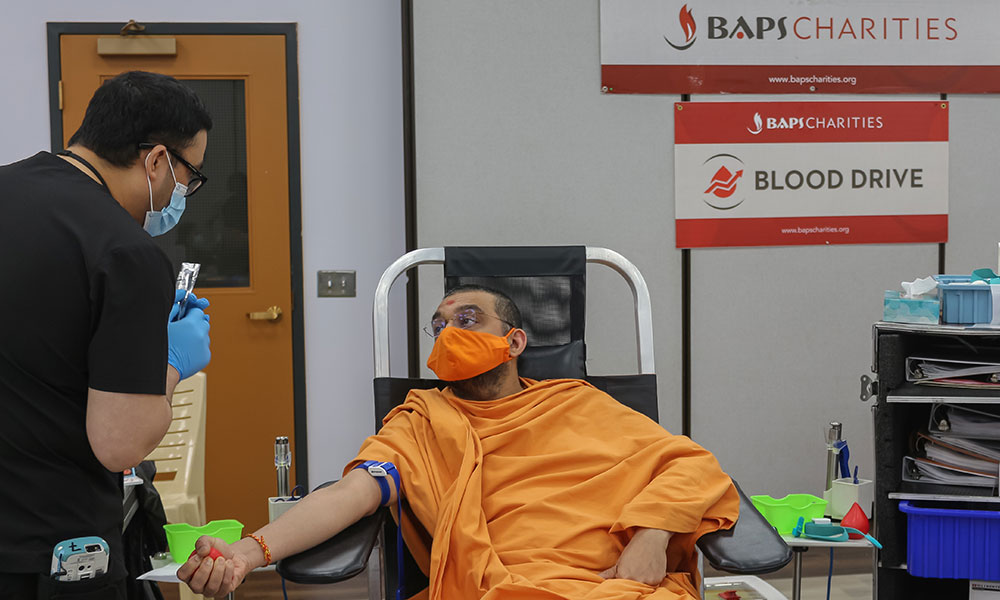 BAPS Charities has been engaging in a wide array of charitable activities in Canada since 2001, while also supporting humanitarian relief projects.  
This global organization is active in nine countries across five continents. Its efforts are driven by volunteers, who dedicate a portion of their lives in service of others, both in their local neighbourhoods and globally. 
Working in five key areas, BAPS Charities aims to express a spirit of selfless service through health awareness, educational services, humanitarian relief, environmental protection and preservation, and community empowerment.   
Canadian Blood Services is proud to announce a national partnership with BAPS Charities. The partnership is related to the launch of BAPS Charities' nationwide blood donation campaign, "In the Joy of Others." The launch occurred during celebrations to mark the centenary of His Holiness Pramukh Swami Maharaj's birth.  
Pramukh Swami Maharaj, the founder of BAPS Charities, lived by the motto "In the joy of others lies our own." He was the fifth spiritual guru of the BAPS Swaminarayan organization and dedicated his life to the betterment of society by inspiring charitable and humanitarian activities around the world, including blood drives.   
BAPS Charities kicked off their campaign in Toronto on June 8, 2022. Swami Gunsagardas, head of the BAPS Swaminarayan organization in Canada, was the first volunteer to donate blood.  Many members followed his lead, donating a total of 57 units, with 25 first-time donors. It was a beautiful event filled with service and community partnership, which inspired people in other parts of the country to take action and join their local Canadian Blood Services' Partners for Life team. 
By the end of 2022, BAPS Charities aims to collect over 1,000 units of blood, plasma and platelets. To further support patients, they will also be promoting the Canadian Blood Services Stem Cell Registry. The excitement and engagement across Canada from BAPS Charities is inspiring!