Canada Life partners with us for national campaigns to recruit blood, plasma and stem cell donors
---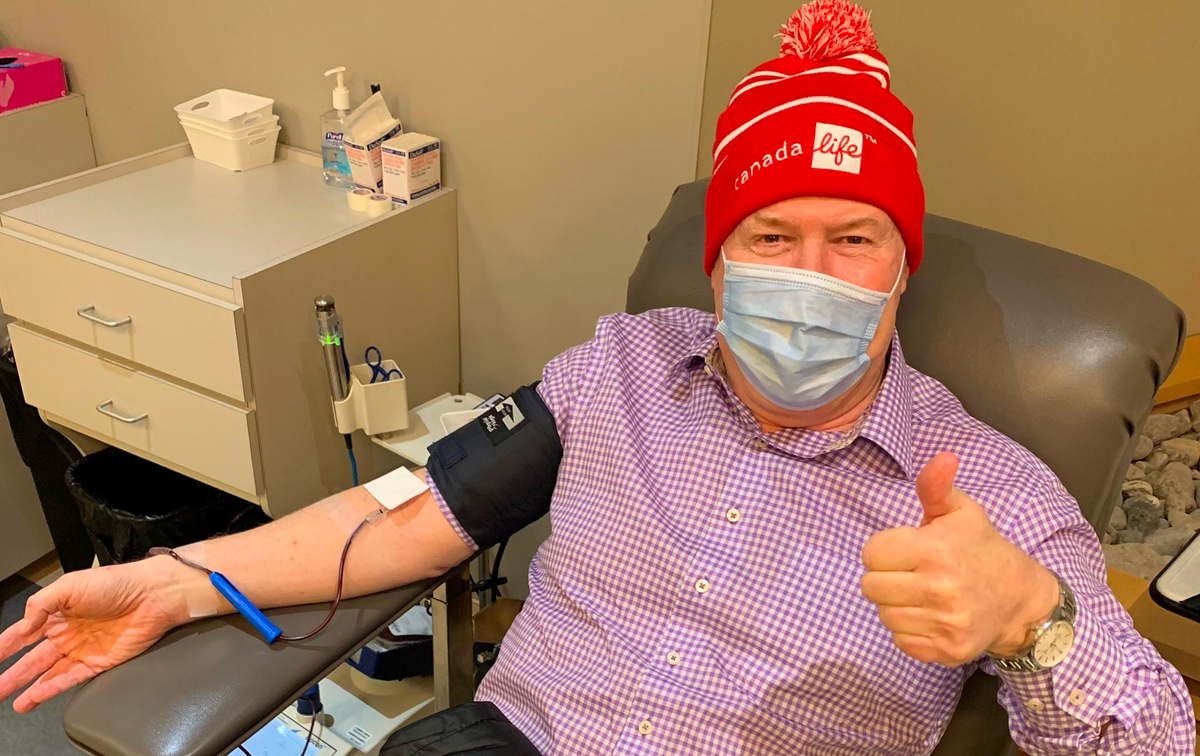 Canada Life's president and COO, Jeff Macoun, donates blood on Jan. 20, 2021, in London, Ont., during the Canada Life Week to Save Lives campaign
Saving lives takes teamwork. That's why we're so grateful to have Canada Life's support and partnership this winter, as we encourage and remind Canadians to continue to donate blood and blood products during the COVID-19 pandemic.
Canada Life, a valued long-time partner, helped us get a lifesaving start to the new year by teaming up with Canadian Blood Services and Héma-Québec in January 2021 for the Canada Life Week to Save Lives campaign.
The national campaign inspired people across Canada to donate blood and plasma in their local communities during the week of Jan.18 to 24, and helped to recruit a significant number of new and returning donors.
For just one week, here are the results of this incredible team effort:
More than 12,000 individuals visited one of our 35 permanent donor centres across the country, thanks in part to Canada Life's promotional efforts.
Totals of 15,475 units of whole blood and 1,287 units of plasma were collected during the campaign.
With Canada Life's help, we reached 105.8 per cent of our whole blood collection target and 97 per cent of our plasma collection target for the week.
"Every day, someone in Canada needs blood, and even with a global pandemic, this need doesn't stop," said Jeff Macoun, Canada Life's president and COO.
"Together [with Canadian Blood Services and Héma-Québec], we can help ensure that a strong, national blood supply is available to patients where and when they need it."
Warm heads, warm hearts
In addition to knowing that their donations will have a positive impact for patients across the country, donors appreciated the complimentary Canada Life–branded toques they received during their appointments.
Throughout the week-long campaign, visitors to any of our permanent donation centres (including people who were unable to complete their donation) were offered these free toques, courtesy of Canada Life, and were encouraged to post a "selfie with toque" on their personal social media accounts.
Canadian Blood Services' national and regional social media channels were flooded with photos from our generous donors across the country, all wanting to show off their warm hearts — and warm heads.
Canada Life partners with us to #BeAHero
In addition to their support for blood donor recruitment, Canada Life has also partnered with us and the Hockey Gives Blood community to generate greater awareness of the importance of joining the national stem cell registry.
Every new registrant who joins the Canadian Blood Services Stem Cell Registry in February and March 2021 will receive a limited edition "Be a Hero" toque, along with their buccal (cheek) swab package in the mail.
In addition, for every new registrant who completes and returns their swab kit before March 31, 2021, Canada Life will donate $10 (up to a maximum of $15,000) to Canadian Blood Services to help more patients find their lifesaving match.
We'll be sharing photos and videos of new stem cell registrants on our social media channels throughout February and March, so keep an eye out for the #BeAHero hashtag!
About Canada Life: Canada Life, a leading insurance and wealth management company, has been a dedicated supporter of Canadian Blood Services for more than 50 years. This company is the founding national sponsor of Canadian Blood Services' NextGen Lifeline youth recruitment program and is also part of our Partners for Life program. In 2020, Canada Life became the presenting sponsor of the Hockey Gives Blood Player Ambassador program for the 2020–2021 hockey season.