Staff at RBC Moncton are still finding reasons to give
---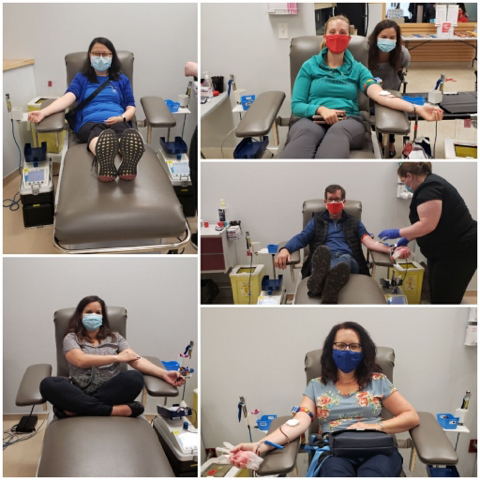 Canadian Blood Services' donor centre in Moncton, New Brunswick welcomed a group from RBC this summer. Their champion leader, Terri-Ann Ayles, rallied her coworkers to donate blood at the end of 2019 and we were delighted to have Terri-Ann back again on July 15 with her RBC colleagues.
What made the RBC team want to come out and donate for a second time, this time during a pandemic? They had a few different reasons:
"There's so much we can't control in life. Helping to save a life is something I can do," was one reason. Others said that they participated in the group donation "in memory of a friend's daughter lost too soon" and "because I have the ability to make a difference in someone's life."
As hospital demand for blood begins to increase, so does the need for blood donors. RBC Moncton has demonstrated their commitment to Canada's Lifeline and has already started planning their next visit later this fall.
Whether it's for one of the reasons their team listed or simply to gather coworkers together for a good cause, you can always book a group blood donation. The RBC team hopes they've inspired more organizations to join Canada's Lifeline during this unprecedented time. Thank you to RBC Moncton and all of our partners who work so hard to raise awareness and keep Canada's Lifeline strong!