Plasma's latest superpower could offer a much-needed treatment to COVID-19 patients
---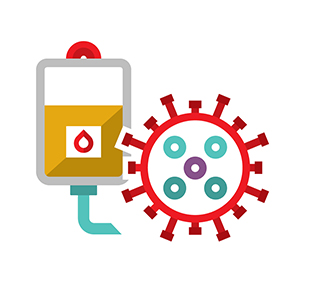 You may have heard a lot about how plasma-derived protein products can treat patients with immune disorders and other illnesses, but have you heard about how plasma collected from patients who have recovered from COVID-19 might actually help people who are currently sick with the virus?
Plasma is the protein-rich liquid in blood that supports the immune system and helps other blood components (red blood cells, white blood cells and platelets) circulate through the body. Convalescent plasma is collected from someone who has recovered from a virus. When a person is infected with a virus, their body starts making antibodies to fight it. These antibodies could be the key ingredient for a treatment to help others with the same virus. Convalescent plasma was used to treat patients with the 1918 Spanish flu, and research is underway around the world to find out whether it could work for the COVID-19 virus.
We are proud to be part of Health Canada-approved clinical trials to test whether COVID-19 convalescent plasma could be a safe and eff¬ective treatment option for patients with the virus. The clinical trials will be an important contribution to research on a global scale that could help patients across Canada and around the world. As Canada's national blood operator, we are responsible for supplying convalescent plasma to Canadian physicians caring for patients with COVID-19 in the context of the clinical trials and under the authorization of Health Canada.
We are currently seeking potential convalescent plasma donors across Canada. To see if you are eligible and to find a city near you, please check out blood.ca/convalescentplasma.