Blood donors helped save his life as a newborn. His parents won't forget.
Arms and Kerri Bumanlag have organized blood donation events in honour of their son Liam, who was born with a heart defect 
February 14, 2022
Liam Bumanlag was less than a week old when he received his first lifesaving blood transfusions during heart surgery in 2018 — an event his parents never expected.
Kerri Bumanlag's pregnancy had been blissfully routine, aside from the fact that as Liam's due date drew closer, he was positioned to enter the world feet-first. So as often happens with breech babies, a C-section delivery was scheduled. His parents prepared to welcome him at Windsor Regional Hospital in Windsor, Ont., on Jan. 26.
"The morning of Jan. 26 was quite relaxing," recalls Kerri. "We were packed and ready to go, a little anxious, a little nervous, but mostly really excited to finally meet our son."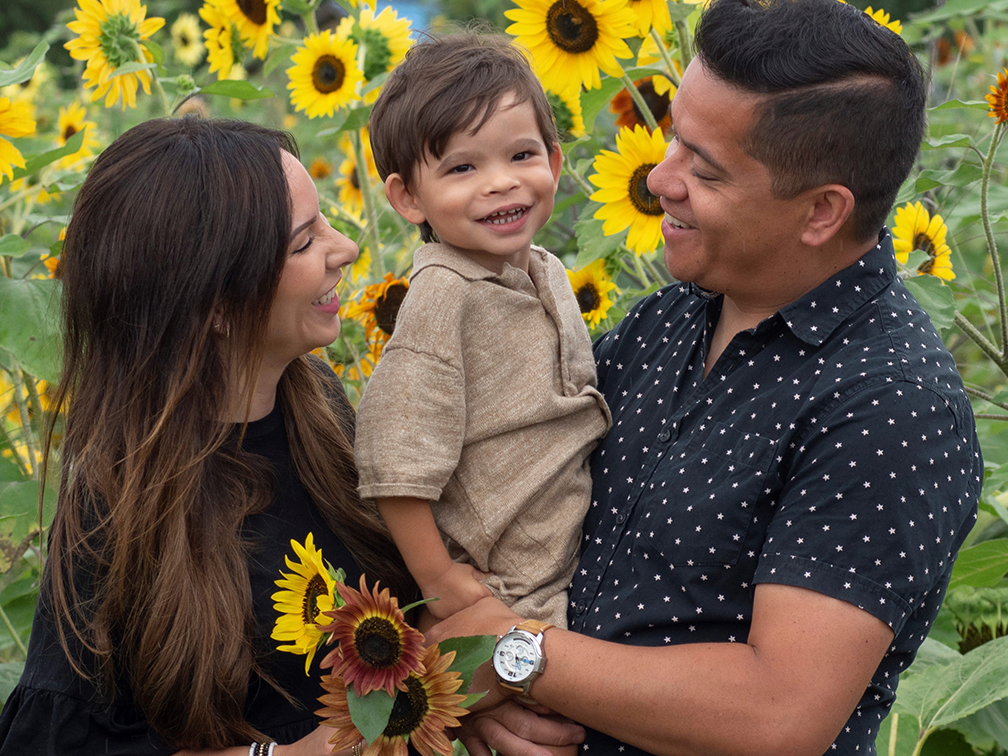 Liam Bumanlag, seen above with his parents Kerri (left) and Arms (right) received blood as a newborn during surgery for a congenital heart defect.
The surgery was smooth, and Kerri and her husband Arms Bumanlag were thrilled by the first cries of their first child. But within hours it was clear that something wasn't quite right. His breathing seemed fast and his colour a little blue. And they couldn't interest him in feeding, even with the extensive support of nurses and lactation consultants.
On his third day of life, Liam was rushed to the hospital's neonatal intensive care unit, a moment Kerri describes as the scariest of her life to that point.
"I was left sitting on the bed, without my baby, not knowing what was going on. What was only five minutes felt like forever, waiting for Arms to come back to the room to tell me what was going on."
Liam spent the next two nights in intensive care. His tiny body was connected to a device to push fluid out of his lungs, and he was given antibiotics and other medications to keep him stable while doctors worked to figure out what was wrong.
The next few days were a blur. On Jan. 30, a doctor showed Kerri and Arms an ultrasound that revealed one side of Liam's heart was bigger than the other. Within hours, he was in an ambulance and on his way to London Health Sciences Centre — a two-hour drive from Windsor — with his parents and grandparents right behind.
In London, doctors quickly diagnosed Liam with coarctation, or narrowing, of the aorta — the largest blood vessel in the body, which moves oxygen-rich blood away from the heart. And by 3:30 a.m. on Jan. 31 they were on the move again, this time to SickKids Hospital in Toronto, for surgery that afternoon.
"There's no way to explain what it feels like to sit in a waiting room, surrounded by people, waiting to hear if your five-day-old son is alive or not," says Kerri. "I don't wish that on anyone."
And there was more trouble ahead. While doing that first surgery, doctors discovered Liam's problem was actually twofold. In addition to the narrowed aorta, he had a hypoplastic aortic arch: in layman's terms, the top part of the aorta was too small.
Liam's ordeal, and his parents' agonizing wait, would continue for several more hours as doctors performed open heart surgery to correct it — a procedure that involved blood transfusion.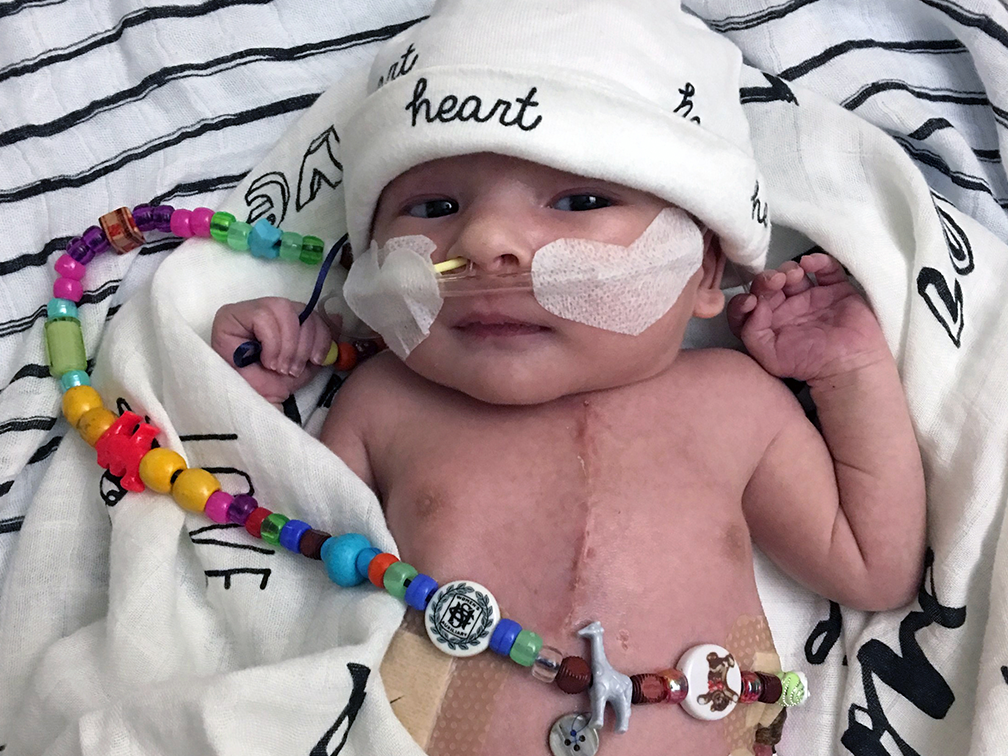 Liam Bumanlag has collected "bravery beads" representing different procedures he has gone through during treatment for a congenital heart defect.
Blood donations were critical, and could be again
The four years since that surgery have not been easy.
Liam required painful chest drainage tubes in the early days of his recovery. One of his vocal cords was also damaged, a common side effect of one of his surgeries, which caused problems with swallowing. So for his first year and a half he received nutrients through a special tube that ran through his nose and down into his stomach.
Liam also remains immunocompromised, which has made navigating the COVID-19 pandemic all the more challenging for him and his family. But in spite of it all, this little boy is now thriving.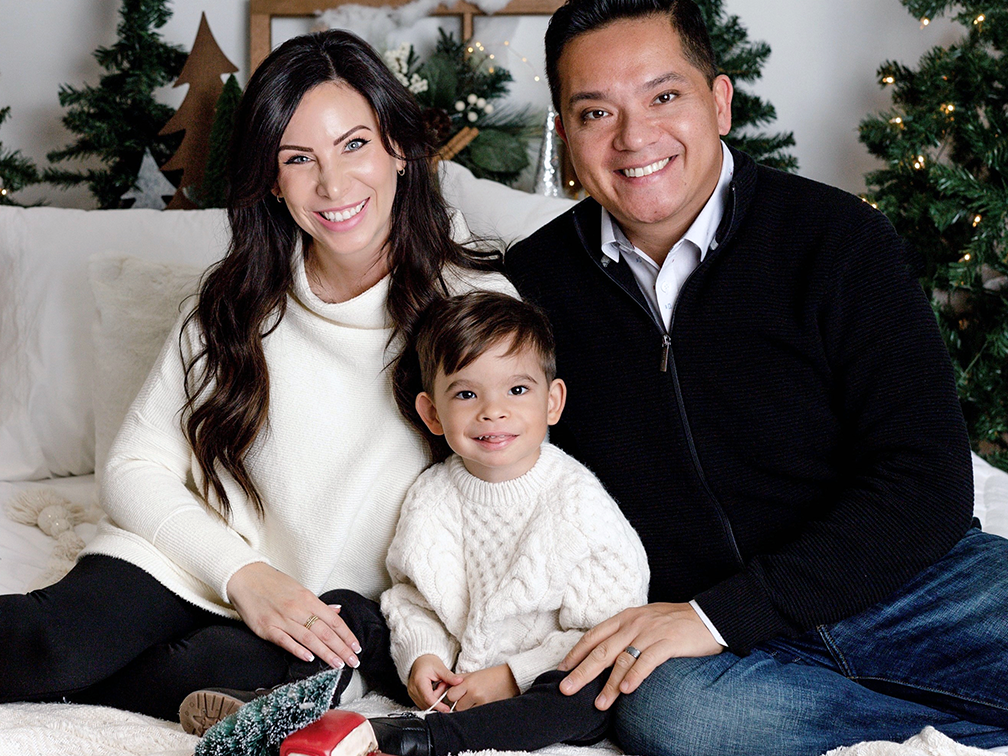 Kerri and Arms Bumanlag are so grateful for all the family memories they've made since blood donors enabled lifesaving heart surgery for their son Liam when he was a newborn.
Liam's dad, Arms, describes Liam as outgoing, funny and opinionated, but also sensitive. He's had a blast getting to know other children at daycare and celebrating his recent fourth birthday with a Spider-Man-themed party.
"He's our whole world. He's my best bud," says Arms. "He's such a loving, gentle soul, extremely active and very passionate about the things that he loves."
For all this, Arms and Kerri are so grateful, not only to the doctors and nurses who have provided lifesaving care, but to the blood donors who supported Liam through surgery — people they'll never meet, but would love to thank personally.
"I'd probably give them a hug," says Arms. "I'd look them in the eye and say 'Thank you for saving the best thing that's ever happened to me.' That little boy has brought so much joy to our lives."
They're also keenly aware that Liam could need more surgery, and blood transfusions, in the future. It's on their minds during every drive to a cardiology checkup.
"Making the trip from Windsor to London is always a surreal experience, because we're making small talk in the car, but we don't know if that's the trip where Liam's cardiologist is going to say 'We need to do more surgery. You guys need to go to Toronto,'" says Arms.
"I always say to people it's the monster in the closet. We'll face it together."

Liam Bumanlag received blood transfusions as an infant during heart surgery.
Blood donors help deliver comfort and a bright future
Knowing blood donors have their backs makes facing the "monster" that much easier. And the generosity they've been shown has also moved the Bumanlags to help others in turn. As a longtime broadcaster in the Windsor area, Arms covered many Canadian Blood Services donation events in his career, but now his family organizes them. 

Looking ahead to spring, the family has an even more exciting event to anticipate. And it's one they are overjoyed for Liam to experience: the birth of his younger sister in April.
"It's a blessing," says Arms.