National Organ and Tissue Donation Awareness Campaigns
National Organ and Tissue and Awareness Donation Week takes place the last full week of April.
---
During National Organ and Tissue Donation Awareness Week in April of this year, we will be launching a national organ donation awareness campaign called: LEAVE WELL.  
Leave Well speaks to the positivity of leaving a legacy, of choosing to do the right thing at the end of your life. It speaks to the pride in choosing to register to be an organ donor.  
Unlike many past and current organ donation campaigns, which rely heavily on donor recipients and their families, the Leave Well campaign would feature images of the regular, do-gooding humans who are registered organ and tissue donors. The hero of this campaign will be the Canadians who choose to register to become an organ donor. 
Learn more about how to leave well here
Partner agencies can access resources at donateyourorgans.ca/resources.
History
---
Bill C-202, enacting National Organ and Tissue Donation Awareness Week in Canada was passed unanimously by the Senate Committee on Social Affairs, Science, and Technology on Feb. 4, 1997. The bill was brought forward by former Liberal Member of Parliament Dan McTeague. The last full week of April was chosen to mark the occasion and to commemorate the death of Stuart Herriott, a toddler killed in a motor vehicle incident in McTeague's riding of Pickering-Scarborough East. Parents of two-and-a-half-year-old Herriott donated his organs and, in turn, helped to save and improve the lives of four others. McTeague says the intent of the bill was to encourage education and awareness about donation and allow Parliament to take a leadership role in addressing the scarcity of organs and thinking about those who die every year waiting for a transplant. 
Green Shirt Day – April 7
---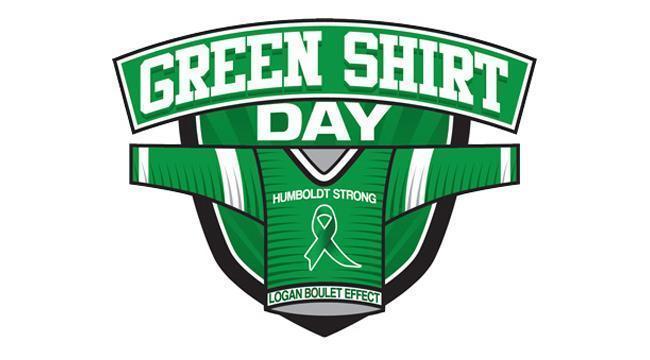 The Canada-wide Green Shirt Day (April 7) campaign honours the legacy of Logan Boulet following the tragic Humboldt Broncos bus crash in Saskatchewan. News of this tragedy moved and united us as a nation. The details of this tragic event had an unprecedented impact. 
Logan's decision to register as an organ donor, and his family honouring his wishes, saved lives. Logan was able to donate his heart, lungs, liver, both kidneys and both corneas, saving six lives with his organs, and helping two more with his corneas. His generous final act inspired nearly 150,000 donor registrations across Canada shortly thereafter, which became known as the Logan Boulet Effect. 
Visit: greenshirtday.ca