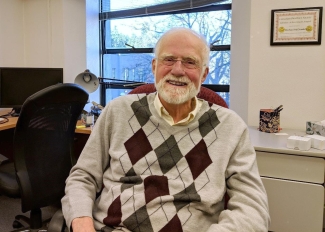 ---
Fostering innovation is central to Canadian Blood Services' mission as Canada's biological lifeline. The Canadian Blood Services Research Ethics Board (or REB) guides Canadian Blood Services researchers and those who receive research funding, data or biological material from Canadian Blood Services. The REB ensures innovation and research adhere to ethical principles and respects the rights of research participants. I learned more in conversation with REB Chair, Dr. Michael McDonald.
What is the Canadian Blood Services REB and what does it do?
The Canadian Blood Services Research Ethics Board (REB) is a multidisciplinary board established in 2001. The Canadian Blood Services REB reviews all research involving human participants conducted by or on behalf of Canadian Blood Services. This includes all research involving either personal information or biologic materials (e.g. blood, stem cells) collected by Canadian Blood Services. Without approval from the REB, a research project involving human participants cannot go ahead. The REB also advises Canadian Blood Services on bioethical issues inherent in the research reviewed. 
The REB has a responsibility to researchers, but its primary responsibility is to ensure the rights of research participants are protected.
---
The REB is an arm's length committee whose decisions not to approve research protocols cannot be reversed by the Canadian Blood Services Executive Management Team or the Canadian Blood Services Board of Directors.
---
Who is on the Research Ethics Board?
The REB is a multidisciplinary board, currently with seven members. The Chair, Dr. McDonald, a Professor Emeritus of Applied Ethics at the University of British Columbia, has been a leader the field of Canadian research ethics. A major focus of McDonald's research has been on the experiences of health research participants. Dr. McDonald is both an ethicist and a researcher. This dual perspective helps him balance the responsibilities of the REB to protect individuals' rights and to foster innovation.
Other REB members include two renowned lawyers, who bring expertise in the legal aspects of research ethics and privacy, two members from the community in general (both are blood donors), and two members from the research community. All members of the REB bring their collective knowledge and expertise in ethics, privacy law, and applied research to bear on the decisions they make.
How does the REB work?
Protecting the rights of individuals
Canadian Blood Services provides researchers with unique sets of data and blood components, cord blood, and expired or discarded products from Canadian Blood Services supply chain. Canadian Blood Services cares about donors, including individuals whose data or biological material may be used for research, and is committed to protecting their rights and maintaining their trust. In Canada, anyone doing research that involves human participants must follow certain ethical guidelines, as outlined in the Tri-Council Policy Statement: Ethical Conduct for Research Involving Humans. Researchers wishing to conduct research involving human participants must submit a protocol to the REB before they begin. The REB reviews all research applications to ensure that the proposed research respects the rights and interests of research participants, and follows the the ethical principles laid down in the Tri-Council Policy Statement, and other guiding documents.
Building a bridge to researchers
The REB is a valuable resource for researchers, who may not be fully aware of all ethical concerns that might arise in the course of their research. If there are concerns, the REB raises these with the researchers. They work with researchers to ensure they understand and can address any ethical concerns and sensitivities related to the work they are proposing. 
Taking the broader view
As well as responsibilities to research participants and researchers, the REB has a responsibility to society at large. They assess research to ensure it is appropriate in that broader context, asking questions like "Will it bring value to society?"; "How will the proposed research impact affected communities?" This wider, community-focused view can often be missing in research proposals, which tend to focus instead on the details of the proposed work.
Ethics in a time of big data
Ethics is not static; it is a dynamic field, and ethical concerns and sensitivities change over time, as do the laws and requirements. The REB practices evidence-based ethics, and REB members are continuously learning to ensure they keep informed about developments in the areas of ethics, law, and research.
For example, the advent of "big data" raises interesting questions and issues for individuals (e.g.: what Facebook privacy settings are you comfortable with?) but also opportunities for research and innovation. The REB explores ethical issues around questions such as how large datasets can be used as a resource to advance the health of Canadians?
Canadian Blood Services is committed to keeping data and personal information in its custody secure and confidential. The REB review helps safeguard the security and confidentiality of any data used for research. Through the REB approval process, researchers must consider how they will manage the data, how they will meet confidentiality requirements, how the data will be secured and maintained. For a researcher, REB approval is just the beginning. The researcher must then conduct the research in an ethical manner, and safeguard any data or samples entrusted to them throughout the life cycle of the research. REB approval is an on-going process; approval is needed every year while the research is underway, and each project ends with a termination report to the REB. The termination report provides insights to the REB about project outcomes and the value brought to society.
The REB ensures research integrity – the ethics of doing good research. I'll leave the last word to Dr. McDonald:
"Some researchers may view REB approval as a necessary if somewhat tedious hoop to jump through. But REB approval is not a pro forma process. It is a very meaningful process. Canadian Blood Services runs on trust. When Canadian Blood Services does (or facilitates) research, a bargain is entered into with research participants: whether they've given blood or data, Canadian Blood Services values their contribution and in return promises to use it in a meaningful and ethical way. The REB helps ensure this is the case."

Dr. Michael McDonald
Canadian Blood Services' Research Ethics Board Chair
Professor Emeritus at the University of British Columbia
---
Canadian Blood Services – Driving world-class innovation
Through discovery, development and applied research, Canadian Blood Services drives world-class innovation in blood transfusion, cellular therapy and transplantation—bringing clarity and insight to an increasingly complex healthcare future. Our dedicated research team and extended network of partners engage in exploratory and applied research to create new knowledge, inform and enhance best practices, contribute to the development of new services and technologies, and build capacity through training and collaboration. Find out more about our research impact. 
The opinions reflected in this post are those of the author and do not necessarily reflect the opinions of Canadian Blood Services nor do they reflect the views of Health Canada or any other funding agency.
Related blog posts
---
Wednesday, March 16, 2016
Dr. Geraldine Walsh
Located in Vancouver, BC, near the University of British Columbia campus, our blood for research facility comprises a whole blood and apheresis donor clinic as well as a research and production laboratory.
---
Wednesday, July 13, 2016
Jenny Ryan
While blood transfusion is safer now than ever before, scientists continue to look for ways to reduce risk and ensure the healthiest possible outcomes for patients. A unique collaboration between Canadian Blood Services, The Ottawa Hospital and Université Laval has led to some interesting and...
---
Wednesday, December 21, 2016
Amanda Maxwell
Communicating science is an important part of the job for anyone involved in clinical research, whether it takes place face-to-face with the patient, a donor or the wider scientific community. Unfortunately, outreach like this can seem a daunting prospect to the lab scientist and practitioner; it is often easier to hide behind the bench or the stethoscope.