Giving blood during the holidays? This young recipient thanks you
---
By Susan Burgess
Donors who visit a donor centre in the Ottawa community of Orléans on Dec. 24 will have the chance to meet a grateful young blood recipient from just down the highway.
Wyatt Lafontaine was diagnosed in June 2017 at only 10 months old with infant acute lymphoblastic leukemia. He spent several months at the Children's Hospital of Eastern Ontario undergoing chemotherapy, with blood transfusions every second day.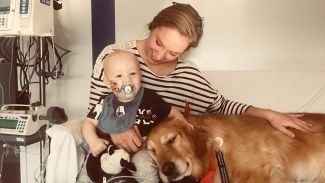 Some of those transfusions were delivered during the Christmas holiday period. Wyatt's parents had expected him to be discharged, but a health crisis kept him in hospital to receive more blood and platelets.
"I'm incredibly thankful and proud of people who are taking time from their busy lives to donate," said Sam Loan, Wyatt's mother. "I want to thank them from the bottom of my heart."
Sam and Wyatt will thank donors personally on Christmas Eve at a mobile donor centre at Place d'Orléans, a shopping centre in the Ottawa community of Orléans.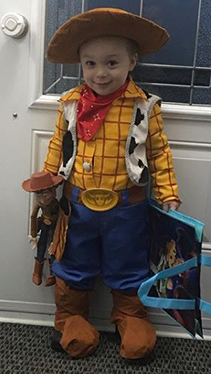 This is Wyatt's second appearance at a donor centre. He also met donors last summer in his own nearby community of Rockland, Ont. This time, staff plan to give him candy canes to distribute.
"For Wyatt to come up to you and say, 'thank you for donating!' is a really exceptional experience," said Jan Grant, a territory manager in donor relations at Canadian Blood Services. "It'll make you melt."
Christmas Eve donation events have a special vibe with holiday music, cookies and staff dressed in holiday attire, Grant said. Staff go out of their way to express gratitude on behalf of patients receiving blood throughout the holiday period.
"We know that donors spending an hour of their time at this busy time of year is so valuable," said Grant, who hopes to collect 144 donations at the Orléans event.
Blood donations through the holiday season and into 2020 will be essential to collect platelets, a blood component with a shelf life of only seven days. They are needed by many patients living with cancer and blood disorders.
To book an appointment near you during the holidays — including Boxing Day, New Year's Eve and New Year's Day in some locations — simply download the GiveBlood app, call 1 888 2 DONATE (1-888-236-6283) or book now at blood.ca. Walk-in appointments are also available at all locations.
People who are unable to donate blood can give financially, volunteer, and encourage others in their network to support Canada's Lifeline.