Canadian Blood Services' Cord Blood Bank delivers first unit to a Canadian hospital
---
Delivery of cord blood stem cells an important milestone
(OTTAWA) – Canadian Blood Services' Cord Blood Bank has delivered a cord blood unit for the transplant of stem cells to the first Canadian patient.
Image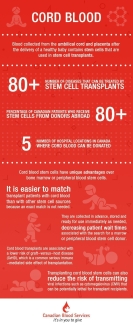 "We're so excited to be giving a Canadian patient the gift of life," says Dr. Heidi Elmoazzen, Canadian Blood Services' director, cord blood bank and stem cell manufacturing. "We expect this will be the first of many lifesaving transplants from our bank for Canadians yet to come."

Rich in stem cells, cord blood is collected from the umbilical cord and placenta of volunteer donors shortly after birth. They can, in turn, be transplanted if an appropriate donor and recipient match is found. Cord blood stem cells are used for treating over 80 diseases and disorders such as leukemia, lymphoma, aplastic anemia, inherited immune system and metabolic disorders, as well as sickle cell anemia.

As of today, Canadian Blood Services has collected over 11,200 cord blood units from mothers across Canada and has banked over 1,400 units which are available for searching and matching. As the cord blood bank increases its inventory, due to the generosity of mothers donating their baby's cord blood, the number of cord blood units available for successful matching and transplantation will continue to grow.

At any given time, Canadian Blood Services' OneMatch Stem Cell and Marrow Network is searching on behalf of hundreds of Canadian patients in need of an unrelated blood stem cell donor. Approximately 75 per cent of patients who need a blood stem cell transplant are unable to find a suitable match within their own family. 

"Many Canadian patients have unique stem cell matching needs reflective of Canada's extensive ethnic diversity says Dr. Elmoazzen. "The goal of Canadian Blood Services' Cord Blood Bank is to create more transplant opportunities for Canadian patients with a cord blood bank that is reflective of the unique diversity that we see here in Canada."

Canadian Blood Services' Cord Blood Bank is part of an international network of publically banked cord blood units. Currently there are almost 700,000 publically banked cord blood units around the world. However, even with this access, it is still not possible to find a match for about half of the patients in this country who need a stem cell transplant. Canada needs to continue to build the most ethnically diverse public cord blood bank possible to provide Canadian patients with more opportunities to receive a stem cell transplant.

"The delivery and ultimate transplantation of the first cord blood unit to a Canadian patient represents an important milestone," says Dr. Graham Sher, chief executive officer with Canadian Blood Services. "It is the realization of a commitment, several years in the making, to provide a public cord blood bank that creates transplant opportunities For All Canadians, the theme of our recent fundraising campaign."



Canadian Blood Services' Cord Blood Bank opened in 2013. The provincial and territorial ministers of health (outside of Québec) contributed to the total cost of $48 million to establish and operate the bank. With the help of many generous individuals and corporations, Canadian Blood Services also raised a contribution of over $12.5 million through a three-year fundraising Campaign For All Canadians.

Associated links

For information about stem cells collected through cord blood, watch our cord blood video.

Information about Canadian Blood Services' Cord Blood Bank can be found on our website at blood.ca/cordblood.

See our infographic about cord blood donation.