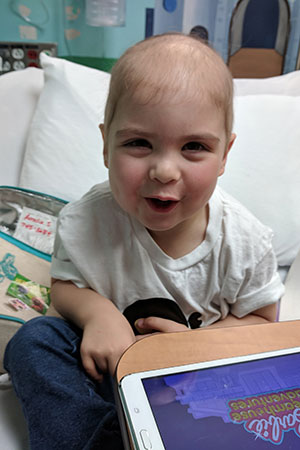 Like many people, Veronica Vardy never really thought about the blood supply. It wasn't until she was sitting by her daughter's side, watching the blood from a stranger drip life back into her tiny body, that it hit her. 
Patients like her daughter Amelia could not survive without the generosity of Canadians like you.
Just last summer the family of five was enjoying the long-weekend, camping at their favourite spot. Amelia, the youngest, wasn't herself. She's usually a happy, energetic kid. During this trip, she was cranky, tired and out of nowhere, started walking with a limp. 
A few days later, she developed a slight fever and red spots on her legs. They headed to their doctor's office to get her checked out. And while they were sitting in the waiting room, Amelia's gums started bleeding. 
Instantly, they were sent to the emergency department. There, they ran some tests and immediately gave her two blood transfusions. That was their first experience with Canadian Blood Services, but it was far from their last.
"I am grateful for donors, who generously give to Canadian Blood Services," says Veronica. "Donations play an integral role in helping connect patients like my daughter with blood and other life essentials when they need them the most." 
Fast forward 24-hours and the medical team revealed her diagnosis. B-Cell Acute Lymphoblastic Leukemia. Amelia has cancer. 
Since she was only three-years-old, the best way for her to receive chemotherapy was to install a port, a special intravenous (IV) line. She received general anesthesia for the procedure. Then the doctors explained that they were struggling to wake her up. With the severity of the complications she was facing, her parents were not able to hold her. For five of the longest of days, they watched and waited for her to wake. 
Three days in, the doctors said that she may have had a seizure, and that there was a pool of blood forming at the back of her skull.
"There is nothing worse than watching your child fight for their life and not be able to hold them," says Veronica. "Donors may not realize it, but they helped bring life back to my baby. Thanks to their generosity and commitment to saving lives, I was able to pick up and hold my sweet baby again." 
In the first 10 days of her treatment, Amelia received 11 lifesaving blood transfusions.    
Patients like Amelia and their families never know when they're going to need blood. In fact, more than half of all Canadians will need blood at some point in their lifetime.  Without your financial support, Amelia would not be on the road to recovery today. 
With your financial donation, you are helping kids like Amelia. Financial donations help patients in several ways, including supporting the many programs Canadian Blood Services has that encourage people to become blood donors. Making a financial donation is also a meaningful alternative for those who cannot donate blood, but still want to help.  Be there for kids like Amelia and make your financial gift today at give.blood.ca