How a newborn can be a lifesaver
---
Our partners know there is always a way to support Canada's Lifeline. Options include, but are not limited to, donating blood, joining the national stem cell registry, registering your intent to become an organ and tissue donor, or making a one-time or recurring financial donation.
Elaine O'Keeffe works with RBC Global Asset Management in Vancouver, B.C., and has been the Partners for Life champion at her organization since March 2018.
Over the past few years, Elaine has raised awareness about the need for blood and has organized group donations for her colleagues. But her support for Canada's Lifeline didn't begin as she had planned.
About five years ago, Elaine went to donate blood for the first time. "I was so excited and intrigued by the whole process. I got the finger prick, my iron level was good, I filled out the paperwork and was ready to start a fantastic tradition of donating blood," she says.
But during the donor screening process, Elaine learned she was ineligible to donate blood in Canada because of the risks associated with vCJD (the human version of "mad cow disease").
At Canadian Blood Services, our top priority is the safety of Canada's blood supply. Many individuals and groups, for various reasons, are not eligible to give blood—all based on scientific risk factors.
Elaine was born in Ireland and spent several years in that part of the world, where cases of vCJD originated. Unfortunately, there is no licensed test available for vCJD. It can be transmitted through blood transfusion, and the incubation period is currently unknown.
"I couldn't put my disappointment into words," Elaine says.
Several months later, a colleague at Elaine's workplace mentioned they were seeking an office ambassador for Canadian Blood Services.
"Immediately, I knew I was the right person. Even though I couldn't donate blood, I understood the importance of donating. I felt that taking on this role at work was my calling."
Elaine's journey to becoming an ambassador for Canada's Lifeline began with an unexpected setback. But her desire to help inspired her to explore other ways to help patients.
"When I was pregnant, I was booking time slots for my colleagues to donate blood and became aware of the need for stem cells and how donating my baby's cord blood could help save someone's life. Since I couldn't donate blood, I emailed the contact to ask if I could donate stem cells. She said I was eligible, encouraged me to apply, and I did."
As Elaine learned, the regulations for stem cell (and organ) donations are different from those that apply for blood donation.
Mothers who are delivering at one of four hospitals in Canada, including the BC Women's Hospital & Health Centre in Vancouver, may register to donate their babies' cord blood. Cord blood is the blood that is left in the umbilical cord and placenta after a baby is born.
Cord blood is a rich source of blood-forming and potentially lifesaving stem cells. With each mother's consent, we collect and store cord blood in Canadian Blood Services' Cord Blood Bank.
Donated cord blood is made available to any patient in need of a stem cell transplant in Canada or around the world. It can be used in the treatment of more than 80 diseases and disorders such as leukemia, lymphoma and aplastic anemia. If not donated, the cord blood left in the umbilical cord and placenta is thrown away as medical waste.
At any given time, the Canadian Blood Services Stem Cell Registry is searching on behalf of hundreds of Canadian patients in need of an unrelated stem cell donor. Donations of cord blood can help to fill this need.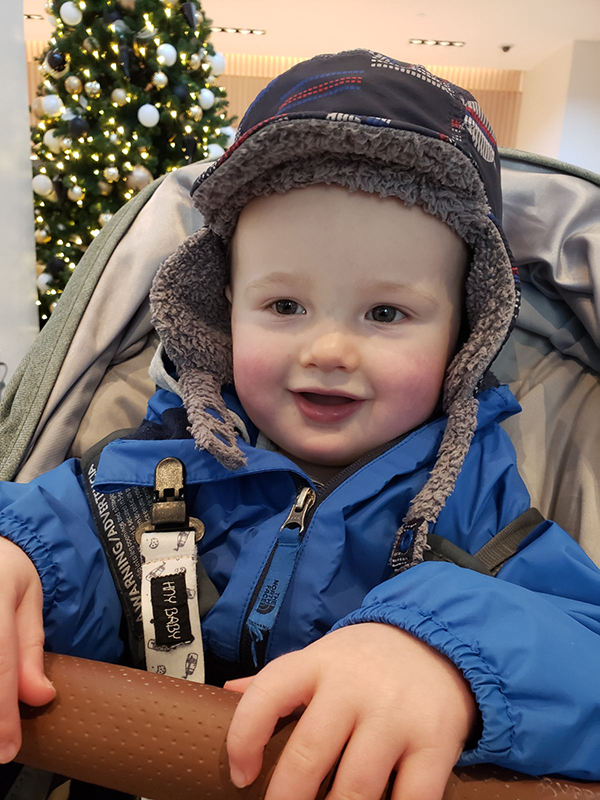 Thankfully, not only did Elaine donate her baby's cord blood, but her son was an immediate match for a patient in need. "I was speechless!" she says. On June 20, 2019, while at BC Women's Hospital, Elaine learned that her son's cord blood had been given to a child in Europe.
"Nearly 20 months on, and I can't tell or think of our story without getting extremely emotional. Our son was one day old and was named a 'hero.' My husband and I are both excited for the day we can take out the hero bib we received and tell our son, Charlie, how his lifeline became someone else's."