Our story began 20 years ago. The next chapter is now underway. It's a story about the power of connections: from blood and plasma, to stem cells, and organs and tissues. It's a story between donors, recipients and all the people that bring them together. It's about the power of connections to keep Canadians living. It's about the something we can do today, knowing that because of us, someone else is waking up healthy tomorrow. Trusting that we can all be part of the connection that keeps the story going: Together, we are Canada's Lifeline.
A new symbol for Canada's Lifeline

Based on the universal shape for infinity, the design of our new logo represents the infinite lengths to which we must always go to save lives. All the while, we must recognize the connections that link us together – from donors to recipients, from transfusion to transplantation, from hearts to minds, from one to another. A vital connection between donors and recipients right across the country.
Image


Join us in making the connection between the sincere generosity of donors and the heartfelt appreciation of recipients, between the profound discoveries of science and the joyful restoration of health.

Today, Sept. 28, 2018, we celebrate an important milestone, our 20th anniversary.
Over two decades we have earned the privilege to serve Canadians. Our thanks go out to all who have been a part of our journey. We hope you will join us in our next exciting chapter, as we transform the way we deliver lifesaving products to Canadian patients, where and when they need them.
Building on our legacy, we will continue to earn the trust of Canadians with a renewed commitment to champion and safeguard Canada's national systems for blood, plasma, stem cells, organs and tissues. By bringing donors, volunteers, health professionals, researchers and patients together in a national network, we are uniting hearts and minds, and creating endless possibilities to save lives.
Our renewal is centered on our promise to patients. That promise is to help every patient, match every need and serve every Canadian. We can't do it without you.
Together, we are Canada's Lifeline
Image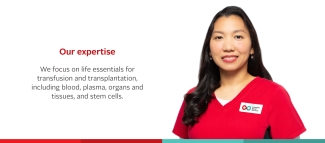 Image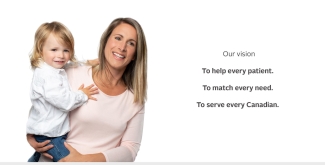 We are Canada's biological lifeline. We are the connection between the sincere generosity of donors and the heartfelt appreciation of recipients, between the profound discoveries of science and the joyful restoration of health.
As such, we are nationally responsible for a secure system of life essentials for transfusion or transplantation that's reliable, accessible and sustainable.
That's why our organization must be efficient, our performance disciplined. We must work as one with our colleagues and partners at all levels.
We must be prudent yet smart, rigorous yet agile, capable yet concerned. And we must be innovative, reinventing today so we can find better answers for tomorrow.
In a very real way, what we do affects the well-being of all Canadians and every day we must earn their trust. We make a difference and in that, we take great pride.
Our commitment to quality
---
Safeguard
Our processes, practices and systems are designed to ensure the quality and safety of our products and services. 
Engage   
We create and develop strong connections with the people we work with. These include donors, colleagues, hospitals and health-care partners, the public and media, governments and funders.   
Improve   
Continuous improvement and transformation of our systems and processes ultimately means more patients helped, more lives saved and more health restored. 
Who we serve

Our priority is to ensure the best possible treatment and care is given to patients. Every choice we make is guided by a focus on the ultimate goal of excellent health care: safe, effective and accessible products and services that patients can rely on to improve their health and well-being.   
Our ability to meet that goal relies on the relationships of trust we build with donors. Only through their generosity and dedication can we meet the needs of patients across Canada and — for stem cell recipients — around the world. We are deeply committed to safeguarding donors' health, and constantly seek new ways to enhance their experience at every point where they interact with us throughout the donation process. Canadian Blood Services is an active contributor and collaborator within national and international networks focused on transfusion and transplantation. We recognize the importance of building productive relationships with stakeholders and governments across Canada's interrelated health systems. The choices we make are prudent and focused, reflecting our deep appreciation of the resource constraints that define the funding landscape. 
What we do

A fundamental conviction anchors the diverse responsibilities of Canadian Blood Services: what we do matters. We ensure Canadian patients have reliable access to the safe, high-quality blood and blood products, stem cells, and organs and tissues they need. To do this, we undertake a broad range of activities in four areas:  
Blood: We collect, test and manufacture blood and blood products, including red blood cells, platelets and plasma. We also provide diagnostic laboratory testing services in some provinces.   
Plasma: We collect plasma from volunteer, unpaid donors in Canada. We retain some of this collected plasma to meet the transfusion needs of Canadian patients, but most is shipped to contract manufacturers who use a process called fractionation to create plasma protein products. We distribute approved plasma protein products — derived from our own plasma in addition to the finished product we purchase — to hospitals in Canada (excluding Quebec) to treat patients with immune disorders and diseases such as hemophilia.   
Stem cells: We operate a stem cell program that supports better outcomes for patients living with any of the more than 80 diseases and disorders that can be treated with stem cell transplants. We collect cord blood and manufacture stem cells through our cord blood bank. We operate a robust national registry of potential adult stem cell donors and participate in an international network of donor registries. We provide human leukocyte antigen (HLA) typing services to ensure the best possible matches between those willing to donate stem cells and those who need them.    
Organs and tissues: We manage a national transplant registry for interprovincial organ sharing and related programs for organ donation and transplantation. Working with partners across the organ and tissue donation and transplantation (OTDT) community, we develop and share leading practices, provide education resources and collaborate on new ways to share data on the performance of the OTDT system in Canada.   
To support these activities, as well as the advancement of transfusion and transplantation science and medicine in Canada and around the world, Canadian Blood Services conducts a wide range of research and development activities, and participates in research led by others. Through these efforts, we help to translate new knowledge, processes and technologies into the manufacturing environment. Our research and development work also supports problem-solving in the blood supply chain, contributing to improvements in quality and efficiency. We support professional education and public awareness activities related to transfusion and transplantation, and share our knowledge and expertise with our health-care partners, stakeholders and funders. 
Who we are

Canadian Blood Services is a not-for-profit charitable organization that operates independently from government. Created through a memorandum of understanding between the federal, provincial and territorial governments, we opened our doors in 1998. Our funding comes primarily from provincial and territorial governments.   
Canadian Blood Services is one part of Canada's broader network of health-care systems, and the only national manufacturer of biological products funded by Canada's provincial and territorial governments. We provide blood and blood products, as well as transfusion and stem cell registry services, on behalf of all provincial and territorial governments except Quebec. Our national transplant registry for interprovincial organ sharing and related programs extend to all provinces and territories.    
We have a unique relationship with Héma-Québec, the provincial blood system operator that provides products to patients and manages Quebec's stem cell donor registry. Our two organizations work closely to share blood products in times of need, and we collaborate regularly to share information, insights and data. 
Our legacy

In November of 1997, Justice Horace Krever tabled the final report of the Royal Commission of Inquiry on the Blood System in Canada in the House of Commons. That same year, at the height of the contaminated blood crisis, federal, provincial and territorial governments enacted a memorandum of understanding that would shape a new, national blood authority for the country.   
Both documents were aimed at providing direction for the future, so that Canadians would be protected from the mistakes of the past. They established key principles for the blood system, including these examples:   
Safety of the blood supply is paramount.  
Blood is a public resource.  
Donors of blood and plasma should not be paid, except in rare circumstances.  
Adequacy and security of supply of all needed blood components and plasma fractions for Canadians should be encouraged.  
Sufficient blood should be collected so that importation from other countries is unnecessary.  
Access to blood products, including fractionated plasma products, should be free and universal.  
A national blood supply program should be maintained.  
These documents, and the principles they contain, have provided essential guidance for Canadian Blood Services for the past two decades.