Be Part of the Solution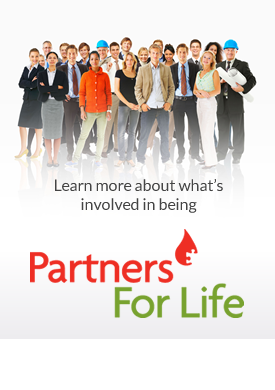 One person's blood donation can save the life of a father. A sister. A child. Imagine how many lives can be touched if your entire organization made the commitment to give.
Partners for Life
gives teams within Canadian companies, government agencies, community groups, schools, service clubs, faith organizations and more the opportunity to show their commitment to saving lives by donating blood, platelets and plasma.
Six reasons to join Partners for Life
When you sign your organization for Partners for Life, you're doing more than committing to an annual pledge. You'll gain a sense of team spirit and real accomplishment.
Partners for Life offers your organization the opportunity to:
Save lives
Every blood donation makes a difference. And sometimes it takes multiple donors to save a life. For example, it can take five donors to save someone who needs cardiovascular surgery.
Engage as a team
Saving lives together is the ultimate team builder and gives employees a sense of pride that their company is committed to making a difference.
Build reputation
Partnering with Canadian Blood Services is a great way to build a stronger community and increase your corporate profile while meeting your social responsibility objectives.
Earn recognition
We track member donations affiliated with your organization and recognize you for your efforts and contributions.
Develop employee skills
Your staff will have abundant opportunities to champion the blood donation cause and make a difference.
Grow your business
Research shows Canadians are more likely to have a positive impression of corporations that visibly support Canadian Blood Services. According to a study by Ipsos Reid, 71 percent of Canadians strongly agree that corporations that host blood donor clinics are doing a good thing, and 78% would be more likely to purchase products or services from corporations that visibly support blood donation in Canada.
ORGANIZATION
My organization is interested in
becoming a Partner for Life!
MEMBER
My organization is already a partner
and I want to team up to save lives!
Who are some of our Partners for Life?
Across the country, we have more than 4,000 partner organizations working with us to save lives. Find out how they do it—and how your organization can, too:
CALLING ALL
HIGH SCHOOLS!

If your high school is looking to get involved in donating blood as a team, check out our Young Blood for Life program.