Serious fall spurs mountain bike enthusiasts to call for donors
---
On April 20, a team from We Are One Composites in Kamloops, BC, joined Canada's Lifeline in support one of their own. They came together to donate blood, join Canadian Blood Services Stem Cell Registry, and encourage the growing mountain bike community to donate blood.
The event welcomed 53 new donors and was organized in honour of Dustin Adams, whose local business manufactures carbon mountain bike rims and components.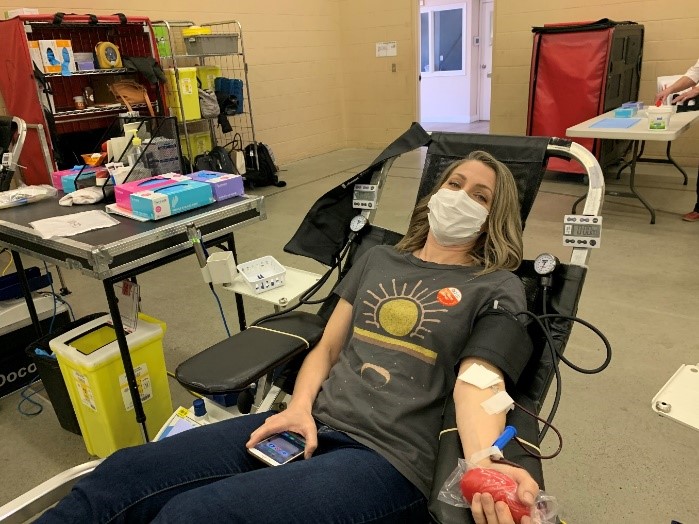 Sherri Adams Donating for Dustin!
In October 2020, Adams had a life-threatening bike crash while testing new equipment with co-workers. He was riding on a familiar trail on Harper Mountain when coming down a path he'd been down hundreds of times, he took a hard fall and landed on his stomach.
The crash knocked the wind out of him. But Adams, who is known to be as touch as nails, got up and kept riding to the bottom of the trail. When he got there, he collapsed on the grass and was immediately rushed to hospital. Had they waited for an ambulance to arrive, he likely would have bled to death.
When they arrived at the hospital, he almost passed out in the waiting room and, within 30 minutes, was rushed into emergency surgery. Doctors discovered he had ruptured his spleen and was bleeding internally. His spleen was repaired and Dustin received a five units of blood that helped save his life.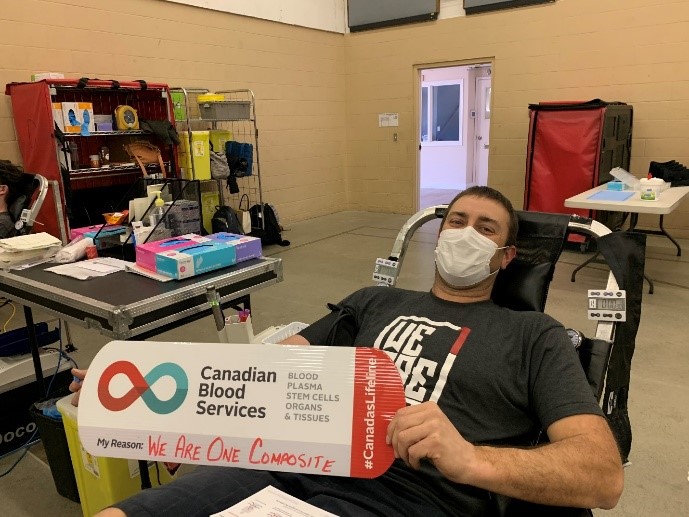 Dustin W Donating for Adams!
Dustin Adams' medical scare and need for blood hit home for everyone at We Are One Composites. One of his production managers, Dustin Windross, took it upon himself to organize the blood and stem cell drive at the suggestion of his wife Courtenay, a long-time blood donor.
Windross saw this as an opportunity to educate other mountain bikers about the risks they take in the activity they love, and how blood donations might one day help them as well. He contacted Canadian Blood Services and got the ball rolling.
The group produced a video of their event in Kamloops to inspire other mountain bikers to consider donating. Another group from Courtney, B.C has booked a group donation in August.