Hospital Newsletter Winter 2018
Upcoming Events
Canadian Society for Transfusion Medicine Annual Conference
When: May 30 – June 2, 2019
Where: Calgary
New: NAC Statement on Perioperative Blood Donation
14th Annual Transfusion Medicine Education Videoconference Symposium
Topic: Platelets – The Sticky Truth and Why It Matters to You! 
When: April 10, 2019
Mitigating the rise in demand for group O Rh negative red blood cells
Mitigating the rise in demand for group O Rh negative red blood cells (PDF)
Since 2009, the overall national demand for red blood cells (RBCs) for transfusion has been declining. After years of progressive increase, demand for O Rh negative RBCs has started to decline as well.
From April 2017 through March 2018 a total of 84,573 O Rh negative RBCs were issued to hospitals served by Canadian Blood Services. This reflects a decrease of 12,820 units compared with four years earlier (April 2012 – March 2013). This shift in demand was encouraging and is reflected in the percentage of O Rh negative units issued, which gradually decreased during 2014/15 to 2016/17. However, the current numbers indicate that the demand is once again on the rise. See Figure 1.
It is important to note that some hospitals have decreased the overall amount of RBC units received per year. Therefore, despite O Rh negative efficiencies, the percentage of O Rh negative RBCs of all blood group units received may not reflect a general improvement in transfusion practice. The positive efforts of hospitals and blood system stakeholders working toward optimizing O Rh negative red blood cell use are evident. By working together and learning from best practices, we can continue to optimize the utilization of this limited resource.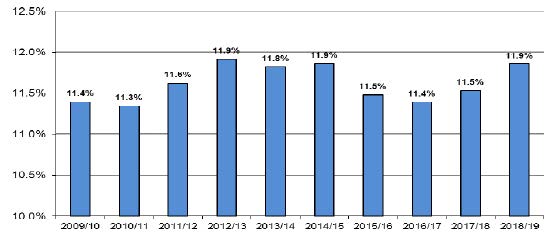 Figure 1. Percent O Rh negative RBC Issues of Total RBCs Issued
One hospital, Lakeridge Health in Oshawa, Ont., has taken on the challenge by conducting audits.
"Initially transfusions of group O Rh negative RBCs to non-group O Rh negative patients were reviewed monthly," says Lisa Richards, senior technologist, Transfusion Medicine Laboratory. When inappropriate usage was identified, steps for improvement were taken. These included education, feedback to individual medical laboratory technologists, new signage for the blood stock fridge, and adjustments to inventory target levels. Although improvements were seen, 100 per cent appropriate use of the O Rh negative inventory was not achieved.
The next step taken was to increase the review from monthly to daily. Every morning, transfusions of group O Rh negative RBCs to non-group O Rh negative patients were reviewed. If inappropriate usage was suspected, they investigated further and results were shared with all staff.
Since Feb. 1, 2017, the transfusion laboratory has seen 100 per cent appropriate usage of their group O Rh negative RBC inventory. From April to June 2017, only eight group O Rh negative RBCs were transfused to non-group O Rh negative patients, a 62 per cent reduction from the previous year.
See our 2018 BloodBrief for more details.
---
The 14th Annual Transfusion Medicine Education Videoconference Symposium
The 14th Annual Transfusion Medicine Education Videoconference Symposium (PDF)
The symposium, titled Platelets - The Sticky Truth and Why It Matters to You, is on April 10, 2019, and will be hosted by Thunder Bay Regional Health Sciences Centre.
Image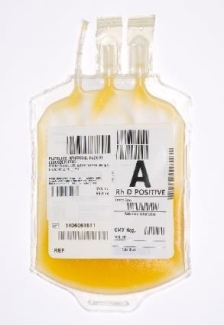 Canadian Blood Services and the Ontario Regional Blood Coordinating Network (ORBCoN) have partnered once again to offer this annual educational event to develop the transfusion skills of professionals working in community hospitals with the goal of improving patient outcomes.
The symposium is open to all healthcare professionals that are involved in the ordering, issuing and/or transfusing of blood and blood products. Those include physicians, nurses, technologists as well as residents, trainees and students.
"This annual event is a great learning experience. We have some excellent speakers on the line up. Experts who will provide attendees with valuable insights that will help inform transfusion decisions at their local hospitals," says Dr. Peter Lesley, Canadian Blood Services medical officer and co-chair of the symposium organizing committee.
Presentations include:
Patient Case Studies: Sticky Situations for Platelet Transfusions

Platelets: From Donor to Bedside; the Production and the Dispensing

Back to Basics for Platelet Transfusions

Mechanisms of Thrombocytopenia
Free to attend but registration is required.
Two repeating sessions to choose from – one morning and one afternoon.
If you have any questions, please contact Tracy Cameron at tcameron@toh.ca
---
Hospital Online Ordering
Hospital Online Ordering (PDF)
In August 2018, four hospitals in British Columbia started participating in a collaborative pilot with Canadian Blood Services for online ordering. The four hospitals are Royal Columbian Hospital (New Westminster), Royal Jubilee Hospital (Victoria), Surrey Memorial Hospital (Surrey) and Vancouver General Hospital (Vancouver).
Participating hospitals can place online orders with Canadian Blood Services for all plasma protein products and most blood components. The blood components that currently cannot be ordered online include phenotyped RBCs, washed RBCs, deglycerolized RBCs or any product where the name of the patient is required. These will be considered for future versions of the prototype.
The online ordering system is a prototype designed by Canadian Blood Services. Just like other online shopping tools, users can browse a list of available items and indicate the volume of the item they want to order. Participating hospitals can check on the status of their order online (submitted, received, in progress, packed, shipped, completed or canceled).

What have hospital transfusion laboratory staff been saying about online ordering?

"Great!"
"Easy to use"
"Less paper"
"Less phone calls for order updating"
So how do you implement something like online ordering for hospital users? One word: training. Prior to system go live, training on the use of the online ordering system was based on hospital staff availability. Training was provided based on staff availability (before or after their shifts) and a sandbox training environment was made available a week in advance of go live so users could practice, explore and play. Hospital feedback received regarding this approach to training was very favourable.
To ensure the online ordering system meets the hospital staff's needs and wants, staff can submit suggestions for improvements through the feedback area of the online ordering system. All feedback is actively worked on, and feedback deemed urgent is acted upon immediately by Canadian Blood Services.
The pilot has been extended until March 2019, while next steps for the online ordering system prototype system are determined.
---
What's the hype about the K antigen?
What's the hype about the K antigen? (PDF)
Have you heard discussions or recently read about the best practice of holding a small percentage of K negative red blood cells (RBCs) to meet the needs of women of child bearing potential?
What's so special about K?
The Kell blood group system is complex and contains antigens that are highly immunogenic. There are abundant publications regarding the clinical significance of RBC antibodies directed against antigens in the Kell blood group system, and case reports of hemolytic transfusion reactions and hemolytic disease of the fetus/newborn (HDFN) that they can cause. Anti-K is described as the next most prevalent RBC antibody after those in the ABO and Rh blood group systems. For this reason, matching K negative RBC when females need blood transfusions may reduce the risk of HDFN.
Where can I find data or research that supports this best practice?
In June 2015, Canadian Blood Services released research data that found that transfusion with a K positive RBC unit is a major cause of alloimmunization and the practice of prophylactic matching of K negative RBCs for females of childbearing potential should be considered.
What is an appropriate K negative RBC inventory?
Read the recommendation for K negative RBC inventory by reviewing the System Inventory Management Best Practices Guide.
How is Canadian Blood Services supporting this best practice?
On Nov. 26, 2018, Canadian Blood Services implemented a revised K antigen testing strategy where all donors who have not been previously K phenotyped will have K antigen testing performed. See our customer letter for more details about the donor testing change.
How can hospitals ensure they have K negative RBC inventory at all times?
Determine how many K negative RBC units of each blood group your hospital needs.

Maintain a segregated Kell negative RBC stock in labeled bins or use tags or a similar Kanban system with maximum levels indicated on bins.
Order K negative RBCs when below the target inventory level.
Contact your local Hospital Liaison Specialist if you have questions.
---
What is Canadian Blood Services doing to evolve blood donor eligibility criteria?
What is Canadian Blood Services doing to evolve blood donor eligibility criteria? (PDF)
As of today, Canadian men are eligible to give blood if it has been more than one year since their last sexual contact with another man. This is known as the MSM eligibility criteria, one that that has been evolving since its original implementation in the 1980s. To learn more about the changes to the MSM deferral criteria over time, visit blood.ca.
Over the years, as we have collected surveillance data and performed research, we have increased our body of knowledge to evolve the donor eligibility criteria. We have recently made progress on several fronts which may further evolve the eligibility criteria for MSM. This includes supporting more research projects as part of the MSM Research Grant Program and considering a reduction to the waiting period from one year to three months.
"The MSM research program is important because it brings teams from different research backgrounds together with the LGBTQ+ community. For us to keep the blood supply safe for patients, any change we make to donor eligibility criteria has to be supported by a body of evidence, and that's part of what we expect to get from this newly funded research," says Dr. Isra Levy, vice-president of medical affairs and innovation with Canadian Blood Services.
Supporting research
In October, four additional projects have been funded as part of a second round of support available through the MSM Research Grant Program. This unique program initiated in 2017 now combines research from a total of 15 research teams engaging researchers from across Canada with key partners and stakeholder organizations. Informed by national and international research experts, and actively managed by Canadian Blood Services and Héma-Québec, the program will generate evidence to inform alternative screening approaches for blood and plasma donors.
The newly funded projects investigate the feasibility of implementing source plasma donation with alternative screening approaches; the impact and opportunities for changes to blood donation screening; and mathematical modelling of the risk of transmission of viruses.
Summaries for all funded research projects are available on blood.ca.  
Calculating risk
Dr. Sheila O'Brien, associate director of epidemiology and surveillance with Canadian Blood Services, is the lead investigator on a couple of complementary projects that use mathematical modelling to better understand the risk of transfusion-transmitted infections. The projects, titled 'Mathematical modelling – Comparing HIV risk between MSM donation strategies', began in 2017 with support from the MSM Research Grant Program.
Incremental change: submission to Health Canada
Canadian Blood Services is dedicated to being as minimally restrictive as possible, while also maintaining the safety of the blood supply. As the donor screening and eligibility criteria for blood and plasma donation evolves, decisions must be based on scientific evidence, acceptable to patient groups, and submitted to Health Canada for approval.
While research efforts are underway, Canadian Blood Services continues to gather data on each blood unit collected, including pathogen tests results, and performs data analysis on a large scale. This surveillance approach has been instrumental in providing up-to-date information on the impact of reducing the waiting period for MSM to one year on the safety of the blood supply. We have discussed the results of this analysis with stakeholders (such as patient groups and LGBTQ+ groups) and with Héma-Québec, and are submitting a request to our regulator Health Canada to further reduce the waiting period for MSM from one year to three months. 
This submission will be the latest incremental step by Canadian Blood Services to evolve the eligibility criteria for MSM. The process is still in its early stages.
More information about the eligibility criteria for MSM is available on blood.ca.
Sign up to hear from us when the next issue is released!