Hospital Newsletter Spring 2018
The difference (about) a day makes: extending the shelf life of platelets
The difference (about) a day makes: extending the shelf life of platelets (PDF)
In August 2017, Canadian Blood Services extended the shelf of our pooled and apheresis platelet components from five days to seven days. As part of this change, we implemented a new testing algorithm to improve our ability to detect bacterially contaminated pooled and apheresis platelet components to augment our current safety measures.
What did we do?
We added an anaerobic culture bottle to our culture process to improve our ability to detect anaerobic bacteria. This doubled the sample volume size and increased our ability to detect aerobic microbes that can grow in anaerobic conditions. 
We increased the time of sample collection for bacterial detection from 24 to 36 hours post component collection. The increased time allows potentially contaminating bacteria a longer period of time to proliferate, thus improving our ability to detect them.
We added a six-hour hold prior to the release of platelets, thus allowing any components that may be flagged by our bacterial detection instrument (BacT/ALERT 3D) early in the incubation period to be quarantined and not issued to a hospital customer.
In addition to the added safety for patients, we also expect to see a reduction in system-wide (nationally, at hospitals and at Canadian Blood Services) platelet outdates. Over the first few months after the implementation date, our hospital liaison specialist team discussed adjustments to hospital inventory levels and standing orders, and our production team adjusted their manufacturing targets. The early data indicates that we have been successful (see graph below).  Note: the February data showing below was generated before all hospitals had shared their February disposition data.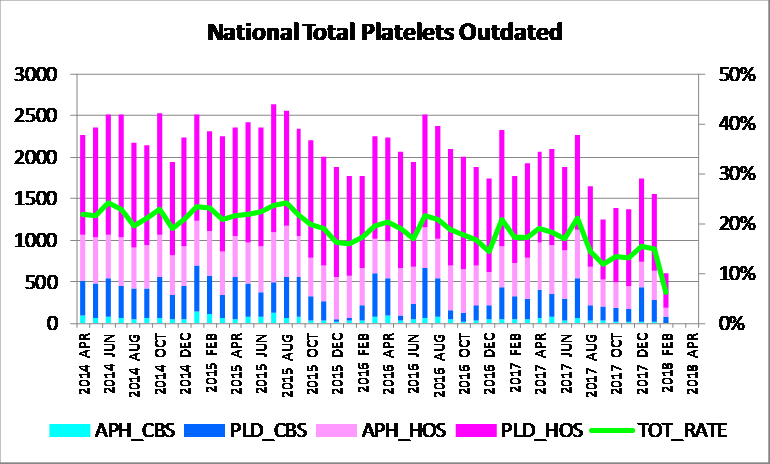 | | |
| --- | --- |
| Left axis – total doses outdated | Right axis – percent doses outdated |
| Aph_CBS – apheresis platelet outdated at CBS | Aph_HOS – apheresis platelet outdated at hospitals |
| PLD_CBS – pooled platelet outdated at CBS | PLD_HOS – pooled platelet outdated at hospitals |
Given that it is still early days since implementation of extended shelf life platelets, and in consideration of other initiatives anticipated to impact platelet discards, we expect to continue to see further outdate reductions across the system. As with all product and process improvements, this change aims to deliver optimal use of blood donor's gift, provide better service to hospital customers and the patients we serve, while being as cost effective as possible.
---
Blood and Clots series – using social media for knowledge translation and education
Blood and Clots series – using social media for knowledge translation and education (PDF)
Dr. Andrew Shih was granted funding through Canadian Blood Services' BloodTechNet program in 2016. His project was titled Social media for knowledge translation and education 3 (SoMe-KTE3): Transfusion, thrombosis, and hemostasis
Known as the Blood & Clots series, this online curriculum is dedicated to the management of bleeding and thrombosis with transfusion medicine as a central concept. Housed on CanadiEM, this series of online educational resources focuses on some of the most difficult dilemmas we face in medicine today: how to manage patients who are bleeding, clotting, or both. The resources have been designed with ER doctors and front-line/primary care physicians in mind.  


The curriculum is based on a needs assessment that will be published shortly and is written by a team of hematology faculty from across Canada.
Read more about this project on RED, our research, education and discovery blog.
---
Spring brings change to blood donor eligibility
Spring brings change to blood donor eligibility (PDF)
Donors who have recently had a tattoo or piercing now only have to wait three months before donating blood, which is half the time it used to be.
This spring a variety of changes to Canadian Blood Services' blood donor criteria and screening questionnaire will come into effect across the country. These latest changes are the result of a successful submission to Health Canada to remove and alter blood donor screening criteria based on current scientific evidence. Among other things, these changes reflect the latest infectious disease data, align with international standards, and modernize the language we use in screening. 
Changes like these may allow more Canadians the opportunity to donate. 
Some highlights include: 
removal of the HIV deferral for people who have travelled to Cameroon and Togo;  
shortening of the deferral time for people who have had tattoos and piercings from 6 months to 3 months; 
updating the language around restrictions for cannabis use; and 
reducing the waiting period for donors who may have received blood and blood products. 
Introducing a wide range of changes to our donor screening may allow thousands more people to be eligible to donate blood each year. Continually reviewing and refining our screening criteria and eligibility requirements is key to meeting our goal of being as inclusive as possible while ensuring the highest level of safety possible. 
Learn more about blood donor eligibility on blood.ca.
---
Getting donors back into the system – Canadian Blood Services' donor re-entry program
Getting donors back into the system – Canadian Blood Services' donor re-entry program (PDF)
Canadian Blood Services tests every whole blood donation for the following:
Hepatitis B virus (HBV)
Hepatitis C virus (HCV)
Human T-cell lymphotrophic virus I and II (HTLV)
Syphilis
Testing involves a two-stage testing process. The first stage, considered a 'screening stage', looks for the possible presence of infection. If the screening test shows no reaction, the blood is considered free of infection and no further testing is done. If the screening test is reactive, the donor is deferred – meaning that they are deemed no longer eligible to donate blood. Further testing is then done to determine if the reaction is due to infection in the blood or because of a  possible issue with the test. 
If the follow-up secondary or confirmatory testing is non-reactive, then the initial reactive screening test result is considered a false reactive (or "false-positive") test result.  Almost all "false reactive" results occur because of an issue with test itself and are not due to infection, and for this reason, the donor might be eligible to donate again! 
Canadian Blood Services now has a Health Canada approved "donor re-entry program". This program allows us to invite blood donors who have previously been deferred for certain "false reactive" or "indeterminate" screening test results to be return to be retested by Canadian Blood Services following a six-month waiting period.
Did You Know?
Canadian Blood Services has a professional education website
blood.ca/professionaleducation
Canadian Blood Services' professional education website is the trusted source for health-care professional education materials. We provide vital resources on transfusion of blood components, and donation and transplantation of organs and tissues. Explore our clinical guidelines, leading practices, courses, upcoming events and more.