Hospital Newsletter July 2017
Upcoming Events
15th Annual Canadian Blood Services' International Symposium
Red Blood Cells: Still Vital After All These Years?
September 9th, 2017
Colony Ballroom, Chestnut Conference Centre, Toronto ON
Focusing on red blood cells, the 2017 Canadian Blood Services' International Symposium will explore topics in serology and genotyping, alternatives to red blood cells, alloimmunization, hemolytic disease of the fetus and newborn, and more.
Blood Efficiency Accelerator Award Program
The objective of the Blood Efficiency Accelerator Award Program is to improve the efficient and appropriate utilization of blood products, while maintaining the safety of the blood system. To achieve this objective, the Program will support innovative research projects that seek new knowledge or accelerate the application of existing knowledge.
 Application deadline: August 15, 2017
     Competition guidelines (PDF)
     Application form (doc)
Ontario Transfusion Quality Improvement Plan for Red Blood Cells (RBCs)
Submitted by: Denise Evanovitch, Vice-Chair of the Ontario Transfusion Quality Improvement Plan (OTQIP) Committee
Print PDF of BloodNotes OTQIP July 2017
Blood transfusion can save lives, but every transfusion carries risks. The Ontario Transfusion Quality Improvement Plan (OTQIP) for red blood cell  transfusion can help determine your hospital's baseline performance, measure how well your hospital uses RBCs for patients and identify where your hospital can make improvements. 
Successful quality improvement requires a multi-disciplinary team approach: physicians, nurses and nurse practitioners and laboratory technologists, much like the composition of the the OTQIP Committee that developed the plan in the first place. It was a truly cooperative team effort with multi-disciplinary representatives from the Ontario Regional Blood Coordinating Network (ORBCoN), Ontario Nurse Transfusion Coordinators (ONTraC), Canadian Blood Services and transfusion community members. 
This plan supports a more restrictive approach to RBC transfusion for stable, non-bleeding patients by looking at threshold hemoglobin levels, and by measuring how often just one bag of blood is transfused at a time (the single unit transfusion). 
The OTQIP provides tools that will aid in improving transfusion practice including:
Transfusion guidelines 
Blood order sets
Guidance/educational tools to promote medical laboratory technologist prospective screening for transfusion orders
An e-tool to aid data collection and comparative analysis
A model example of a quality improvement plan (QIP) that can be modified for your institution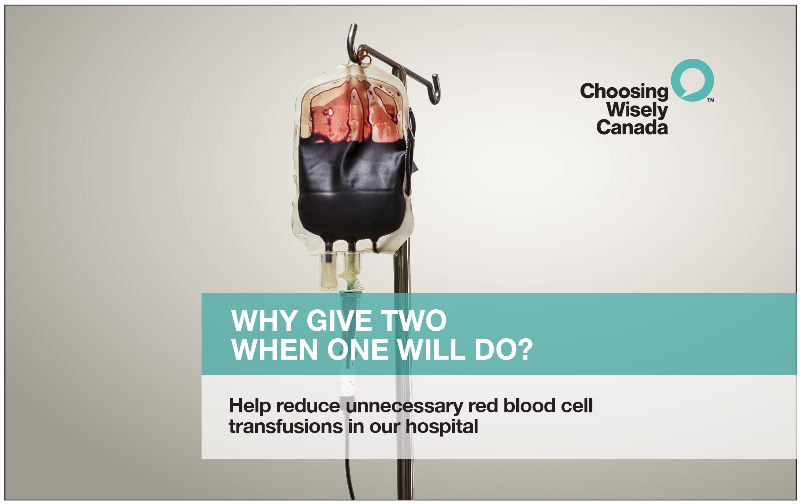 In addition to alignment with the Choosing Wisely Canada campaign, the OTQIP is similar to other national and provincial quality improvement plans like Health Quality Ontario, which focus on patient safety and health care system efficiency.  The plan also aligns with Health Service Accountability Agreements, Accreditation Canada, and the Institute for Quality Management in Healthcare.  
ORBCoN liaised with other transfusion and quality-related organizations such as Canadian Blood Services, hospital transfusion services, the Healthcare Insurance Reciprocal of Canada (HIROC), Health Quality Ontario and the Canadian Society for Transfusion Medicine to disseminate the plan.
How can you get started?
Determine your baseline
Spread the word through screen savers, Transfusion Committee, Medical Advisory, Safety and Quality Committees
Educate: physicians, nurses and medical laboratory technologists
Establish transfusion guidelines and order sets
Implement front line blood order screening by medical laboratory technologists
Measure and analyze
Collect data, share results, tweak and celebrate
---
What does automotive manufacturing have to do with saving lives?
(This article first appeared in Circulation)
Print PDF of BloodNotes Toyota July 2017
The auto assembly lines of Japan may seem like an unlikely place for a biologics manufacturer to learn about process improvements, but Canadian Blood Services' production and distribution facility in Brampton, Ont., has certainly benefited since Toyota Canada began sharing its proven practices in manufacturing production.
The Brampton production site, which opened in 2011, is one of nine Canadian Blood Services manufacturing sites in Canada. The site supplies 100 hospitals, processes 344,000 units of whole blood and ships 460,000 units of blood each year. It also ships 65,000 litres of plasma to be further manufactured into plasma protein products to meet various patient needs.
As part of its corporate social responsibility, Toyota shares its manufacturing process knowledge with organizations to help them become more productive, maximize available resources and improve quality and safety, all principles that align with Canadian Blood Services' strategic priorities. With the goal of making a significant contribution to a not-for-profit organization, Toyota chose Canadian Blood Services as the first Canadian organization to benefit from its teachings.
The collaboration between these two unlikely partners started in early 2015. It began with one goal: to help improve the lives of all Canadians by identifying opportunities for improvement in the Canadian blood supply chain.
Toyota advisors became part of the production and distribution teams, making regular visits to the Brampton site and sharing the fundamental principles of the Toyota Production System (TPS) — a system based on a customer-first approach and continuous improvements with a shop floor focus.
The system is rooted in the basic principles of "lean" manufacturing: eliminating wasteful activities, lowering operating costs and making process improvements. It's a systematic method of using people and equipment resources to maintain a continuous work flow at every stage of the process for optimum manufacturing.
Representatives from both organizations worked together over the course of the year to identify and solve problems. Key improvements include:
Production and sorting improvements, to gain additional production time of two hours per day.
Standardized storage areas to improve workflow, creating additional benefits for employees such as less time in -20°C freezers.
Thirty per cent reduction in steps taken by employees as a result of reorganized workstations creating better workflow for employees.
Forty per cent reduction in packing time. By reorganizing storage areas, making problems more visible and standardizing work processes, employees can find the right products quickly and more accurately. 
At the end of the project, on behalf of Toyota and its dealers, Toyota executives presented Canadian Blood Services with a cheque for $320,000. The donation will be directed to Canadian Blood Services' Cord Blood Bank.
To read more about the continued partnership click here. 
To learn more about our collaboration with Toyota, visit toyota.ca/BeyondTheRoad. 
---
The Circular of Information: A wealth of information
Print PDF of BloodNotes COI July 2017
What is the first thing you do when you open a package of medication?  Hopefully, you read the package insert/product monograph first, so that you are aware of important information about the drug that you are about to use.
The Canadian Blood Services Circular of Information is an extension of the blood component label. It provides information regarding component composition, packaging, storage and handling, indications, warnings and precautions, adverse events, dose and administration, and  other important information about the blood component.
  
There are separate Circulars of Information for each of our blood component groupings: Red Blood Cells, Platelets, Plasma, and Hematopoietic Progenitor Cells. They conform to the applicable regulations issued by the Health Products and Food Branch of Health Canada.
The Circular of Information is updated whenever new information becomes available. Hospital customers will be informed by a customer letter whenever an update is available.
If you have not read the Circular of Information lately, I encourage you to click the link above and read the latest versions. Or go to www.blood.ca, click Hospitals in the banner, then go to Products.
If you have not already done so, consider making copies of the Circular of Information available to your hospital's physicians and nurses.
---
What's new with the 30-minute rule for red blood cells?
Print PDF of BloodNotes 30 minute rule July 2017
What changed?   
Effective 2016, a change was made to the CSAZ902-15 standard 10.10.5. The length of time an RBC can be out of storage was extended from 30 minutes to 60 minutes.
Why the change?
The studies that led to the original 30-minute rule were conducted in the 1970s, when blood products were stored in containers (glass bottles) with or without additive solutions. This does not reflect current practices. 
Recently, a research team led by Dr. Sandra Ramirez, a development scientist at Canadian Blood Services' Centre for Innovation in Ottawa, studied bacteria-free and bacteria-spiked RBCs that were exposed to room temperature for various lengths of time, checking them for quality, temperature and bacterial growth. Results showed that exposing units to room temperature for up to 60 minutes several times during their shelf life did not reduce their quality or safety.
Support for the change
Canadian Blood Services conducted this research, in collaboration with Héma-Québec, and contributed to the Canadian Standards Association's decision to extend the 30-minute rule to 60 minutes.
Dr. Ramirez explains…. 
Refresh your knowledge! 
Review the definitions for reporting blood component disposition in the Blood Component and Product Disposition System –User Guide:
Disposition for red cells that are out of storage for more than 60 minutes should be recorded under "Discarded – Improper Storage".  
---
Did You Know?
Canadian Blood Services has a professional education website
blood.ca/professionaleducation
Canadian Blood Services' professional education website is the trusted source for health-care professional education materials. We provide vital resources on transfusion of blood components, and donation and transplantation of organs and tissues. Explore our clinical guidelines, leading practices, courses, upcoming events and more.