Employee vaccination numbers: the half-way point
We are at the half-way point of the mandatory vaccination status reporting period and we are encouraged by the number of employees who have reported their status as fully vaccinated. As of today, 2,689 of employees (72 per cent) have reported their status, and of those, 2,534 (94 per cent) have attested that they have received both doses of a COVID-19 vaccine.
Here is a snapshot of each division's response rate, as of Sept. 17: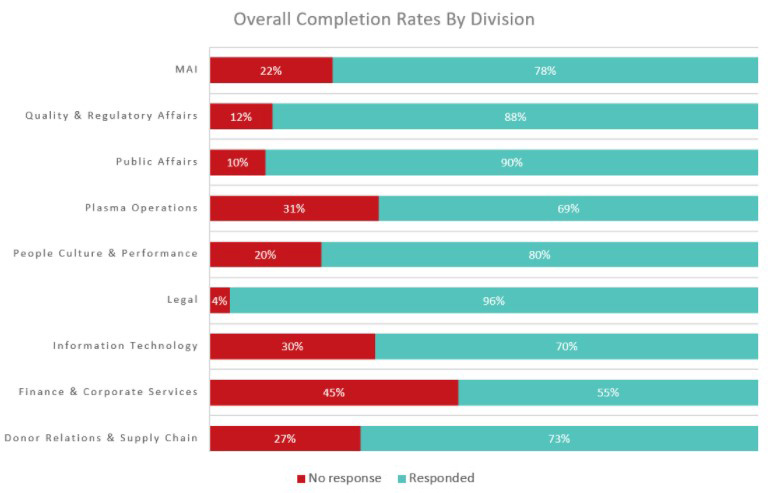 There are five days remaining in the reporting stage. You can enter your status and attestation through the COVID-19/My COVID-19 Vaccine app on meda.blood.ca which can be accessed through any computer, tablet or smartphone. You can also access MEDA from MyApps on the Connect home page.
If you are experiencing any challenges in accessing the reporting tool or have questions/concerns about the COVID-19 vaccination policy, please refer to the various supports on the vaccine policy page, talk to your manager or supervisor or email communications@blood.ca.
'It's an incredible privilege to help save a life'
For Joel Menard, the chance to donate stem cells felt like "winning an unexpected reward". Six years after making his lifesaving donation, he now works for Canadian Blood Services Stem Cell Registry. "It's an incredible privilege to help save a life as a donor and now, as an employee of Canadian Blood Services who helps patients get their lifesaving stem cells," says Joel, who works in Ottawa, Ont. as a transplant services representative. Joel's journey has now come full-circle, as he is the person often making that life-changing call to stem cell registrants – a call he received six years ago – letting them know when they are identified as a match for a patient in need. This World Marrow Donor Day (Sept. 18), we're celebrating the vital role of stem cell donors like Joel, who help us support patients. Read his inspiring story at blood.ca/stories, and visit Connect to learn more about how you can take part in the 24-hour World Marrow Donor Day livestream and other celebrations.
All the LOV for this year's Award of Distinction winners
This year's Living our Values (LOV) national Award of Distinction recipients have personified grace under pressure throughout 2021, demonstrating their unwavering commitment to our ICARE values of integrity, collaboration, adaptability, respect and excellence. Congratulations to Laura Todd, manager of strategic planning and business integration, and the stem cell manufacturing laboratory team in Ottawa, Ont., this year's Award of Distinction individual and team recipients, respectively. Laura and the members of the stem cell team in Ottawa all played unique and integral roles in helping to ensure that patients continued to receive the products and services they needed during the COVID-19 pandemic. Read more about this year's outstanding winners on Connect.
Submit your questions for our Sept. 28 live townhall
In recent weeks, a lot of new information has been coming your way quickly and we know that many of you have questions. Our upcoming live town hall on Tuesday, Sept. 28 (1 p.m. ET) is an opportunity to bring your questions forward in an open and conversational space and get real-time answers from Graham and our expert panelists. As always, we encourage you to submit your email or video questions in advance to communications@blood.ca with the subject line "TOWNHALL". You can also record an audio question by phoning 1-800-509-2339.
Participate in the Sept. 28 live townhall by clicking on the meeting link in your Outlook invite. Can't make it live? A recording of the event will be available on the COVID-19 employee portal within 24 hours.
Questions of the day: Vaccination policy

In the interest of responding to your important questions about Canadian Blood Services' new vaccine policy in a timely way, we're using the regular 'Question of the Day' section of Your Digest to respond to several of your questions at once.

How will Canadian Blood Services collect and store employee vaccination status information?
As we implement the organization's COVID-19 vaccination policy, the protection of your information is, and will continue to be, of utmost importance. The process and reporting app align with applicable security requirements, privacy legislation and our corporate Employee Personal Information Protection Policy (POL013). We will only collect information that is necessary and any information you provide will be securely stored on our internal systems. If you are unable to be vaccinated based on medical or human rights grounds, we will also collect additional information about these grounds from you. Only Canadian Blood Services staff who need to know your vaccine status information will have access to it.  

Can you provide more details on the mandatory education sessions?
Any employee who has reported as unvaccinated and not subject to a medical or other human rights exemption will undergo an educational session regarding the efficacy of vaccinations.
The education session will use existing resources available from the Public Health Agency of Canada, governments and others, and will cover topics including, but not limited to: 

How COVID-19 vaccines work.
Vaccine safety related to the development of the COVID-19 vaccines.
The benefits of vaccination against COVID-19.
The risks of not being vaccinated against COVID-19.
Possible side effects of the COVID-19 vaccination.

The session will be delivered electronically and will be self-paced. Additional resources and support will be available to employees as needed, following the education session.

About your digest
This digest highlights the latest policy and employee support measures, resources to help you manage our new reality and original content like articles and videos to remind us that what we do matters.  No access to email? No problem — all this information and more can be found on blood.ca/employees from any device, no login required.     
Click here to read past editions of your digest. 
Have questions? Check out blood.ca/employees or email us at communications@blood.ca