Save the date for our next live townhall: Join us on Tues. Oct. 20 a 1 p.m. ET for the next live Q&A with our CEO. Graham will focus on our strategic plan and operational preparedness as we enter what is being called a "second wave" in many provinces. Click the meeting link in this outlook invite to join live; and if you can't make it check-out the event recording on your COVID-19 employee portal. Want to submit questions in advance? Send them to communications@blood.ca with the subject line "TOWNHALL." We look forward to seeing you all there! 
New COVID-19 case management dashboard available on Connect: To be as transparent as possible and provide employees with information about cases of COVID-19, we have created a COVID-19 case management dashboard, available on Connect. The dashboard provides the latest information available regarding positive cases of COVID-19 involving Canadian Blood Services employees, volunteers, donors, and third-party contractors. While this tool is an important vehicle to provide information to employees across the country, you should remember that you will only be contacted by public health and/or Canadian Blood Services should you meet public health criteria for exposure. This page also provides you with information on our case management process, so you know what to expect should a positive case arise. Learn more on Connect. 
Q1 report —strengths and challenges as we responded to COVID-19: As Canada braces for what is being called a "second wave" of COVID-19 in many provinces, the Q1 performance report offers us an opportunity to look back to the beginning of the pandemic and remember the challenges we have faced and all we've achieved. Learn more about how our collections, operations and donor experience fared, in addition to new initiatives such as our work on diversity, equity and inclusion on Connect.  
Cyber Security Awareness Month is here! It's that time of year again. Shorter days, cooler nights and falling leaves — Cyber Security Awareness Month is here! Every October, governments and businesses around the world help people become more aware of what they can do at work and at home to be safe online. We use connected devices — computers, phones, tablets and more every day to get work done and make our lives better at home. Our devices are here for us for pretty much everything we do. That means sensitive information is at risk of being exposed more than ever before. Follow these five steps on Connect to keep sensitive information safe and sound.   
Register for human bingo: Are you missing the days when you would run into your colleagues in hallway, catch up for a quick coffee or enjoy a lunch date? Take a break and join your colleagues for Human Bingo! This networking event is kind of like speed dating, but for developing professional connections. It is an opportunity to meet people working across Canadian Blood Services, get to know them, and their role in Canada's Lifeline while completing a virtual bingo card. Our first event is on Oct. 14 at 2 p.m. ET. Visit Connect to learn more about future sessions and register to participate! 
Canadian Blood Services employee marks fifth anniversary of liver donation: Five years ago, while walking the dog with a good friend, Jenn Bruno made a decision that both saved a life and set her on a new career path. She learned that her good friend's father, Tony, had cancer which was getting worse and he required a liver transplant to survive. During that walk she resolved to become a liver donor. "Once I make up my mind, no one's going to change it," Jenn says. The next day, she put her name forward as a potential living donor for Tony.  Tests revealed that Jenn was an ideal donor for Tony, which was extremely unlikely, since the two are not related. The procedure was successful, and Tony and Jenn soon recovered fully. "I consider Jenn my angel," says Tony. Read more on blood.ca/stories and learn more about support available for employees who wish to become living organ donors on Connect. 
Question of the day: How do I submit eligible office expenses as part of the available virtual work guidelines funding? 
We want to ensure that employees who are able to work from home receive the support they need to perform their work and maintain our operations.  As part of the new flexible and virtual work guidelines released this month, employees working virtually are now able to claim certain expenses, with reimbursement up to $200.  
Eligible expenses should be submitted through Concur. To help, we've created a step-by-step guide to help you through the process.  
Learn more about the flexible and virtual work guidelines, along with eligible expenses on your COVID-19 employee portal.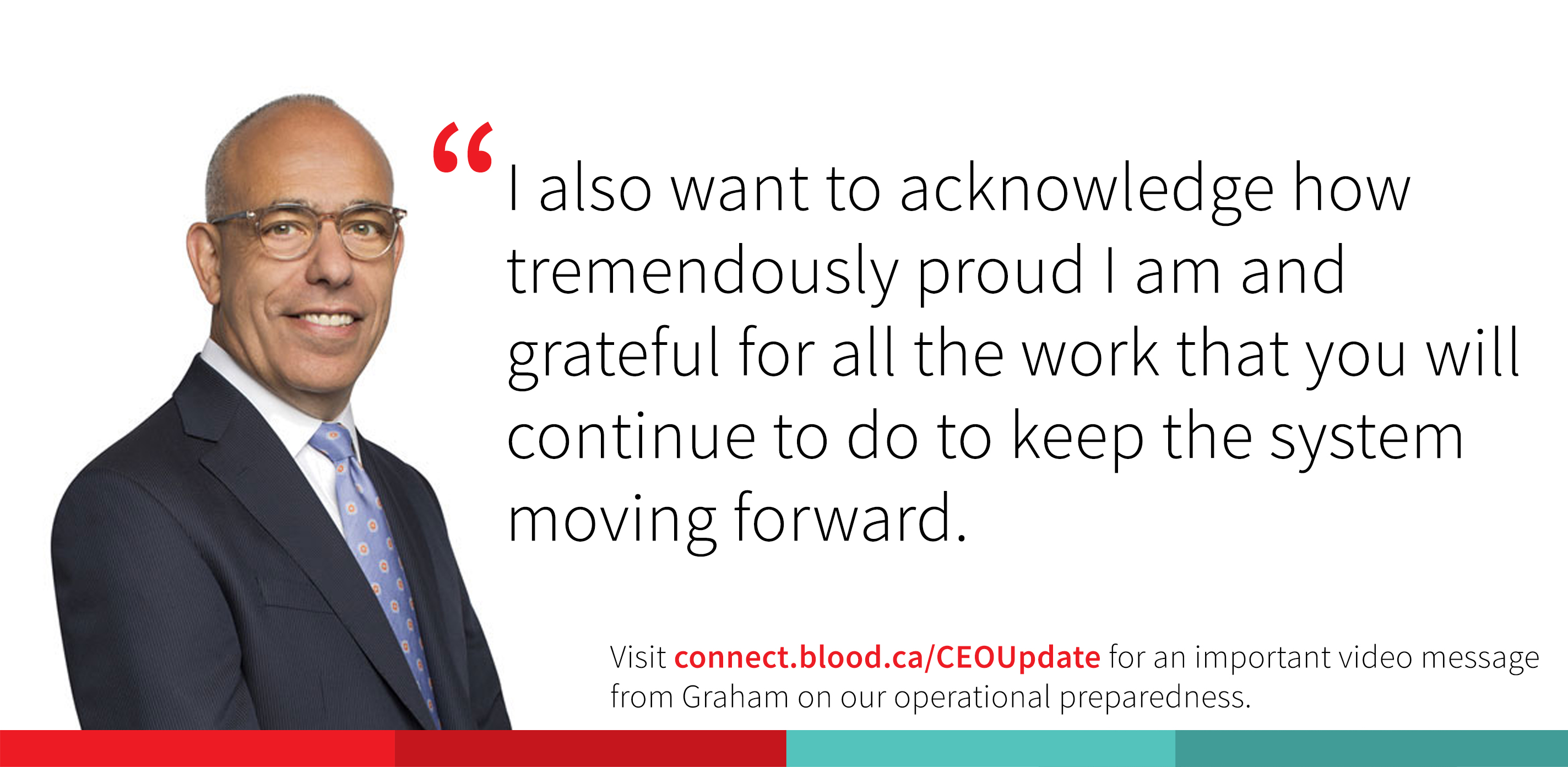 About your digest    
This digest will highlight the latest policy and employee support measures, resources to help you manage our new reality and original content like articles and videos to remind us that what we do matters.  No access to email? No problem — all this information and more can be found on blood.ca/employees from any device, no login required.      
Click here to read past editions of your digest.      
Have questions? Check out blood.ca/employees or email us at communications@blood.ca