The latest on our workforce COVID-19 vaccination  
As we head toward our deadline for full vaccination of our workforce, the proportion of those who are fully vaccinated — or on their way there — continues to climb. The graph below is a snapshot of the current vaccination status of our employees and the fee-for-service contractors to whom our mandatory vaccination policy applies. At this point, more than 98 per cent of employees have reported their status. Those who have not yet reported, as well as those who are not yet fully vaccinated, are now undergoing rapid antigen screening in order to access any of our sites. By Oct. 31, 2021, we expect all eligible Canadian Blood Services employees and fee-for-service contractors to have received both doses of a Health Canada-approved COVID-19 vaccine. Visit Connect to learn more, including how to update your information if your vaccination status changes.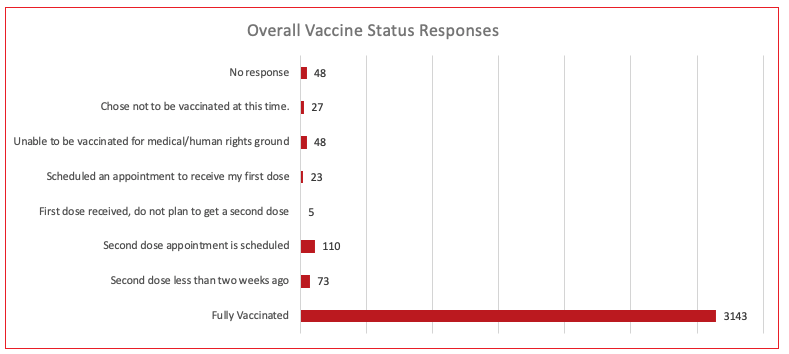 Blood donations helped him survive illness, and then a critical injury 
When Troy Wagner started donating blood at age 18, he had one person on his mind: his dad. Troy's father, Darcy Wagner, had battled chronic health infections for most of his life, due to an immune disease called hypogammaglobulinemia. To stay healthy, Darcy's treatment for the past three decades has included regular transfusions of a medication made from plasma, one of the components of whole blood. On the day of Troy's 50th blood donation, he received an unexpected call from his dad — Darcy had been in an accident and was losing a lot of blood. "When I saw my dad, I knew it was bad. I called 911 and while I worked to control the bleeding, my dad said to me, 'I might need some of that blood you donated today'," says Troy. "The sense of irony in this moment was not lost on either of us." Read Darcy's story of catastrophic injury — and incredible recovery — at blood.ca/stories.  
A time for reflection, gratitude and self-care 
With Thanksgiving right around the corner, there is no shortage of advertisements or store displays to remind us that we should be celebrating and enjoying a joyous holiday this long weekend. The reality, however, for many — especially those of us managing stress, anxiety, feelings of burnout, depression or other strains on our overall well-being — is that this time of year can put our physical and emotional resilience to the test, particularly during a pandemic. It's appropriate, then, that World Mental Health Day falls on Thanksgiving weekend this year (Sunday, Oct. 10). This day, which is recognized by the World Health Organization, is dedicated to raising awareness of mental health issues and empowering people to look after their own mental health and provide support to others.  
The tradition of reflecting and giving thanks for the harvest — the original idea behind the Thanksgiving holiday — is something that can be applied to each of our mental health and wellness journeys. Think: since the beginning of the pandemic, or since you first began managing your well-being, what lessons, changes or insights have you "harvested" to help you live a healthier life? Maybe you've established a new exercise routine or learned new ways to cope with stress. Maybe you've prioritized your self-care by accessing mental health or other well-being supports. Or perhaps you're just beginning to pay attention to recent changes in your body, your feelings or your behaviours. Wherever you're at in your well-being journey, there's reason to be grateful for every positive step you've taken.  
If you are looking for some extra support this long weekend — and beyond — explore the free resources available from LifeSpeak (password: thrive) and ComPsych and visit connect.blood.ca/EmployeeSupports for more information about available mental health and well-being supports.    
Question of the day: How can I access the COVID-19 vaccine education module? 
Any employee who has reported as unvaccinated and not subject to a medical or other human rights exemption will be required to complete an education session regarding the efficacy of vaccinations.  
 
These employees will receive the education session directly from a member of people, culture and performance and will be required to complete a CET. The education module is also accessible to anyone interested in learning more about the COVID-19 vaccines and is now available on the vaccine policy page.  
 
Click here to launch the education module. 
Image

About your digest
This digest highlights the latest policy and employee support measures, resources to help you manage our new reality and original content like articles and videos to remind us that what we do matters.  No access to email? No problem — all this information and more can be found on blood.ca/employees from any device, no login required.     
Click here to read past editions of your digest. 
Have questions? Check out blood.ca/employees or email us at communications@blood.ca