Submit your wellbeing and DEI questions for our Nov.4 town hall
We're continuing to hear feedback that employees are interested in more discussion around health and wellbeing, and diversity, equity and inclusion (DEI) during our monthly town halls. Our expert panel, hosted by CEO Dr. Graham Sher, will be available to answer your live questions about workplace mental health, our ongoing progress in the DEI space and anything in between.
We encourage you to submit your email or video questions in advance on any topics that are top of mind, to communications@blood.ca with the subject line "TOWNHALL". You can also record an audio question by phoning 1-800-509-3329.
Note: we know that questions related to your well-being and/or DEI can sometimes feel tough to ask. If you choose to submit a question in advance, please indicate if you'd like it to be asked anonymously. Alternatively, consider asking a trusted colleague to submit a question on your behalf.
Click the meeting link in this Outlook invite to join live. If you can't make it, a recording of the event will be available on your COVID-19 employee portal within 24 hours. 
COVID-19 mandatory vaccination update
On Monday, Nov.1, the requirement for vaccination against COVID-19 is in effect for all employees and fee-for-service individuals at Canadian Blood Services. In the weeks since we announced the mandatory vaccination policy, we have made tremendous progress supporting employees through the transition period. By late next month, we expect to be able to provide more information about the impact of this policy on our workforce.

The graph below is a snapshot of where our workforce stands as of Friday, Oct. 29. Visit Connect to learn more about our next steps as we transition to a fully vaccinated workplace.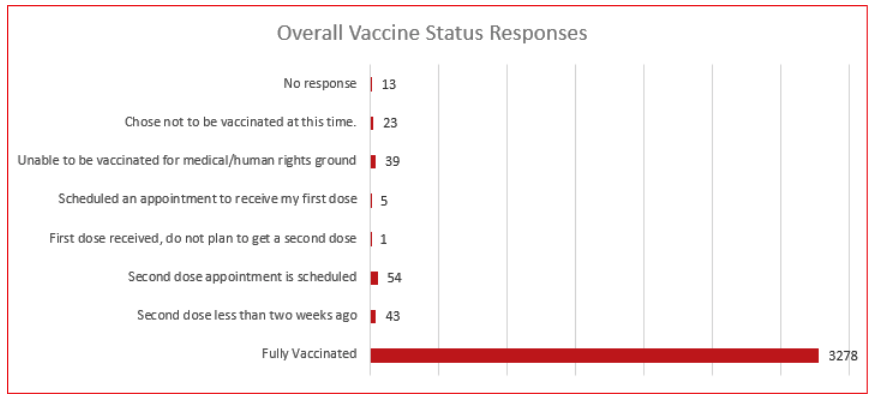 Dr. Dana Devine becomes president of AABB
Canadian Blood Services' chief scientist, Dr. Dana Devine is adding one more impressive credential to her resume this year. Dana has recently assumed the role of president of the Association for the Advancement of Blood and biotherapies (AABB), an international organization focused on transfusion medicine. You can read about her appointment and the significance of this role here.
As well, in honour of October being National Women's History Month, Dana wrote a guest blog for Connect to talk about the evolution she has witnessed of opportunities for women in science over the course of her career.
Cyber Security Awareness Month
After almost two years of being so connected to the internet and our devices, it's important to make sure we're doing it securely. As we close out October and Cyber Security Awareness Month, be sure you have the knowledge and tools you need to be cybersmart at work and at home. Do you use strong passwords and change them often? Do you take advantage of multi-factor authentication (MFA) on all of your electronic devices? Do you back up your data on a regular basis? Are you aware of and on the lookout for phishing (email), smishing (text or SMS) and vishing (voice call) scams?

We all need to do our part to ensure that our online presence is safe and secure. Visit Connect for some essential cyber security tips.
Question of the day: Why do all emails from the legal department suddenly look like spam?

The legal services and risk and insurance management teams are now using Origami Risk, an electronic filing system that allows its users to manage emails and documents and monitor the progress of files in one central location.

When an employee contacts the legal department with a new item, Origami automatically generates a unique email address that begins with "live-replyto-" followed by a string of numbers and letters and ends with "@origamirisk.com." The one-of-a-kind address will need to be included in all subsequent correspondence on the matter.

Legal has added a disclaimer in red text at the top of their emails as a reminder for employees to keep the unique email address in their replies. But remember to always proceed with caution when it comes to suspected spam and phishing emails.

If you're in doubt about the legitimacy of any email, double check with IT by submitting a ticket in ITHelps. To see an example of what an email from legal will look like, visit Connect.
Image

About your digest
This digest highlights the latest policy and employee support measures, resources to help you manage our new reality and original content like articles and videos to remind us that what we do matters.  No access to email? No problem — all this information and more can be found on blood.ca/employees from any device, no login required.     
Click here to read past editions of your digest. 
Have questions? Check out blood.ca/employees or email us at communications@blood.ca