Our ambition for donor experience
On a regular basis, most of us have interactions with businesses and organizations that leave us with a certain opinion of how we were treated by the person(s) we dealt with to meet our needs. That opinion shapes how we feel about those businesses or organizations, what we tell others and importantly, whether we will return. The same principles apply for those who take the time to donate to Canadian Blood Services. That's why our corporate strategic plan has a key focus area to build and deepen relationships with our donors. To consistently remind us of our ambition to deliver an exceptional experience across all donor touchpoints, we have developed a new donor ambition statement. Visit Connect to read the statement in full and to learn more about our key donor ambitions, how the statement was created and what tools we're using to help inform enhancements to our donor experience.
Long-time employee's commitment to patients lives on through her legacy gift
During the late Janet LaForest's 40-year career with Canada's blood system, she was passionate about encouraging blood donation. She left a meaningful impression on many of her colleagues before her retirement in 2018. Sadly, Janet passed away in 2020, but her long-time dedication to helping patients across Canada will live on thanks to a financial gift she left to Canadian Blood Services in her will.
Janet's generous financial donation will support the Assignment Saving Lives bursary program, which helps to recruit the next generation of blood and plasma donors. The program, which has the potential to welcome hundreds of first-time donors to Canada's Lifeline and fill thousands of appointments each year, grew to have great success in the time that Janet worked here. Read more about Janet's inspiring life, career and legacy gift at blood.ca/stories.
COVID-19 vaccination update and a message of thanks
Earlier this week, our CEO Dr. Graham Sher released a video with a message of thanks to all employees for their continued commitment during the pandemic. His message also includes a reminder and encouragement to continue using the mental health and well-being resources available at Canadian Blood Services.
The vast majority of our employees are fully vaccinated or have made the choice to become vaccinated. The graph below is a snapshot of our progress toward a fully vaccinated workforce: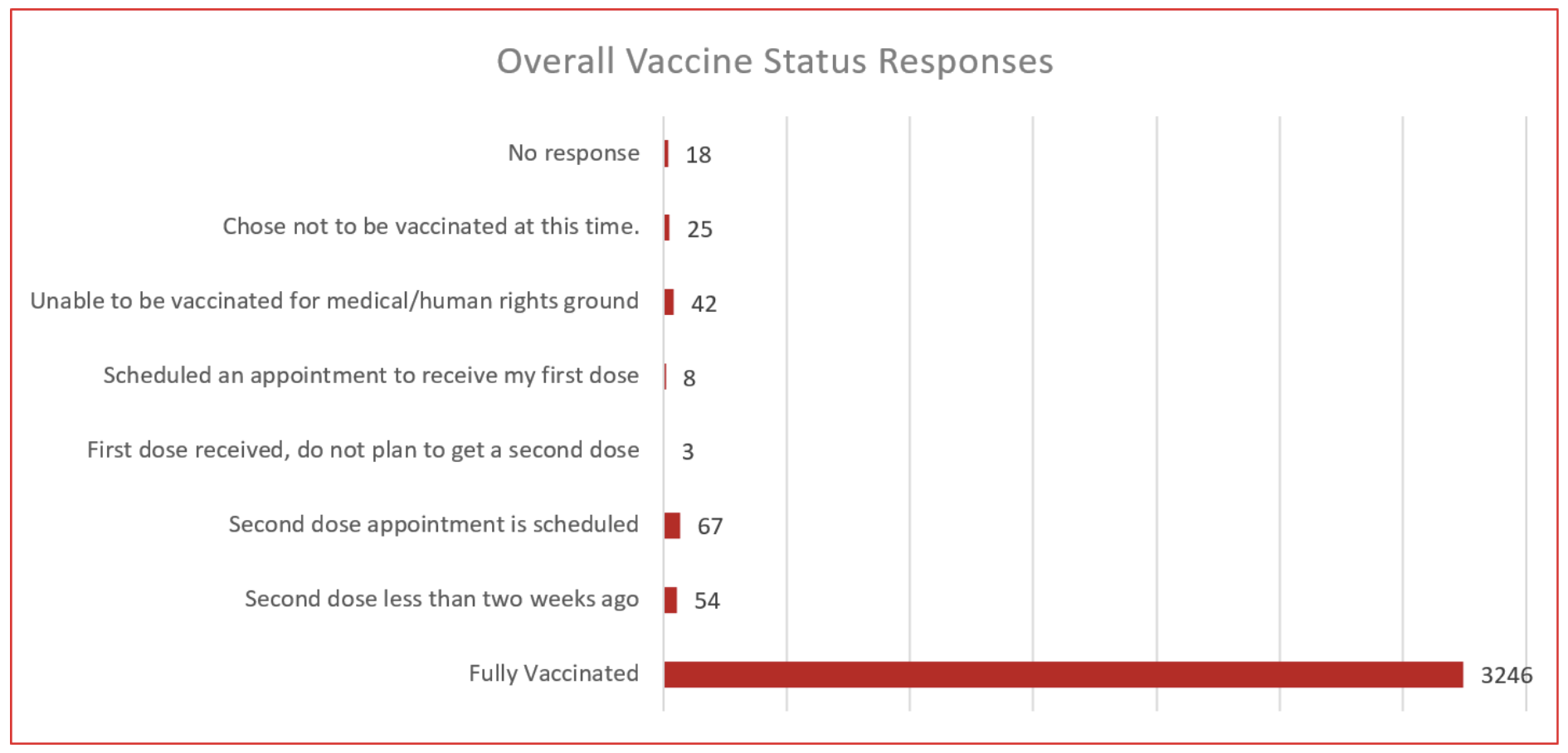 Question of the day: With working from home continuing to be a reality for many employees, will Canadian Blood Services be offering an office supplies rebate for the upcoming fiscal year (2022–2023)?

When the COVID-19 pandemic hit, we understood that we needed to help our teams adapt to the evolving realities of remote work. To support those employees who were able to work from home, we offered a $200 rebate towards eligible office supplies during fiscal year 2020–2021.

Although that specific funding is no longer available, any employees (remote or frontline) who require ergonomic equipment so they can do their job safely, still have access to virtual ergonomic assessments and funding through Canadian Blood Services.  

We are currently exploring opportunities to support employees longer-term as remote and/or hybrid work continues. In the meantime, support is available for employees through our normal expense claim processes (with manager approval). The process is quick and easy:   

If you are looking for ergonomic support, complete the form on the OHS ergonomics page on Connect. Reminder: remote employees must be connected to VPN to access the form.
Once you have completed the form, provide it to your manager/supervisor to review and submit to OHS/EHS with a request for a virtual home office assessment for you. 
A member of the OHS/EHS team will get in contact you to schedule the assessment. Once the assessment is complete, they may suggest additional equipment that can be purchased directly by the OHS/EHS team on your behalf. 

If you are looking to access funding for other office equipment that may be necessary for your role, please speak with your manager who may be able to process your request through your departments cost centre.

Visit Connect for more tips, tools and practices for home office safety. 
Image

About your digest
This digest highlights the latest policy and employee support measures, resources to help you manage our new reality and original content like articles and videos to remind us that what we do matters.  No access to email? No problem — all this information and more can be found on blood.ca/employees from any device, no login required.     
Click here to read past editions of your digest. 
Have questions? Check out blood.ca/employees or email us at communications@blood.ca